2018 UCSF-ACSS Golden Gate Life Science Summit----Frontier Focus and Looking Forward

Saturday, January 20, 2018 from 9:00 AM to 5:30 PM (PST)
Event Details
2018 UCSF-ACSS Golden Gate Life Science Summit----Frontier Focus and Looking Forward
2018 UCSF-ACSS Golden Gate Life Science Summit (GGLSS2018) will be held on January 20th, 2018 at University of California, San Francisco. It is officially supported by Chinese Consulate in San Francisco and UCSF, hosted by ACSS (Association of Chinese Students and Scholars) at UCSF, and co-hosted by CABS, CBA, ASCVP, BCSSA, CGPSA and USFSSA. The summit is composed of theme speeches, academic seminars, panel discussions, and communication dinner party. University of California, San Francisco, as a leader in global life science, incubated world's top transnational corporations including Genentech and Gilead successively and contribute seven winners of Nobel Prize in physiology. This summit, with the hi-tech platform of UCSF in life science, aims to focusing on frontier biomedical science, building a communication platform for life science related Chinese scholars in the Bay Area and Greater China. It will also build a long-term and organic bridge between scholars, enterprises and investors, to promote the research and transfer of the latest academic achievements in life science. 
---
MAJOR INSTITUTIONS: 
Official Support:
University of California, San Francisco 
Host:
UCSF-ACSS (Association of Chinese Students and Scholars)
Co-Host:
Chinese American Biopharmaceutical Society (CABS)
Chinese Bioscience Association (CBA)
Alliance of States Chinese Visiting Physicians at Stanford (ASCVP)
Berkeley Chinese Students and Scholars Association (BCSSA)
Chinese Graduate and Postdoctoral Scholars Association at University of California, Berkeley (CGPSA)
University of San Francisco Chinese Students and Scholars Association (USFSSA)
DETAILS:
Date: January 20th, 2018
Venue:HSW300 auditorium, 505 Parnassus Ave, San Francisco, CA 94143 
Theme: The Bio-Pharmaceutical Summit in Bay Area of China and the United States 
Goals:
To focus on frontier biomedical science and technology and to build a platform for communication among scholars and colleagues who are interested in life sciences in the Bay Area.
To open new thinking, expand new areas, promote the development of life science industry, with a broader scientific horizons.
To build a communication platform for life science related Chinese scholars in the Bay Area and Greater China
To build a long-term and organic bridge between scholars, enterprises and investors, to promote the research and transfer of the latest academic achievements in life science. 
---
HIGHLIGHTS:
This summit focuses on life science, industrial investment, medical management, artificial intelligence and other cutting-edge technologies. Numerous academic heavyweights and life-science investors will gather here. It will be an audio-visual feast for specialists focusing on industry innovation.
Numerous top life science professionals and industry association representatives in bay area, and representatives in intelligent high-tech, finance, hospitals, universities and enterprises from domestic and overseas will attend. They will have deep communication on developing situation, hot topic and future trend in China-America life science industry, and developing opportunities and challenges in international macro-environment.
This summit will present a wonderful academic feast to industry colleagues. As an industry event, it covers each links in the whole life science industry chain, including production, learning, research, investment, management, application. It stretches horizontally and deepens vertically, gathering life industry, creative economy and creative industry, cultural creativity and market investment, artwork and copyright, cultural and creative experience. This summit will be a big event in cultural and creative industry.
---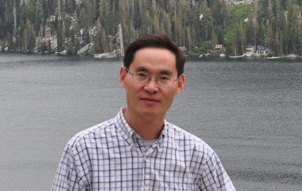 Prof. Hao Li
Dr. Li is a Professor in the Department of Biochemistry and Biophysics at UCSF and the director of the UCSF Hillblom Center for the Biology of Aging. He received his BS in Physics from Peking University and Ph. D. in Theoretical Physics from MIT. He is a Changjiang Lecture Professor at Peking University, NIH transformative R01 awardee and Packard Fellow.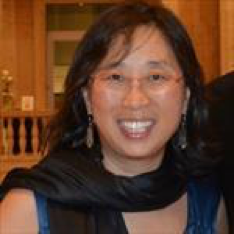 Prof. Rong Wang
Rong Wang, Ph.D. is Professor of Surgery and Director of the Wang Lab. Previously, Dr. Wang had the distinction of being a post-doctoral fellow in the laboratory of Michael Bishop, MD, a winner of the Nobel Prize in Medicine and Chancellor of UCSF. Dr. Wang's team is engaged in state-of-the-art research involving key proteins necessary for blood vessel growth (angiogenesis) and arterial growth (arteriogenesis). They have found that the Notch 4 protein can cause dramatic blood vessel enlargement in adult animals and that the protein called focal adhesion kinase is essential for maintaining existing blood vessel structure. The ability to encourage the growth of blood vessels can increase healing in traumatic wounds, promote recovery from strokes and heart attacks, or generate the growth of new pathways around blocked arteries in the lower limbs to reduce the potential of gangrene and possible amputation.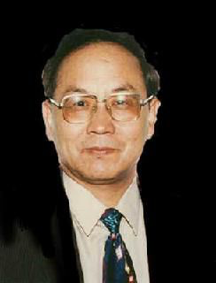 Prof. Danqun Fang
President and Research Professor of US Sound and Vibration Institute (US), President and Research Professor of America Frontier Science Institute, President and Principal Scientist of the Micro Bio-Physic Laboratory (US), President and Research Professor of American Western Academy of Environmental Sciences, Chief adviser of State Environmental Protection Engineering Center for City Noise and Vibration (China), Chief advisor of China Association of Environmental Protection Industry – Noise and Vibration, Visiting Professor of Zhejiang University, and Founder & Convener of Global Chinese scientists Environmental Forum.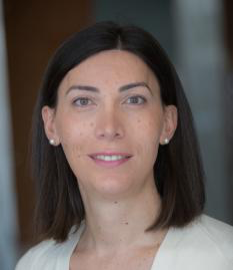 Emily Leproust, PhD, CEO, Co-founder, Director of Twist Bioscience
As an early pioneer in the high-throughput synthesis and sequencing of DNA, Dr. Leproust is disrupting the process of gene synthesis to enable the exponential growth of synthetic biology applications in multiple fields including medicine, DNA data storage, agricultural biology, and industrial chemicals. In 2015, she was named one of Foreign Policy's 100 Leading Global Thinkers for fast-tracking the building blocks of life, and Fast Company named her one of the most creative people in business for synthesizing DNA faster than ever. Prior to Twist Bioscience, she held escalating positions at Agilent Technologies where she architected the successful SureSelect product line that lowered the cost of sequencing and elucidated mechanisms responsible for dozens of Mendelian diseases. She also developed the Oligo Library Synthesis technology, where she initiated and led product and business development activities for the team. Dr. Leproust designed and developed multiple commercial synthesis platforms to streamline microarray manufacturing and fabrication. Prior to Agilent, she worked with Dr. X. Gao at the University of Houston developing DNA and RNA parallel synthesis processes on solid support, a project developed commercially by Xeotron Corporation. Dr. Leproust has published over 30 peer-reviewed papers—many on applications of synthetic DNA, and is the author of numerous patents.  She earned her Ph.D. in organic chemistry from the University of Houston and her M.Sc. in industrial chemistry from the Lyon School of Industrial Chemistry in France.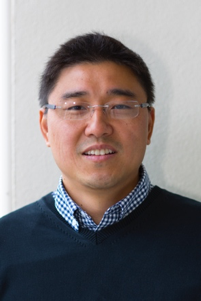 Bruce Wang, Assistant Professor, UCSF
Bruce was born in China and grew up in the San Francisco Bay Area. He went to college at Stanford and did his medical school, residency and fellowship at UCSF. After a postdoctoral fellowship at Stanford, he came back to UCSF to start his lab. He enjoys exploring and photographing the Bay Area outdoors with his wife and two young sons. Long-term goals of Bruce's lab are to improve the understanding of liver disease pathophysiology and develop novel methods of treatment for liver diseases, including cell replacement therapy. Currently, we have two major research focuses: 1) understanding the biology of adult hepatocyte stem cells and 2) developing a liver cell atlas.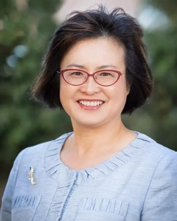 Dr Charlene Liao, is the president and CEO of Immune-Onc Therapeutics, Inc, which is a newly established biopharmaceutical company focused on developing innovative therapeutic antibodies for cancer treatment. . Dr. Liao was Project Team Leader at Genentech, a member of the Roche Group, where she spent nearly 14 years leading oncology and immunology drug development programs from preclinical to Phase 3.  Dr. Liao was a Fellow of the Damon Runyon Cancer Research Foundation and a Special Fellow of the Leukemia and Lymphoma Society.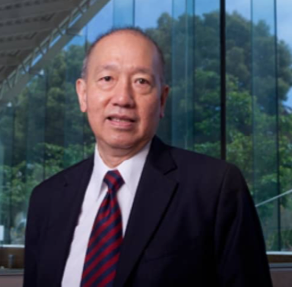 Prof. Stanley Kwong brings to USF over 30 years of international management, marketing and teaching experience in the US, China, India, and Central Europe. Professor Kwong is recognized as a leading expert on marketing strategy, branding, and investments policies and is frequently interviewed on branding in China and Chinese investments in the U.S. by top media, such as the Wall Street Journal, Bloomberg, SingTao News, and Chinese World Journal. He is a highly desired guest speaker at industry conferences and universities worldwide.
As a former Worldwide Program Director for IBM Developers Marketing, Professor Kwong shares his multifaceted experience-based knowledge of outsourcing and offshoring, globalization trends, marketing management and international business with his undergraduate, MBA and MBAE students.
Professor Kwong started his academic career as an Assistant Professor of International Studies and Assistant Dean of Students at Princeton University prior to his extensive work with IBM. With specialized interest in marketing to emerging economies, Professor Kwong's courses are equal parts introduction to cross-cultural, compassionate marketing and a forum to discuss how businesses can more effectively and humanistically achieve competitive advantage in the global marketplace.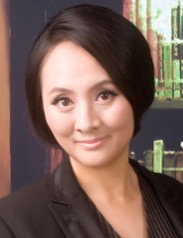 Dr. Yulin Xu, Founder and CEO of Olixus Inc - an enterprise strategy execution SaaS company based in Silicon Valley, also a member of Advisory Board of CBSI: China Business Studies Initiative, School of Management, University of San Francisco.
Yulin enjoys a successful track record of startups in addition to her work in big companies earlier in her career where she gained practical knowledge and deep expertise in diverse core computing technologies: computer networks as student intern to develop first test automation framework at Cisco Systems; database tools and 4GL as intern in Data Tools group at Sybase; first financial risk management software in CRD - Credit Risk Derivatives as Systems Engineer at Bank of America; system management with spec iality in database internals reverse engineering as Senior Software Engineer at CompuWare; database kernel internals with in depth contribution in Fault Tolerance Server, Distributed Transaction, Internationalization, 64 bits kernel as Principal Engineer and Manager of Database Kernel group at Versant - from there on, following the footsteps of Versant founder, she started her startup career: as Senior Engineer at iVendor, developed multilevel transaction management engine in web tiers to process eCommerce transaction and inventory management backend, significantly increased performance and building integrity of the web tier system; as Manager of Core team and company Software Architect, developed computing farm Farm Manager - foundation to cloud computing stack, and led the team delivering product version 0.1 to 0.9 - at TerraSpring when it was acquired by Sun MicroSystems; as Software Architect at N1 CTO group, contributed in core areas of N1 Architecture in collaboration with teams of architects from almos t all departments at Sun; as Staff Engineer in Sun Cluster group, worked on cluster Secure Container and ZFS projects at Sun; as Director of Engineering at LogLogic, a Sequoia funded startup, developed big
data solution as Linux Appliance to automate compliance, detect security violations and provide business intelligence in operational excellence via data mining - from this experience, Yulin learnt the vital importance of business strategy and the lack of enterprise strategy execution management software. With the dedication to help businesses to gain sustainable competitive advantages, Olixus focuses on providing enterprise strategy execution software to empower organizations building a healthy organization culture, with its innovation in influence solutio n as a key methodology to maximize profitability. Olixus also provides strategy consulting services via applying Design Thinking methodology in traditional strategic thinking and strategic decision
making, to identify key drivers in profitability to maximize its best potential.


Steven Xi, MBA
Co-Founder and Managing Partner, Eastlink Capital Seasoned entrepreneur and technology investor
Mr. Xi has been focused on software and data sectors since the early 2000s. In 2014, he co-founded Eastlink Capital, a Silicon Valley-based AI/Data specialist VC fund with digital health being one of the important vertical focuses. He co-led the seed round of Sensely, an emerging leader in Medical AI assistant and Triage System with major partnerships with Mayo Clinic and NHS in the U.K. In addition, he also invested in Sentieon, which develops high precision bioinformatics data analysis tools for precision medicine applications. Sentieon is the winner of the 2016 precisionFDA Consistency Challenge, and announced collaborations with DNAnexus in early 2017.
Prior to co-founding Eastlink, Mr. Xi was a Managing Director (China) and Special Advisor (2007 - 2016) at Riverwood Capital, a tech-focused global growth equity PE firm with over $2 Billion AUM. Prior to joining Riverwood, he was a Managing Director at The Hina Group Fund I, where he focused on expansion-stage investments in TMT. Before joining Hina in 2004, he was an Acting EVP of Corporate Development at VanceInfo (Nasdaq: PACT), a leading software development service provider. Mr. Xi holds an MBA from the University of Chicago, an MA in Economics and PhD Candidate in Econometrics from the University of Southern California, and a BS in Physics from Jilin University.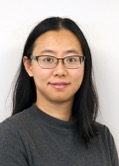 Selina Fan M.D. & Ph.D
Director of China Practice, MORE Health
Dr. Fan received her M.D. degree from Peking Union Medical College in China and Ph.D. degree from Columbia University in US. She did her post-doctoral training in the laboratory of Dr. Thomas Sudhof, a Nobel laureate of physiology or medicine in 2013. Dr. Fan has extensive experiences in both clinic and life science fields. She has several peer-reviewed publications in neuroscience on top journals such as PNAS. Currently she is the director of China Practice at MORE Health. She works closely with hospitals and doctors of both US and China, and facilitate their clinical collaborations and academic communications.
Penal Speakers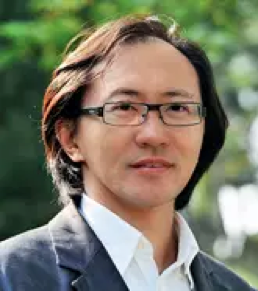 Bo Hu 
Founder & Chairman, CIMING Medical Checkup Group
Dr. Bo Hu is the founder & Chairman of CIMING Medical Checkup Group, the Founder of JJK Life— A Chronic Disease Checkup Internet Platform, the Director of the"Belt and Road" Medical and Health Care Institutes, the Secretary-General of China Hospital Asso.of Clinical Technology organization (MTA), Chairman of China Medical Docter Asso.(China-HMO), the Founder of Silicon Valley Chinese Medical Service & Innovations Center and Chairman of Zhongguancun Medical innovation Alliance. In 1992, Mr Hu was transferred to the PLA Shenyang Military Hospital. He was the vice director of Technology for China Cancer Research Foundation, the Vice Secretary- General of China Medicine and Biotechnology Association and the director of Biotechnology Group for ministry of health. In 2002, Mr Hu, with his wife Xiaohong Han (the Vice president of CIMING Medical Checkup Group& Doctor of Medicine in Germany), founded CIMING Medical Checkup Group. CIMING Medical Checkup Group initiates "CIMING Model"for physical examination. It built up 200 checkup centres around the nation and served for around 4 million people annually saving over 200 billion RMB for national medical resource. Meanwhile, around 200 million people benefit from this Model annually and this Model fills the blank for China physical checkup industry, being the most influential brand in the industry. In 2015, CIMING accomplished IPO.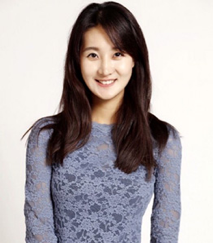 Yihan Hu , Co-Founder, Beijing Ciji Technology Co., Ltd;Lifetime Member, Zhenghe Island Entrepreneur Club;
Executive Committee Member, Global Shaper
 Yihan Hu received her Bachelor's Degree in International Relations at George Wash-ington University. She is currently a student at Stanford University's School of Medicine. Yihan has worked for the Institutional Reform Division of the National Com-mission of Health and Family Planning and the Equity Investment Division of Morgan Stanley Fund.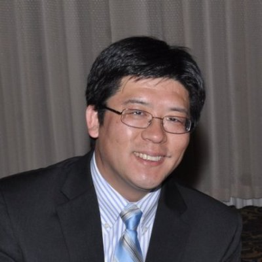 Alex Zhang President, Chinese American biopharmaceutical society (CABS) 2017-2018; President, Hanhai Life Sciences 
Dr. Zhang is the President of the Chinese America BioPharmaceutical Society (CABS), a highly influential association with more than 3000 members and subscribers in the life sciences
industry. It is the largest and most active Chinese biopharmaceutical association in Northern America. Dr. Zhang is the Chair of the Organization Committee for 2017 BioPacific Conference, which was held at San Mateo Marriott in June 24, 2017. As the President of Hanhai Life Sciences, he is responsible for life sciences incubation and investment in the Bay Area. Prior to Hanhai, Dr. Zhang was the Managing Partner of Enverest, Inc. Enverest is a Silicon Valley based innovation solutions and investment advisory firm, with branch offices in China and Singapore. Prior to founding Enverest, Dr. Zhang spent over four years at Thermo Fisher Scientific, where he was responsible for 4 business development deals exceeding $10 M, and played a key role in several billion dollar acquisitions in IVD and MedTech areas. From 2001 to 2009, Dr. Zhang was a Senior Scientis t at Tularik Inc. (acquired by Amgen in 2004), where he led drug discovery endeavors in oncology, cardiovascular and metabolic diseases therapeutic areas. Dr. Zhang received MBA degree at Cornell University, PhD in Organic and Analytical Chemistry at Texas A&M University, and BS in Chemistry at Shandong University. During his graduate research, he focused on the design and synthesis of therapeutic peptoids, as well as biological mass spectrometry. His
research has led to publication of more than 20 peer reviewed articles and 10 patents.

Dr. Lin Sun-Hoffman, JD, Ph.D
Founding partner of Liu, Chen& Hoffman LLP

Dr. Sun-Hoffman is a licensed patent attorney and advises on issues related tointellectual property and technology transfer matters. She also consults onbiotechnology and pharmaceutical business-related matters. She helps businesses expand into China through providing strategic and practical advice on issues asdiverse as government relations, research and/or business partnerships between Chinese and American companies, intellectual property protection and drugregulatory matters. She previously worked for Life Technologies/ABI, BIO,Celera Genomics, US Patent and Trademark Office and National Institutes of Health. She is the former president of Chinese Biopharmaceutical Associationbased in Washington DC, currently serves on board of US China Green EnergyCouncil, a member of Bayhelix. Dr. Sun-Hoffman has a PhD in Biochemistry/Celland Molecular Biology. She was the president of CBA 2013.

Nan Zhou
InvestmentDirector, Baidu Capital
Ms. Zhou is responsible for Baidu capital's ventureinvestments in the US. She developed in-depth industry insights in artificialintelligence (AI), autonomous driving, machine learning and inference chips,deep learning embedded healthcare & genomics, big data/SaaS. She previouslyserved as assistant vice president at Barclays Capital Investment Bankingdivision. She graduated from Wharton with MBA degree.
---
大会议程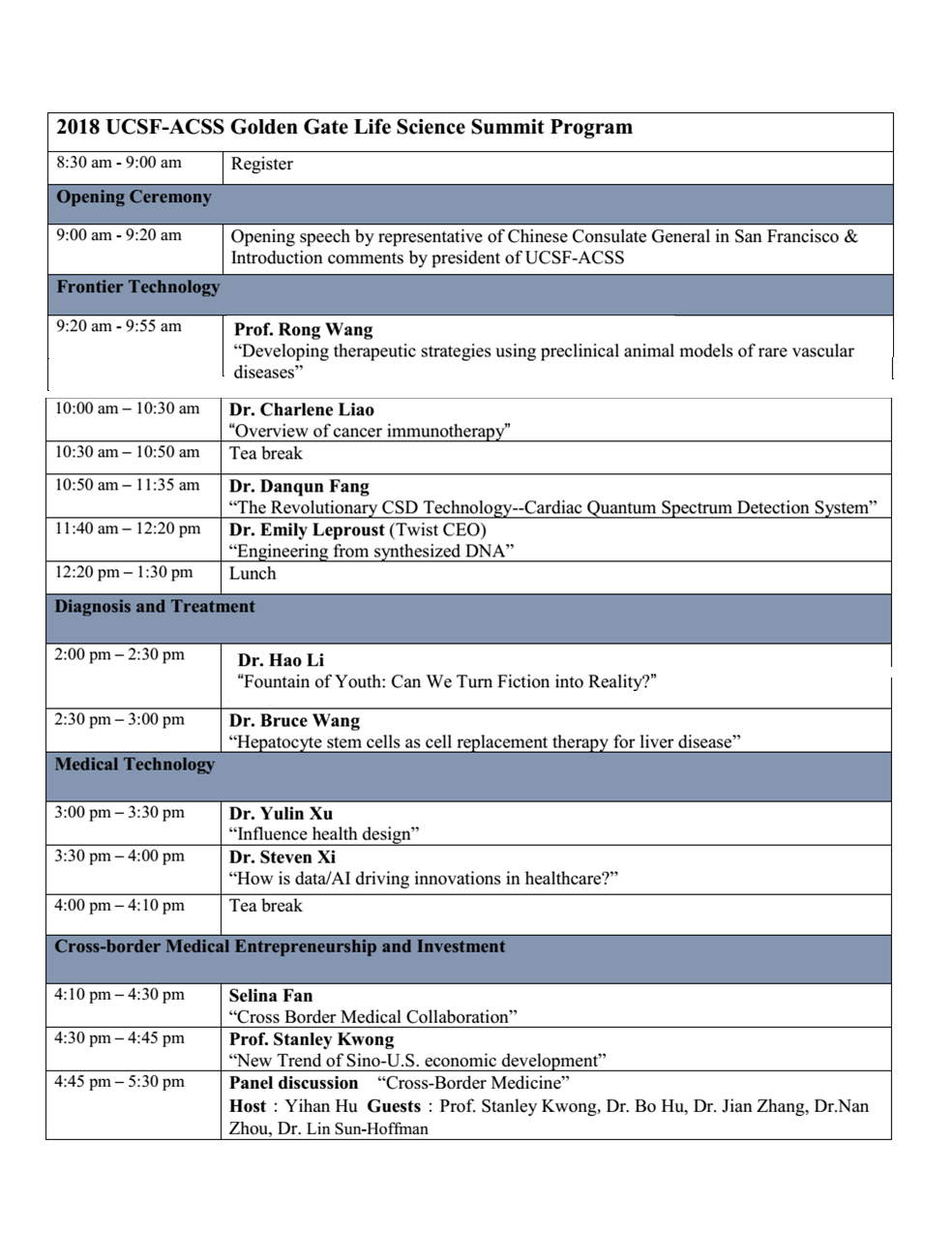 The organizer also prepare free lunch and tea break dessert for each audience.

When & Where

HSW300 auditorium
505 Parnassus Ave
San Francisco, CA 94143


Saturday, January 20, 2018 from 9:00 AM to 5:30 PM (PST)
Add to my calendar
Organizer
Associationof Chinese Students and Scholars at University of California San Francisco (ACSSat UCSF) was founded in 1992. It's a non-profit, non-political andnon-religious organization. The main purpose of ACSS is to organize the membersin UCSF to hold scientific and cultural activities, to promote communicationbetween members, and provide information for member's personal need.The foundation andgrowth of ACSS has always been associated with support from ACSS members fromthe very beginning. By the name of ACSS, we would like to receive the adviceand opinion from all of you to improve our service quality.