2018 UCL Neuroscience Symposium

Friday, 22 June 2018 from 09:00 to 18:00 (BST)
Event Details

2018 UCL Neuroscience Symposium
Friday 22 June
Institute of Education, 20 Bedford Way, London
 #UCLNeuro2018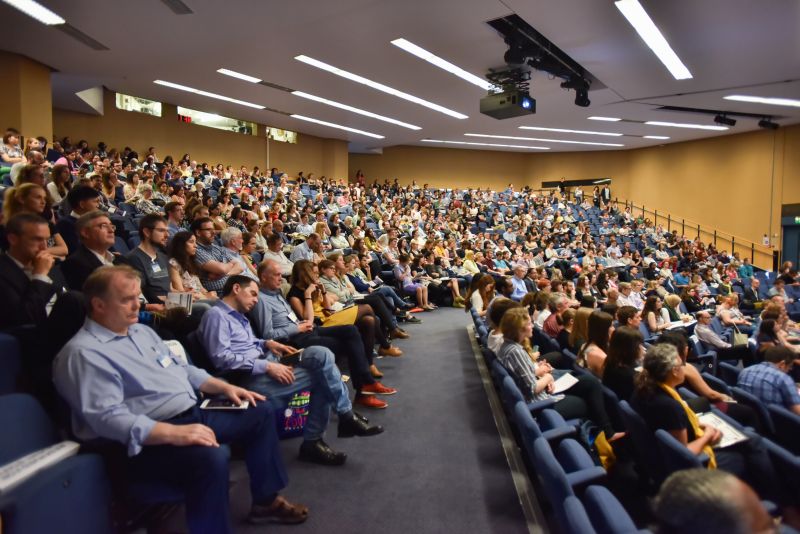 Now in its 9th year, the renowned UCL Neuroscience Symposium is a fantastic opportunity to find out more about the latest research in neuroscience at UCL. With over 800 UCL Neuroscientists expected to attend, delegates will have the chance to create new cross-disciplinary links and foster collaboration between basic and clinical researchers.
We are delighted to announce that Professor Daniel Wolpert (Columbia University, New York) and Matt Botvinik (DeepMind) will deliver the keynote lectures at the 2018 Symposium.
There will be two large poster sessions which will feature over 120 research and lab posters.  
The Jon Driver Prize for young scientists closes on Friday 4th May, see below for more details.
POSTER SUBMISSION NOW CLOSED
See poster section below for more details
For more information on the 2018 UCL Neuroscience Symposium contact Candice Lewis
---
 Keynote Speakers
UCL Speakers
---
Programme
8.15am - Registration
9.00am - 5pm - Talks
5pm - 6pm - Drinks Reception
The full programme is available here:

---
Early Career Neuroscience Prize
Each year the UCL Neuroscience Domain presents the Early Career Neuroscience Prize to two UCL neuroscientists. The prize aims to recognise outstanding work published in the past year by early career UCL neuroscientists in any field of neuroscience.
Winners will receive a prize of £750 and are given the opportunity to present their work at the annual UCL Neuroscience Symposium.
The deadline to apply is 5pm on Monday 19 March 2018.
Full details on how to apply are available here:
---
Poster Submission Closed - Deadline was Friday 20th April

All attendees were eligible to submit posters when registering to attend but due to limited space this is on a first come, first served basis. You will be notified by Friday 4 May if your poster has been accepted. 
New for 2018 - There will be a prize for the best research poster.  All research posters (not lab posters) submitted will be considered and a short list will be judged on the day.  More details will be given closer to the event day.
Please note the following details in order to ensure you submit correctly:
Poster submission is part of the registration process, no posters will be accepted on the day that have not been submitted in advance
All poster details must be complete at time of registration, you will not be able to add information to your submission once you have completed registration

Details required for submission are: 

Poster type (research or lab poster)

Poster category

Poster title

Poster authors

Poster abstract (200 words)

The deadline for submitting posters is Friday 13th April, 4:00pm.

Poster submitters will be notified by Friday 5 May if their poster has been accepted or not.
 Research Poster Themes: 
Developmental Neuroscience, e.g. Brain Patterning, Neurogenesis, Gliogenesis, Stem Cells, Axon & Dendrite Development, Synaptogenesis, Cell Death, Development of Motor, Sensory & Limbic Systems, Transplantation & Regeneration

Neural Excitability, Synapses, and Glia: Cellular Mechanisms, e.g. Neurotransmitters, Signalling Molecules, Ion Channels, Receptors, Transporters, Synaptic Plasticity, Network Interactions, Intrinsic Membrane Properties, Glia-Neuron Interactions

Disorders of the Nervous System, e.g. Translational Mechanisms, Neurological, Neurodegenerative, psychiatric, developmental & sensory disorders, Trauma, Neurooncology, Drug abuse

Sensory and Motor Systems, e.g. Multisensory, Auditory, Vision, Vestibular, Pain, somatosensory, Spinal cord injury, Motor pattern generation, Motor neurons, Cerebellum, Basal ganglia, Posture & gait, Voluntary movements, Brain/machine interface

Homeostatic and Neuroendocrine systems, e.g. Neuroendocrine, Neuroimmunology, autonomic regulation, biological rhythms and sleep

Cognition and Behaviour, e.g. Perception, learning, memory, attention, language, emotion, decision making and reasoning, cognitive development, cognitive ageing, social cognition, animal cognition & behaviour, motivation and emotion

Novel Methods, Resources and Technology Development, e.g. Molecular, biochemical & genetic techniques, Genomics proteomics & systems biology, staining, imaging, optical methods, optogenetics, electrophysiology, software, bioinformatics, computation

Other, e.g. history of neuroscience, public awareness of neuroscience, resource posters
Lab posters:
Lab posters should present an overview of the work of the whole laboratory, rather than a specific piece of research.
Size: 
Poster boards are A0 portrait (841mm wide x 1189mm high). All posters must fit in this space. We regret that we cannot accept any landscape posters wider than 841mm.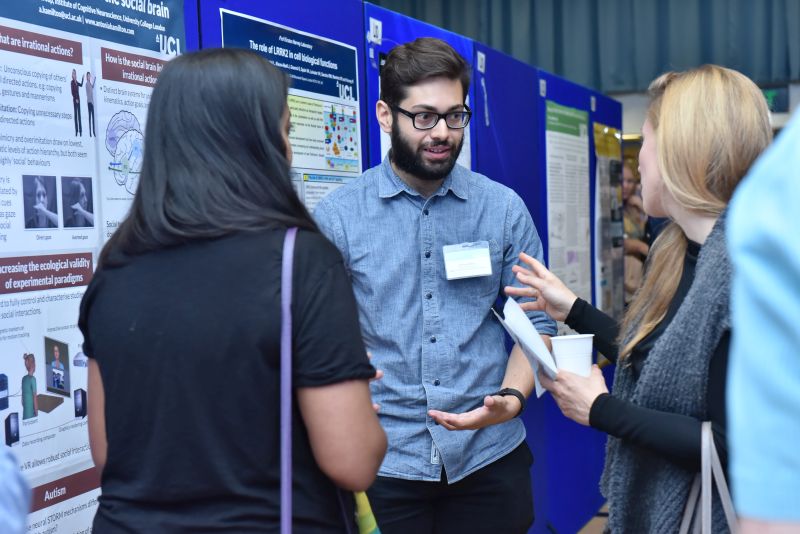 ---
Jon Driver Prize - SUBMISSION CLOSED

To honour the memory of Jon Driver, an annual Prize will be awarded to outstanding young neuroscientists from UCL.  Awards will be announced at the UCL Neuroscience Symposium in June. Winners will be asked to give a short presentation of the work that the award was given for.

Details on eligibility and how to apply can be found here:
https://www.ucl.ac.uk/research/domains/neuroscience/research/jondriverprize/index

Deadline: Friday 4th May 2018
---
Important Points to Note
This meeting is open to all researchers (PhD students, postdocs, research associates and Principal Investigators) working on any aspect of neuroscience within UCL, or partner NHS organisations (UCLH, Moorfields Eye Hospital, Great Ormond Street Hospital, Royal Free Hospital, associated Mental Health Trusts).
Due to the popularity of the event, entry is only guaranteed for those that have pre-registered.
 A limited number of tickets will also be made available to:
UCL BSc/MSc students on neuroscience-related courses;

Neuroscience colleagues with affiliation to the Francis Crick Institute.
To confirm authenticity of your registration, please use your UCL/NHS email address when registering (i.e. do not use gmail, hotmail etc).
If you are affiliated to the Francis Crick Institute please use your primary organisation's address. 
---
Cancellation Policy
Notice of cancellation must be given by email to Candice Lewis by Friday 8 June at 5pm
If you fail to send a notice of cancellation to organisers by Friday 8 June we will request a £10 cancellation fee from the department account string specified on your registration form.
We will accept name changes for attendees. Please inform Candice Lewis 10 working days prior to the event on (0)20 7679 8107(Internal: 8107) or email.
If name changes aren't notified 10 days in advance a name badge cannot be guaranteed for the alternate attendee.
---
 Sponsors
We are immensely grateful for the support of all our sponsors:
Gatsby Computational Neuroscience Unit at UCL
Sainsbury Wellcome Centre for Neural Circuits and Behaviour
UCL Business
UCL Division of Biosciences
UCL Division of Psychiatry
UCL Ear Institute
UCL Faculty of Brain Sciences
UCL Institute of Neurology
UCL Institute of Ophthalmology
UCL Psychology and Language Sciences
UCL School of Pharmacy
UCLH Biomedical Research Centre
UK Dementia Research Institute at UCL
If you wish to sponsor this event and exhibit at the trade exhibition, please contact Candice Lewis for more information about the sponsorship opportunities available at this year's Symposium.
Save This Event
When & Where

Institute of Education
20 Bedford Way
WC1H 0AL London
United Kingdom


Friday, 22 June 2018 from 09:00 to 18:00 (BST)
Add to my calendar
Organiser
UCL has a strong and vibrant neuroscience community, and is currently ranked second worldwide for ISI citations in neuroscience and behaviour. Neuroscience is a strategic priority and cross-cutting theme for UCL, with increased efforts being made to facilitate interactions between the many different aspects of neuroscience across the different parts of UCL.
To date, over 450 Neuroscience PIs have been identified across UCL. Together with the many postdocs and PhD students, the total community exceeds 2000 people.
Organising committee:
Dr Caswell Barry (Chair), Professor David Atwell, Dr Jennifer Bizley, Dr Tiago Branco, Dr Francesca Cacucci, Professor Val Curran, Professor Eileen Joyce, Candice Lewis, Professor Jonathan Roiser, Dr Tali Sharot, Dr Matt Wakelin, Professor Paul Whiting, Sijia Zhao

Dr Matt Wakelin is UCL's Neuroscience Strategy Coordinator, and Candice Lewis is our Neuroscience Communications and Events Officer.
Email: candice.lewis@ucl.ac.uk

Web: http://www.ucl.ac.uk/neuroscience
Twitter: UCL_SLMS