Description
September 14, 2018 @ 7 p.m
Tunnel to Towers 5K Run & Walk South Carolina local event details can be found HERE!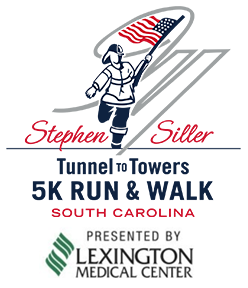 What is a Tunnel to Towers 5K Run & Walk?
The Tunnel to Towers 5K Run & Walk Series was created to honor the heroic life and death of Stephen Siller, a New York City firefighter (FDNY) who lost his life on September 11, 2001 after strapping on his gear and running through the Brooklyn Battery Tunnel to the Twin Towers. Honor all of those who lost their lives on September 11, 2001 and support our first responders and military who make extraordinary sacrifices in the line of duty! For more information on the Stephen Siller Tunnel to Towers Foundation please visit www.tunnel2towers.org.
How Far is the Tunnel to Towers 5K Run/Walk?
This is a 5k (3.1 miles). You are welcome to walk or run this event.
Can I get a timing chip?
Yes, all participants will be chip timed.
Will I get a Tunnel to Towers SC event t-shirt? Only if you preregister by midnight on August 20, 2018. If you preregister after the midnight, August 20 deadline (August 21 and following), there is NO GUARANTEE you will be able to receive a shirt.
Can I register the day of the run?
Yes! There will also be an additional $5 charge for registration on race day. You may register in person at Columbia Metropolitan Convention Center beginning at 10 a.m.
Who is a Hero?
Every first responder--- firefighter, law enforcement officer, EMS/paramedic, and/or past or present member of our US Armed Forces (including National Guard)--- is an important HERO in our community. First responders should register for this discounted rate and be prepared to provide official identification if requested.
What is the First Responder Team Competition?
1. For firefighters: The Stephen G. Siller Steel Award: This stately award will display a piece of the Twin Towers steel and can be won by the fire department which has a team of 5 participate by running in turnout gear; the four fastest times of their team members will be combined for the team's total. The team with the fastest combined time will win the award and will have it to display in their station until the next year's run, at which time the award will be transferred to the next winning team. Win it again, and the team keeps it for another year! Please note: Our equipment policy for participating in the Siller Steel Award is competitors must run in jacket (no liner), pants, helmet, and running shoes. No tank or boots is required.
2.

After all five firefighters from a team have registered online (using the Hero Rate), please send the team name and five firefighters' names to Columbia@tunnel2towers.org.
Is there transportation to and from the event?
No, we do not provide transportation to and from the event.
Is there parking available?
Yes, there is parking available nearby. Please pay attention to parking info which will be sent to you prior to the run/walk as there are several other major events in Downtown Columbia that night, and only certain areas and nearby lots will be designated for our participants' use.
Where can I pick up my packet?
Check details here http://t2trunsc.org/packet-pickup/
Do I have to wear my bib number?
Yes, please display your bib on the front of your outermost garment.
Will water be available?
Yes, two water stations will be available along the route, and there will be water available at the finish.
What can you bring to the event?
Backpacks, diaper bags, etc. are allowed.
Can I run with a stroller, backpack, wheelchair, roller blades, bicycle, etc?
One can run with a stroller, backpack, or wheelchair. Roller blades or bicycles are NOT allowed.
As a participant, can I fundraise/encourage others to donate?
Yes! Once you are registered, you will be given directions to start your own fundraising page and you will be able to accept donations online. Do you want to donate cash/money? We can help you with that. Contact us at columbia@tunnel2towers.org and we can walk you through the process or you can send donations directly to 2361 Hylan Blvd., Staten Island, NY 10306 - please give us your information so we can add it to your fundraising page. It's easy!
FUNDRAISING:
Does my registration fee count towards my fundraising goal?
Registration fees help offset some of the expenses associated with making the Tunnel to Towers 5K Run & Walk one of the country's greatest annual events, however your fundraising efforts enable us to continue to make a difference in the lives of so many in need.
To show our appreciation for your time, passion, and effort, we recognize each fundraising milestone that is reached with prizes branded with the Tunnel to Towers logo.
What are the fundraising levels & prizes?
Check out our incentives
How long do I have to fundraise for incentives?
Funds will be counted up until midnight September 24th, the NYC 5K.
When will my fundraising incentive arrive?
Look for an email from us in October to confirm your fundraising prize. Prizes will be shipped out around November.
You can help the Stephen Siller Tunnel to Towers Foundation as we honor and support our nation's first responders and military heroes!
Thank you for joining us in our mission to honor and support our nation's first responders and military heroes! For more information on our Foundation please visit www.tunnel2towers.org.
Can I get a refund? Can I transfer my registration?
Unfortunately, ALL SALES ARE FINAL and we do not allow refunds. However, you may transfer your registration to another participant. For instructions on how to transfer your registration please click here.
How can I volunteer?
It's simple! Click on the volunteer option while above and enter your information to sign up. Thank you!

The purpose of our race is to raise funds to build smart homes for catastrophically injured veterans, and we couldn't do it without you! Our race runs on volunteers. Everything from registration and packet pick up and staffing water stations, to assisting in the after party area. The needs are many and this is your opportunity to be a part of history.
Race Registration Volunteers: These individuals will assist interested runners complete their race registration on the day of the race, if they have not already done so. This is primarily a stationary position at the registration booth. AM, mid-morning and PM shifts are available. (5-8 per shift)
Packet Pick Up Volunteers: These individuals will interact with the already registered runners to assist them in picking up their packets which will include their runner bibs, t-shirts, etc. This is primarily a stationary position at the registration/packet pick up table. AM, mid-morning and PM shifts are available. (5-8 per shift)
T-shirt volunteers: These volunteers will back up the Packet Pick Up volunteers and pull shirts by size as they are called out by the PPU volunteers. This job may require some heavy lifting. AM, mid-morning and PM shifts are available. (5-8 per shift)
Water Stations: There are 3 water stations on the course. Each one requires at least 15 volunteers. All materials for this station (water coolers, water, ice, cups) are provided. These positions are on the outer areas of the course. Your organization may set up banners and signs advertising your group at your water station as long as they do not impede the runners. This position requires mobility and possibly heavy lifting. Must be in position no later than 6 pm.
After party volunteers: These positions are high mobility and possibly mid to heavy lifting. Responsibilities will include bag check, food service, children's activity area, and more. Primarily a mid afternoon and PM shift. Some volunteers will be needed up to after party closing at approximately midnight (up to 100 volunteers)
Parking Lot Monitors: Teams of 2 or more will patrol on foot in the parking areas. Responsibilities will only be to be a set of eyes in the parking areas. Law enforcement will handle any security issues. This is a PM shift only between 5:30-9 pm.
The 343: On 9/11/2001, we lost 343 first responders when the Twin Towers fell. At our race, we have poster size photographs of each of those heroes. We are looking for 343 volunteers to hold those signs on a portion of the race course. This position requires standing from 6:45-8:00 pm.
Other opportunities are available as well…. Please register today as a volunteer.