Description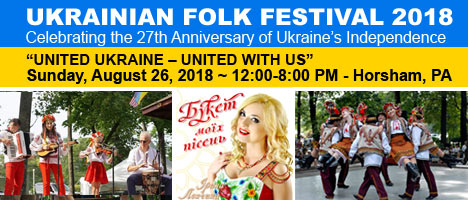 REGULAR ADMISSION PRICE AT DAY OF FESTIVAL WILL BE $15 PER PERSON.
DISCOUNT TICKETS AVAILABLE UP TO THURSDAY, AUG. 23, 2018 --- 10pm
For Information, Featured Performers and Special Guests CLICK this link: http://www.tryzub.org/ukrainian-festival-2018.php

PRINT OUT YOUR PURCHASED TICKET AND BRING IT WITH YOU TO THE FESTIVAL FOR ENTRY.
Confirmation of purchaser will be verified by our list at entry.
In the event that you can not attend the Festival or the Festival is cancelled - PURCHASED TICKETS CAN BE USED AT UPCOMING FALL-WINTER TRYZUB EVENTS or at TRYZUB'S CLUBHOUSE PUB FOOD MENU ONLY - (excludes alcoholic beverages). Use of purchased ticket expires 2/28/19.
*** PURCHASED TICKETS ARE NON-REFUNDABLE ***
Watch our Promotional video: https://youtu.be/y9H6tjr8Vhs

Підтвердження покупця буде перевірене нашим списком при вступі.
Якщо Ви не змогли б взяти участи у Фестивалі, або Фестиваль буде відкликаний, ЗАКУПЛЕНІ БІЛЕТИ МОЖНА БУДЕ ВИКОРИСТАТИ ДЛЯ ВСТУПУ НА МАЙБУТНІХ ІМПРЕЗАХ "ТРИЗУБА" ОСІННЮ-ЗИМОЮ або в КЛЮБІ "ТРИЗУБІВКИ" ДЛЯ МЕНЮ ХАРЧІВ (не включає алькогольних напоїв). Закуплені білети тратять свою вартість з днем 28-го лютого 2018 р.
*** ГРОШІ ЗА ЗАКУПЛЕНІ БІЛЕТИ НЕ ПОВЕРТАЮТЬСЯ ***