Професиите на бъдещето 2018 | "Дигиталната трансформация на професиите"

Tuesday, October 30, 2018 from 10:30 AM to 7:00 PM (EET)
Event Details
На 30 октомври 2018 г. в Иновационен форум "Джон Атанасов" в София тех парк JA България, с подкрепата на генералния партьор HP Inc. и основни партньори: Nestle, Swiss Education Group, A1 България, Coca-Cola HBC, София Тех Парк, организира четвъртото издание на кариерния форум "Професиите на бъдещето" в рамките на инициативата "Мениджър за един ден". Тази година темата на форума е "Как дигиталната среда променя професиите" и какво тази промяна ще донесе в близко бъдеще за младите хора в България. 
Ако сте на възраст от 17 до 23 години и се интересувате от дигитализацията на професиите, запазете си времето от 11 до 19 ч. на 30 октомври 2018 г., за да чуете как дигиталната среда променя образованието, какво ще донесе интернет на нещата IoT, какви навици е добре да изградите, за да отговорите на предизвикателството на бързо променящата се среда и още полезни и интригуващи презентации от нашите гост-лектори. 


КАК 
ДИГИТАЛНАТА СРЕДА ПРОМЕНЯ ПРОФЕСИИТЕ? 
София Тех Парк, форум "Джон Атанасов"
ПРЕДВАРИТЕЛНА ПРОГРАМА
10:15 – 11:00 Регистрация
11:00 Откриване, Модератор, Светослава Стоянова, JA Bulgaria
11:05 София – дигитална столица, официално откриване на събитието от кмета на София, Йорданка Фандъкова 
11:10 Видео обръщение от Мария Габриел, комисар по цифрова икономика и общество, ЕК
11:20 Дигитална трансформация на професиите: част 1
11:20 Пътешествие в бъдещето: твоят компас за кариерен избор, Даниела Петкова, HP Inc. България
11:40 Как роботите оформят бъдещето на професиите? презентация на англ. език: Симона Симион-Попеску, Coca-Cola Hellenic BSO
12:00 Технологичните компании – директни участници в света на финансовите услуги и продукти и какво означава това за пазара на таланти, Боряна Йотова, FactSet 
12:20 Маркетологът на бъдещето: съвети за оцеляване, Елизабет Гранвил-Попова, Nestlé
12:40 ЗА1 по-свързан свят с IoT, Красимир Петров, А1 България
13:00 – 13:15 – Рефреш пауза 
13:15 Дигитална трансформация на професиите: част 2
13:15 Kак дигиталната среда променя образованието ви и какво да очаквате и да изисквате? Горан Йорданов, Swiss Education Group
13:30 Роботът, моят приятел: бъдещето на професиите в счетоводно-финансовата сфера, Стефан Димитров, TMF Group Bulgaria
13:45 Как дигиталните технологии трансформират работното място и как да се подготвим за тази трансформация? Огнян Юскеселиев, Telelink 
14:00 Предай нататък: подготви се за своето бъдеще
Откриваща презентация, Пламен Петров, Equinox Partners
14:15 Предай нататък – научени уроци, дискусия за уменията на бъдещето, в които днес да инвестирате своето време, усилия и ресурси
Участници:
Лиляна Павлова, министър за Българското председателство на Съвета на ЕС 2018
Румяна Тренчева, SAP, Директор Общ бизнес и Партньорска мрежа за Централна и Източна Европа
Тодор Младенов, София тех парк, изпълнителен директор
Д-р Христо Трунчев, Novartis България, изпълнителен директор
Антон Хекимян, журналист, bTV медия груп
Модератор: Милена Стойчева, JA България, изпълнителен директор 
14:55 – 15:15 Рефреш пауза
15:15 Дигитализация на професиите: част 3
15:15  АпетIT за технологично развитие, Александър Савчев, мениджър Информационни технологии, VIVACOM
15:30Дигиталното бъдеще през погледа на Бош, Стефан Златев, Търговски мениджър Бизнес развитие, Ивайло Кожинков – БСХ Домакински уреди България, Мениджър "Ключови клиенти", BOSCH
15:45 Моето място в света на дигиталните двойници, Бистра Папазова, изпълнителен директор, coBuilder
16:00 Застраховай кариерата cи: дигиталните професии в застраховането, Марина Първанова, оперативен директор, AIG.
16:15 3D кариера и визуализации за Холивуд: бъдещето е вече тук - Руско Русков, Chaos Group 
16:30 Дигиталните технологии и бъдещето на професията "Ръководител на полети" - Димитър Чунчуков, ръководител Авиационен Учебен Център, BULATSA
17:30 – 18:45 "Споделени моменти и преживявания", ученици и студенти, участващи в  "Мениджър за един ден" и техните домакини. Модератор - Антон Хекимян, bTV Media Group
Участието във форума е безплатно за ученици и студенти, но е необходима предварителна регистрация.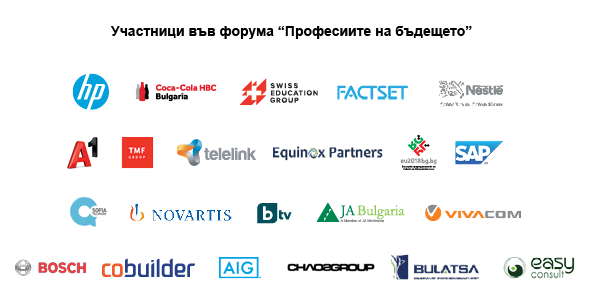 ПАРТНЬОРИ НА 'МЕНИДЖЪР ЗА ЕДИН ДЕН' И КАРИЕРЕН ФОРУМ 'ПРОФЕСИИТЕ НА БЪДЕЩЕТО'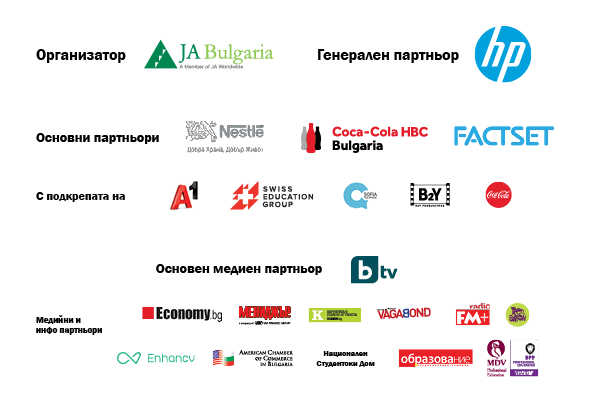 Have questions about Професиите на бъдещето 2018 | "Дигиталната трансформация на професиите"?
Contact JА Bulgaria
When & Where

Sofia Tech Park
111B Boulevard "Tsarigradsko shose"
Иновационен форум "Джон Атанасов"
1784 Sofia
Bulgaria


Tuesday, October 30, 2018 from 10:30 AM to 7:00 PM (EET)
Add to my calendar
Organizer
Short overview of JA Bulgaria
For more than 20 years now JA Bulgaria has been a leading international organization in Bulgaria, with established reputation for providing innovative and modern 21st century education to students from kindergarten to university.
Our portfolio of educational products and services features programs in 3 thematic areas: entrepreneurship, financial literacy and work readiness. JA uses the Progression model "From ABC to PhD" - a spiral approach of education as a way to create sustainable entrepreneurial competence. JA's philosophy of teaching and learning is based on learning by doing and blended classroom using digital interactive content and high technologies. The core business model of the organization features close collaboration with the business sector and practitioners who participate in the co-creation and delivery of educational content, training and services, and policy development in education and entrepreneurship.
JA Bulgaria is a member of JA Worldwide and JA Europe and for the last 20 years has been preparing young people to own their economic success. It reaches annually over 30,000 high school and university students from 450 locations in the country.  
За JA накратко
Повече от 20 години JA България е водеща международна организация у нас, с утвърдена репутация в предоставянето на иновативно и модерно образование от най-ранна възраст до университета.
Портфолиото от образователни продукти и услуги включва програми в 3 тематични области: предприемачество, финансова грамотност и умения за работа. JA използва т.нар. прогресивен или надграждащпредишните етапи модел на образование ("от АБВ до PhD"), чрез който устойчиво се изгражда ключовата компетентност предприемчивост и инициативност. Образователната философия на JA се базира на методите на учене чрез правене и смесено обучение (blended learning) с използване на дигитализирано интерактивно съдържание и високи технологии. Бизнес моделът на организацията се отличава с тясно сътрудничество с бизнеса и хората от практиката, които участват в създаването и предоставянето на образователно съдържание, обучение и услуги, както и разработването на политики в областта на образованието и предприемачеството.
JA България е член на JA Worldwide и JA Europe и годишно достига до 30,000 ученици и студенти от 450 населени места в страната.