2018 Texas Fatherhood Summit: Engaging Communities, Strengthening Families
Description
Note: A waitlist will automatically begin when registration is full. Final registration deadline is June 22nd.
-----------------------
Please join us on Friday, June 29, 2018 in Austin for the third annual 2018 Texas Fatherhood Summit: Engaging Communities, Strengthening Families hosted by the Child and Family Research Partnership at The University of Texas at Austin LBJ School of Public Affairs and the Texas DFPS Prevention and Early Intervention Division.
This popular event brings together hundreds of public and private sector professionals from all over the state and country who seek research-based best practices and innovations to best support dad, mom, and their children.
The 2018 Texas Fatherhood Summit is especially relevant for policymakers at all levels of government, community leaders, nonprofit organizations, program leaders, and local business professionals. This year, we are putting a lens on why and how the inclusion of policies and programs that support fathers at the community level strengthens the entire family, as well as the communities in which they live.
See childandfamilyresearch.utexas.edu for more about past summits.
SPECIAL GUESTS
Ron Nirenberg, Mayor of the City of San Antonio
Ron Nirenberg was elected mayor of San Antonio on June 10, 2017. He has been committed to public service most of his life, including serving as a program director for the Annenberg Public Policy Center. He was first elected to the San Antonio City Council in 2013. The former District 8 councilman helped guide one of the fastest-growing areas in the state and pursued policies that celebrated the city's diversity. He has championed smart planning, economic development, sustainability and government accountability. Mayor Nirenberg is committed to nurturing San Antonio's diverse economy, promoting its leadership on an international stage and pursuing strategies that foster resilience and equity in all sectors of the city. He is committed to building a city that works for all, adapts to rapid growth, and advances innovation and opportunity for local businesses while balancing sustainability goals. More: A Dad-First Political Insurgency in Texas (5/19/17)
Paul Schmitz, CEO of Leading Inside Out
Paul Schmitz builds the collective leadership of organizations and communities to achieve greater social impact through his roles as Senior Advisor at The Collective Impact Forum and CEO of Leading Inside Out. He is also the author of Everyone Leads: Building Leadership from the Community Up, and the former CEO of Public Allies, where he helped more than 5,000 diverse young adults begin careers working for community and social change. Mr. Schmitz is a faculty member of The Asset-Based Community Development Institute, was a social innovation advisor to the Obama White House, and has been named three separate years to The Nonprofit Times list of the 50 most influential nonprofit leaders in America. He lives in Milwaukee, Wisconsin with his wife and five children. More: Leading Inside Out.
WHEN AND WHERE
The 2018 Summit will be held on Friday, June 29, 2018 in the new Zlotnik Family Ballroom at the AT&T Executive Education and Conference Center (1900 University Avenue, Austin, TX 78705) at The University of Texas at Austin, followed by a networking reception. Breakfast and lunch will be provided. Parking information below.
AGENDA
7:30am - 8:30am - Breakfast Provided and Check-In
8:30am - Everyone Leads, Building the Culture for Collective Impact - Paul Schmitz, CEO, Leading Inside Out
10:30am - Focus on Fathers: Spotlight on State and Local Models for Supporting Fathers
11:45pm - Lunch Provided
12:45pm - Incorporating Fatherhood into Local Community Agendas: Why Fathers are Important, and How to Take a Family-Inclusive Approach - Mayor Ron Nirenberg, City of San Antonio

1:45pm - Transforming Communities at the Systems Level
2:45pm - Community Approach to Serving Fathers
3:45pm - Making Your Community More Father Friendly
5:00pm - 6:30pm - Networking Reception


SOCIAL MEDIA and WEBSITES
Follow/tag for retweets: @CFRPlbj
Event hashtag: #TXdads2018
Registration: txdads2018.eventbrite.com
CFRP webpage: childandfamilyresearch.utexas.edu/2018-texas-fatherhood-summit
RESOURCE TABLES
Shared table space will be provided to display relevant program resources by organizations in attendance. If you are interested in providing materials, please review and submit the request form by Friday, June 8, 2018. Promotional/sales materials are not allowed. Attendees are responsible for coordinating materials before and after the event.
HOTEL INFORMATION
Update: The hotel block block is now full and the deadline was May 28, 2018. The block includes Thursday, June 28 and Friday, June 29 at a discounted rate of $189/night at the conference site, the AT&T Executive Education and Conference Center. Reservations: online or 512-404-3600.
CANCELLATION
If you have already registered and can no longer attend, please let us know at cfrp@austin.utexas.edu or log in to Eventbrite.com to cancel your registration.
PARKING
The AT&T Executive Education and Conference Center is located at 1900 University Ave, Austin, TX 78705. Free on-site event parking will be provided for registered attendees who exchange the paper parking ticket for a prepaid single-use parking pass at event check-in. Click for Google Map directly to parking garage (and see map below). Note: Free parking passes are provided only for parking on-site at AT&T. Attendees are responsible for parking off-site in nearby garages/lots.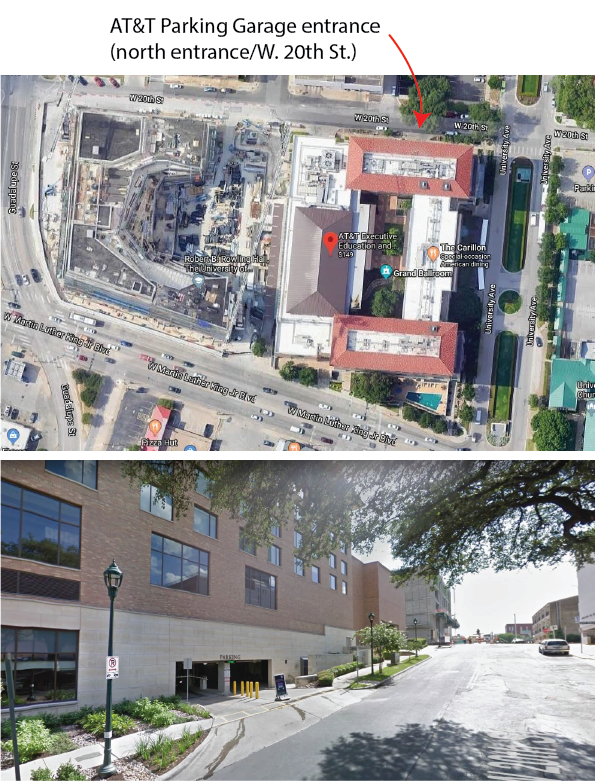 CONTACT INFO
cfrp@austin.utexas.edu
Toll Free 855-471-2377