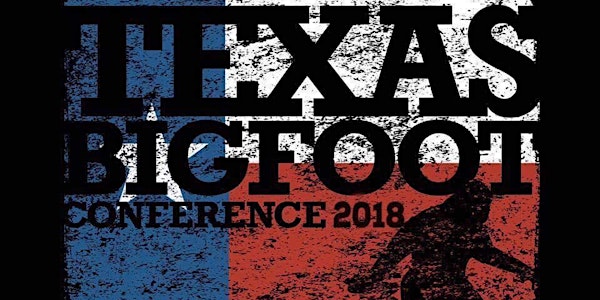 2018 Texas Bigfoot Conference
When and where
Location
Jefferson Tourism and Visitor Center 305 E. Austin St. Jefferson, TX 75657
Description
The Texas Bigfoot Research Center celebrates the Original Texas Bigfoot Conference held on September 15, 2001 with this year's event to be held October 19 & 20, 2018.

October 20th, 2018 marks the 51st anniversary of the famous Patterson-Gimlin Bigfoot film.

Established in 2001 as the original annual Bigfoot Conference in Texas by the Texas Bigfoot Research Center.

Confirmed Speakers:

Bob Gimlin

Dr. Jeff Meldrum

Lyle Blackburn

Ken Gerhard

Nick Redfern

Shelly Covington-Montana

Schedule of Events

Friday, October 19
7:00-10:00 PM Bob Gimlin Tribute Dinner

7:00-8:30 Catered Italian dinner by Claiborne House
8:30-9:00 PM Bob Gimlin Presentation
9:00-10:00 PM Special Presentation - Dr. Jeff Meldrum: 51 Years with Patty - Significance of the Patterson-Gimlin Bigfoot Film

Saturday, October 20
9:00 AM - 5:00 PM Texas Bigfoot Conference
6:00-10:00 Saturday Night

6:00-8:00 PM Meat n' Greet Dinner with the Speakers

Catered Cajun dinner by Claiborne House
8:00-9:00 PM Special Presentation - Lyle Blackburn: Fouke Monster and Boggy Creek Updates
9:00-10:00 PM Special Screening

Host hotel:
Executive Inn & Suites
200 South Walcott, Jefferson, Texas 75657
903-665-3700

Terms & Conditions

By purchasing a ticket to the event you accept the terms and conditions below for you and anyone in your group.

Non-refundable tickets

All tickets are non-refundable unless the event is cancelled. All sales final. If unable to attend, tickets are tranferable with prior notification to conference organizer. Presenters and presentation topics are subject to change depending on individual schedules and unforeseen conflicts.

Event Cancellation

In the unlikely event of cancellation of the event, the maximum liability shall be limited to full refund of conference registration fee paid at the time of booking, with no additional liability whatsoever to the conference organizers and presenters.

Indemnification

The conference organizers and presenters accepts no responsibility for loss or damage to personal property. Purchaser shall indemnify the Texas Bigfoot Research Center, The City of Jefferson, and any participating hosts, speakers, or any directly invited participant appearing at the event from and against all liability in respect of any costs, claims, damages, demands, penalties, actions, proceedings, suits, losses or expenses in respect of any and all claims, losses, costs, damages of any nature whatsoever, including but not limited to claims arising out of the injury to or the death of any person, or damage to any property arising from my participation in the activity.