Description
★10 Topics ★100+ Speakers ★10,000+ Professional Audience
The 8th Silicon Valley Innovation & Entrepreneurship Forum (SVIEF)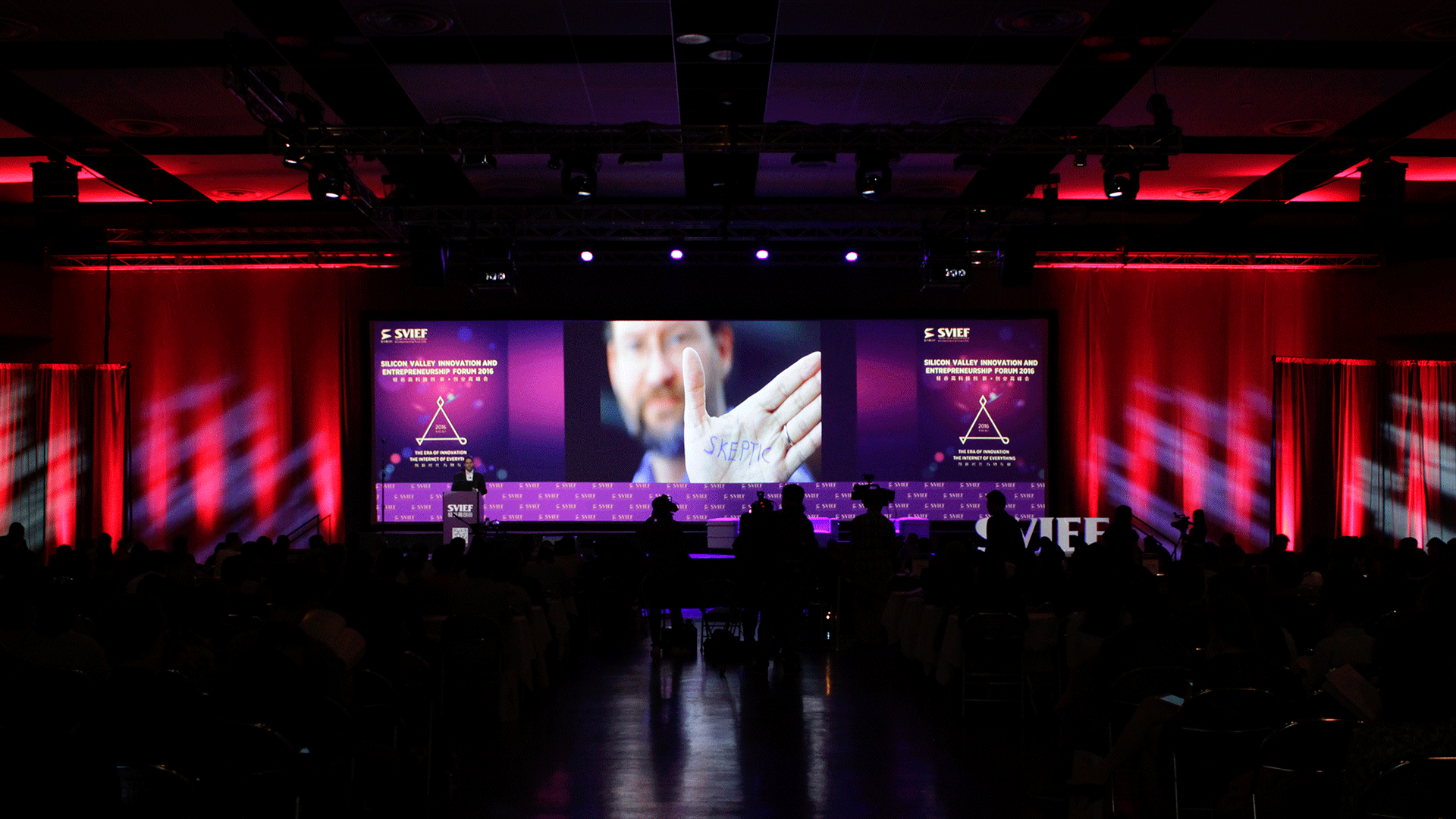 SVIEF (www.svief.org) is an international conference designed to foster innovation and promote business partnerships between U.S. and Asian-Pacific. It is a leading venue in the high-tech industry field gathering multi-tech and business professionals, while providing a platform for talent, technology and resources exchange. The past seven SVIEFs were held in Silicon Valley annually with more than 10,000 attendees each year.
2018 CONFERENCE OVERVIEW
The 2018 SVIEF will be held on Sep 29th&30th, 2018 at Santa Clara Convention Center. It is designed to be an intense, informative and interactive event which focuses on the theme " Converge & Exchange ", and features 150+ high-profile speakers and 100+ tech exhibitors.We're covering more than 10 exciting sessions including:
Global Blockchain Summit

China U.S. Youth Leadership Summit

SVIEF Tech Night and Award Ceremony

AI+ Venture & Investment Summit

SVIEF STAR Startup Competition

Silicon Valley Technology Innovation Summit

SVIEF Tech Expo
The conference is expecting over 10,000 professional attendees and more than 150 high tech innovative ventures from North America and Asia Pacific regions to showcase their latest product and technology as well as to develop potential business partnership opportunities.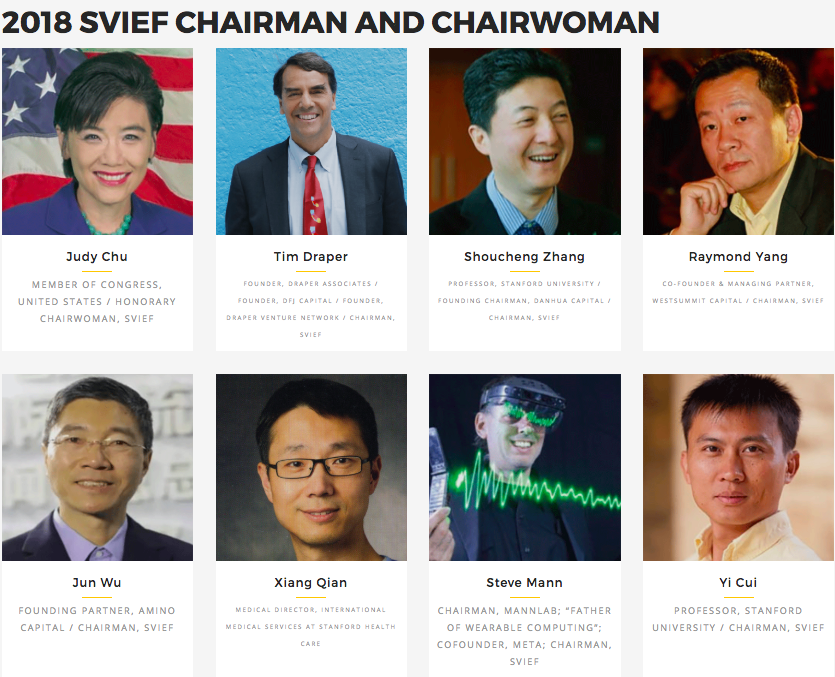 2018 SVIEF SPEAKERS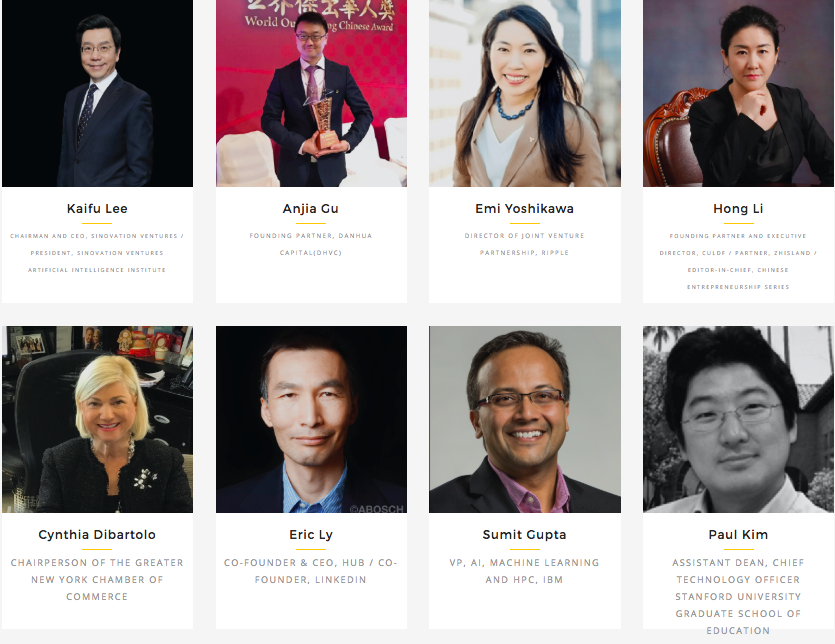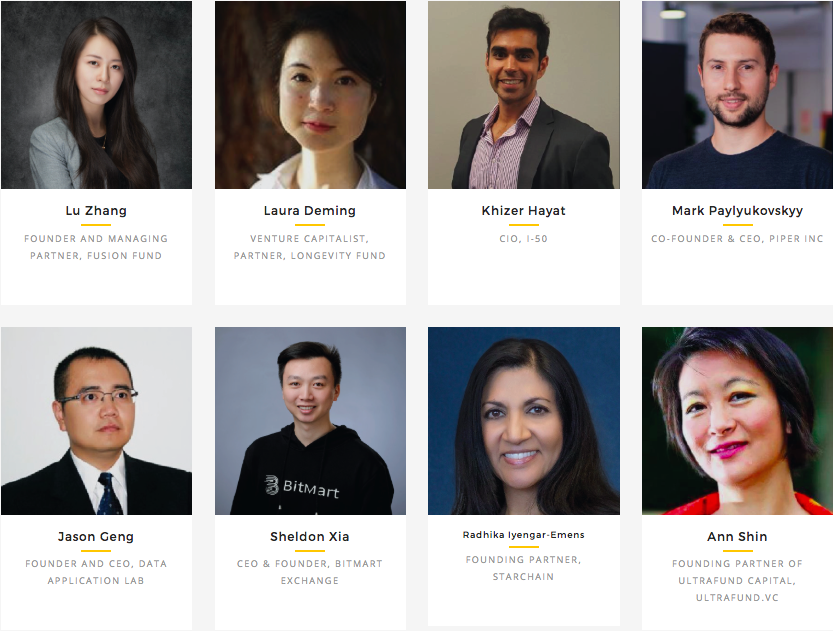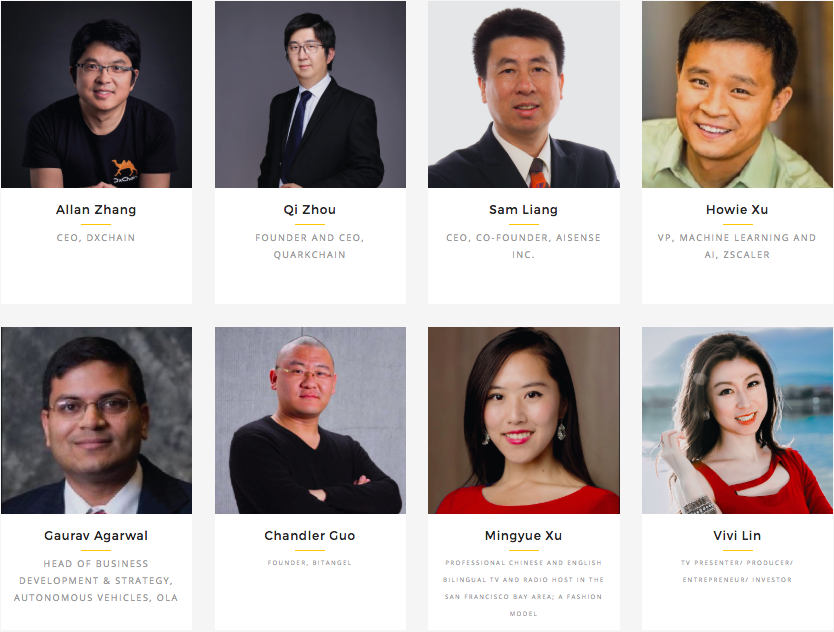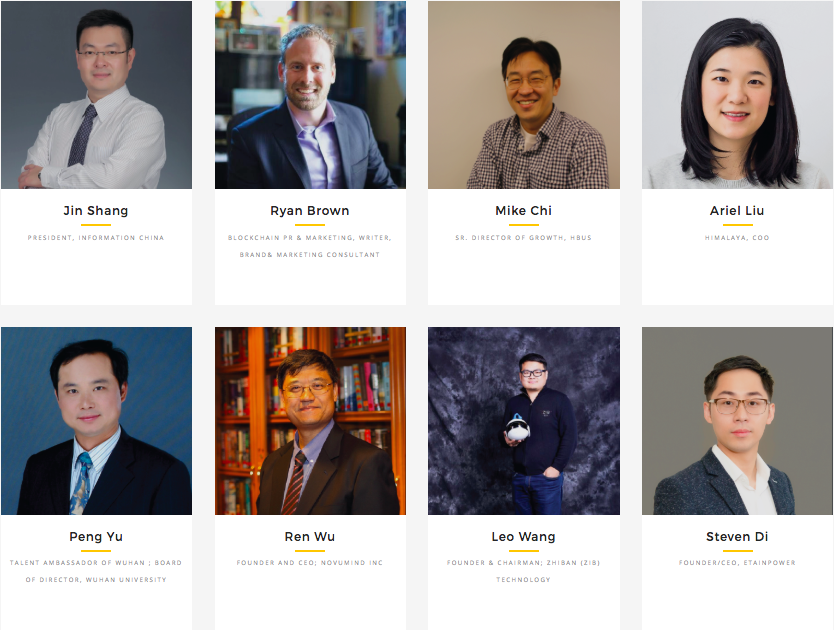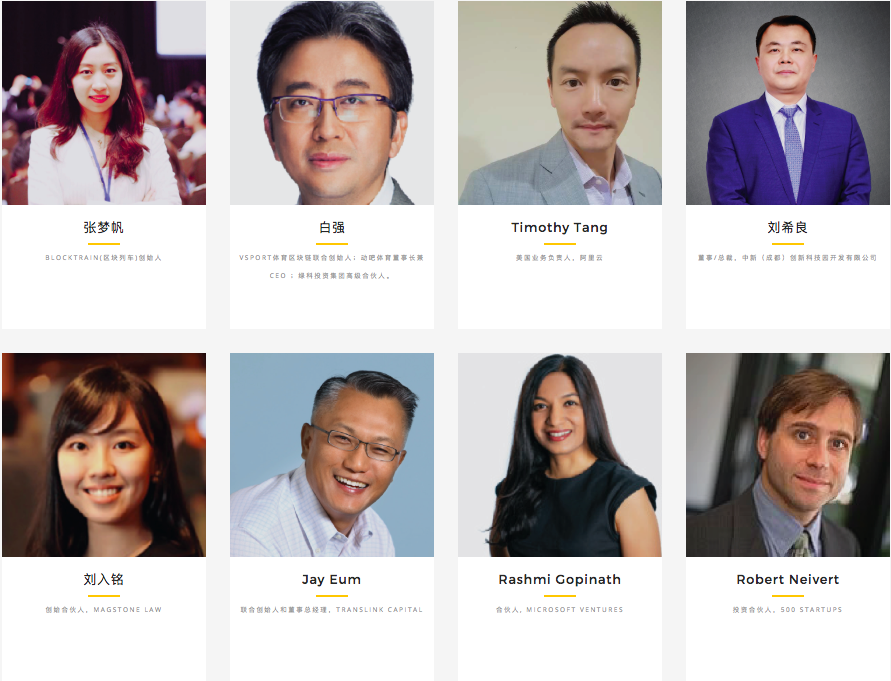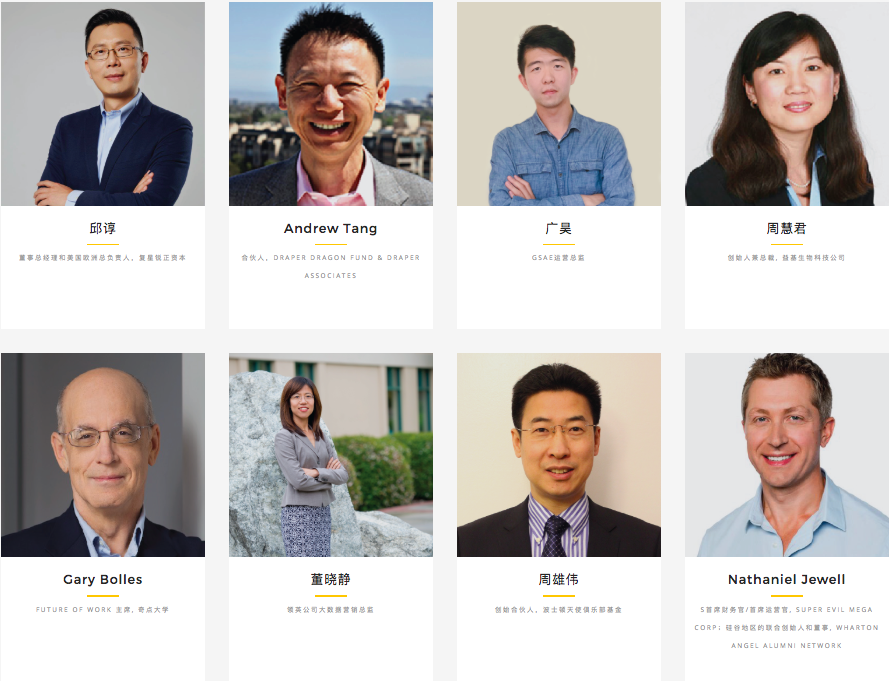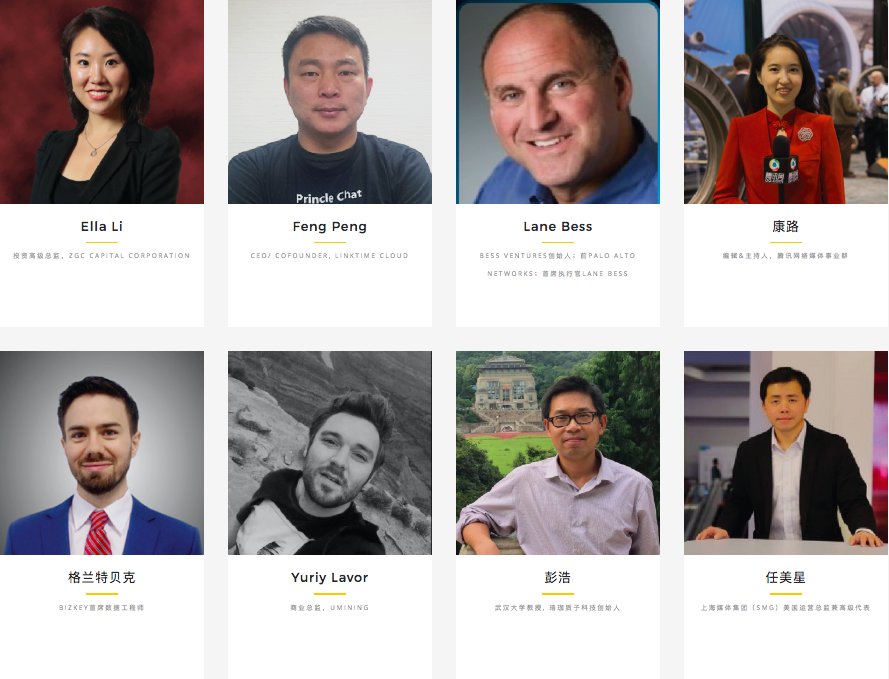 2018 SVIEF STAR Startup Competition Judges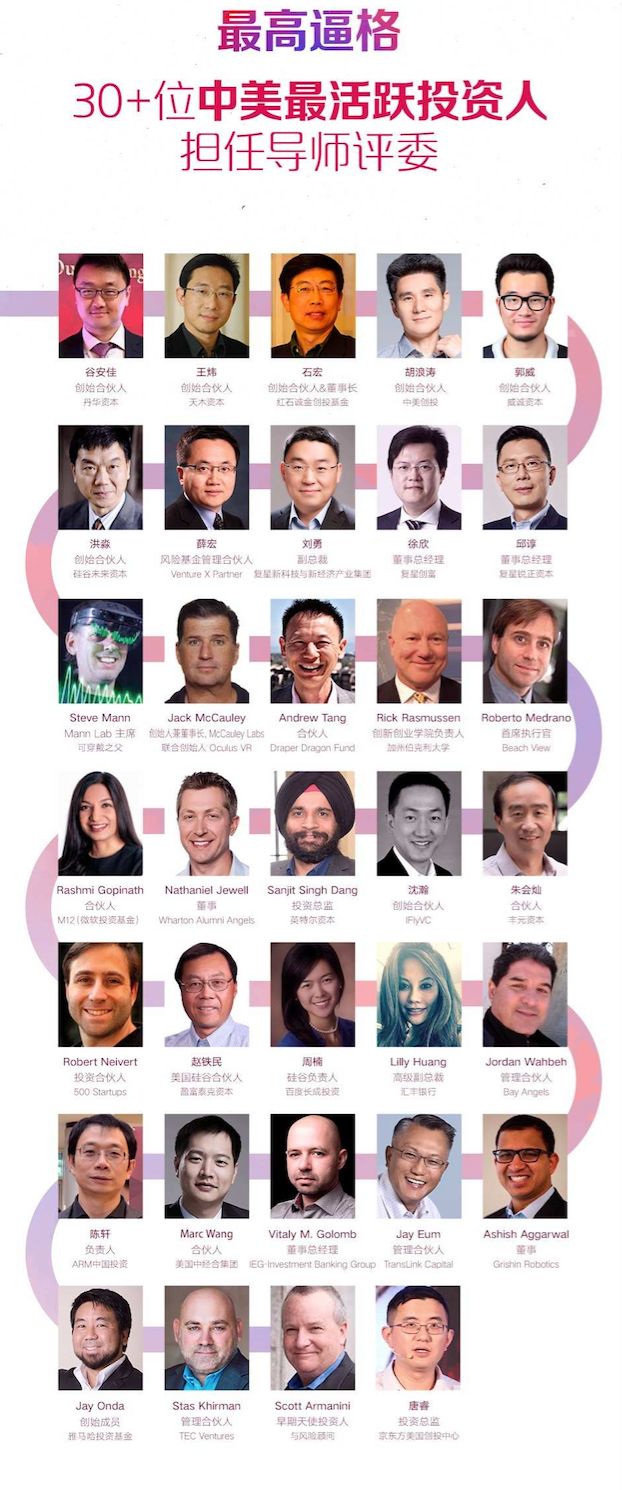 As the conference is approaching, the final preparations are in full swing. Meanwhile, Apple's new iPhones for 2018 have been launched. Thus, SVIEF decided to give away 6 latest released iPhone to fortunate audience in return.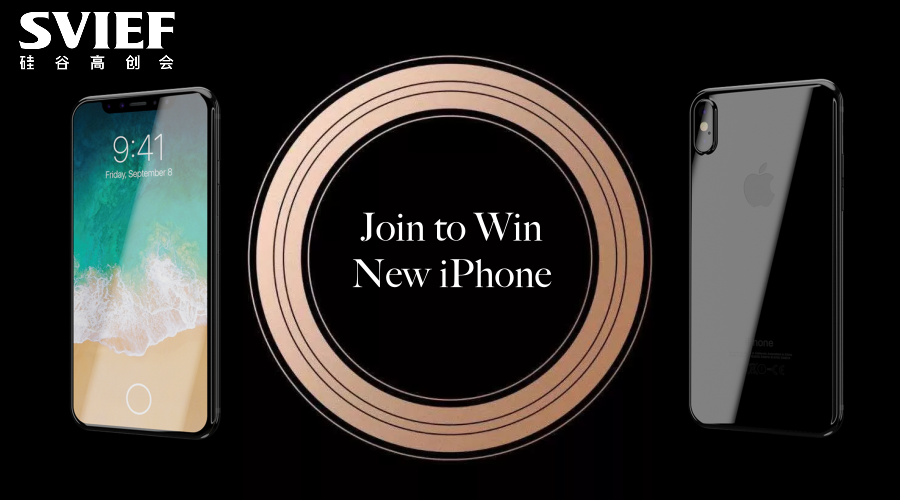 2018 SVIEF AGENDA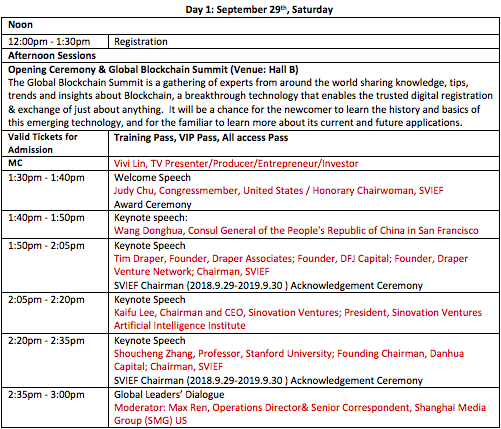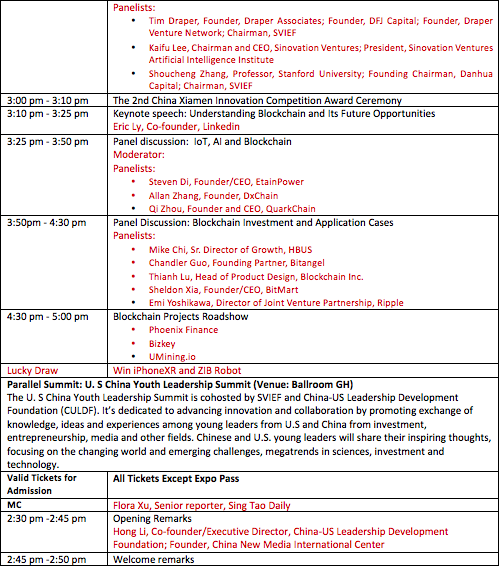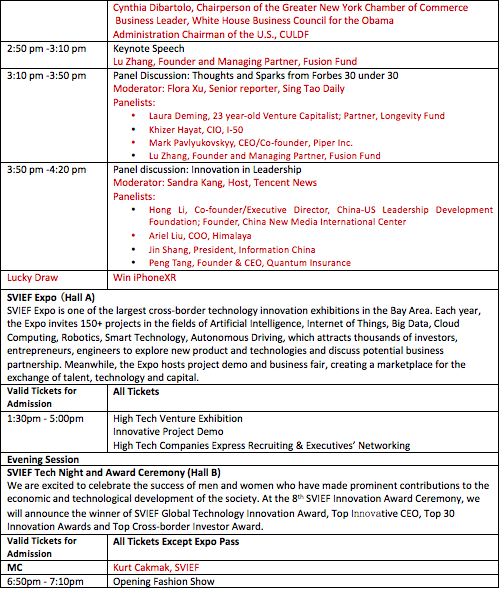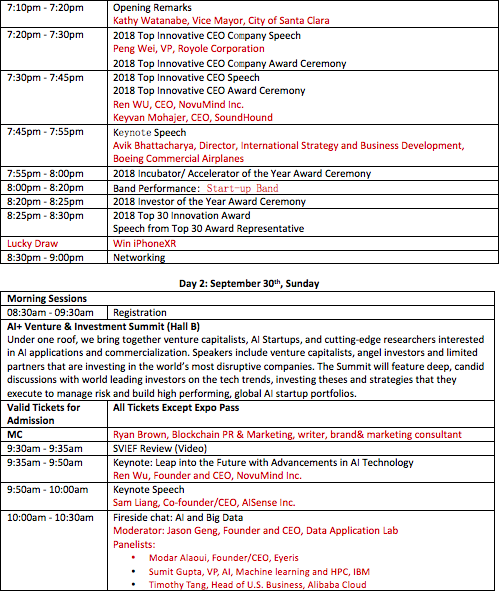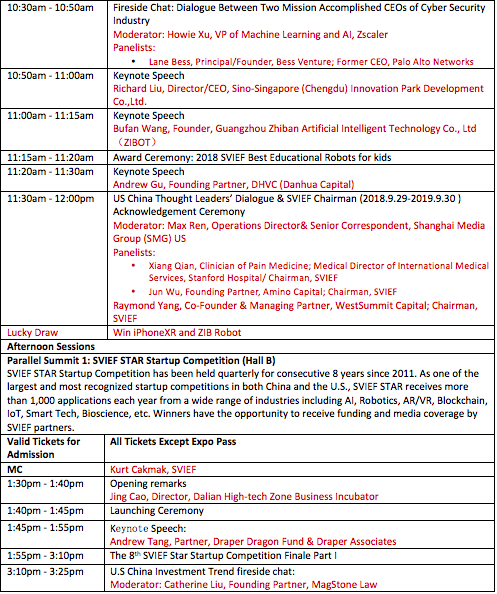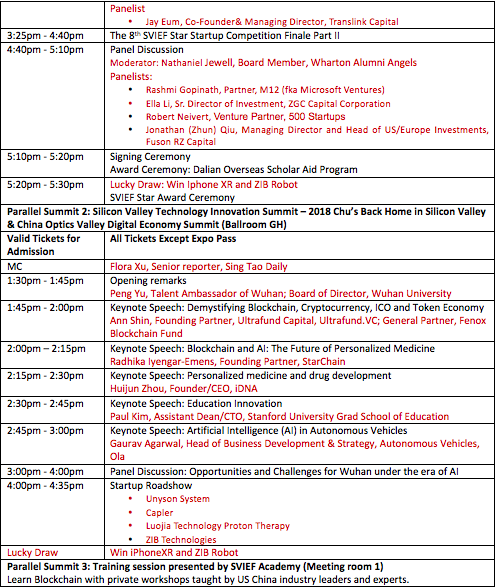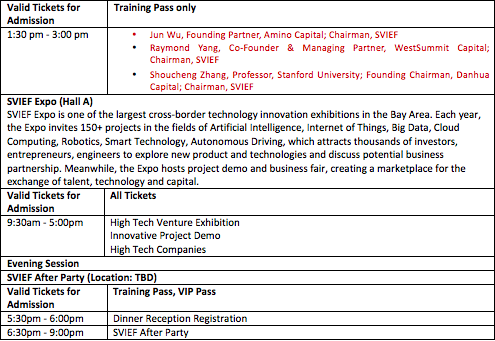 2018 SVIEF TICKET PRINCING SHEET($)
*To customize ticket selection and price, please contact info@svief.org.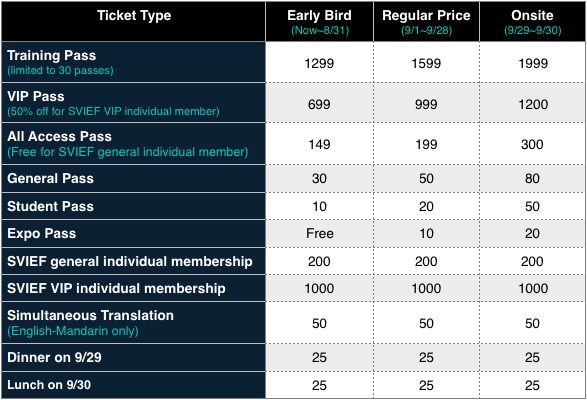 SVIEF TICKET BENEFITS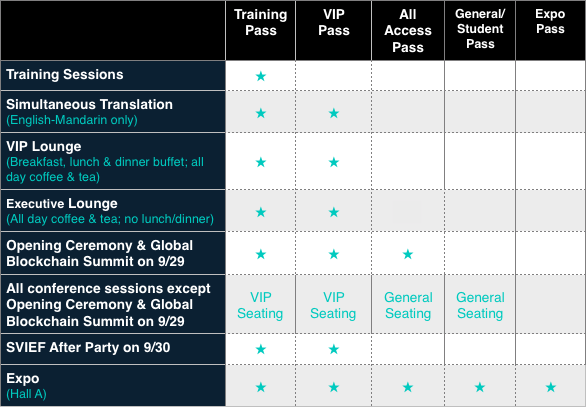 1, all tickets are non-refundable and non-transferable;
2, ID or passport is required for badge pickup;
3, Duplicate registration under one name is invalid;
4, Please only purchase conference tickets through our website/eventbrite or authorized ticket agencies. We are not liable and will not offer compensation or refunds of any loss incurred.
1, 所有票都不能退款及转让;
2, 现场领票须出示ID或护照;
3, ID​或护照​与票的姓名一致方可领票;
4, 近期发现,有​部分​中介或旅行社等未经授权代售高创会票务​,牟取不当利益​。主办方再次提醒,购票请通过​大会​官网或主办方官方授权的售票机构。通过其他未授权机构代售获取的大会门票,主办方​有权​不承认;由此所造成的损失,主办方不负责。
SVIEF PAST HIGHTLIGHTS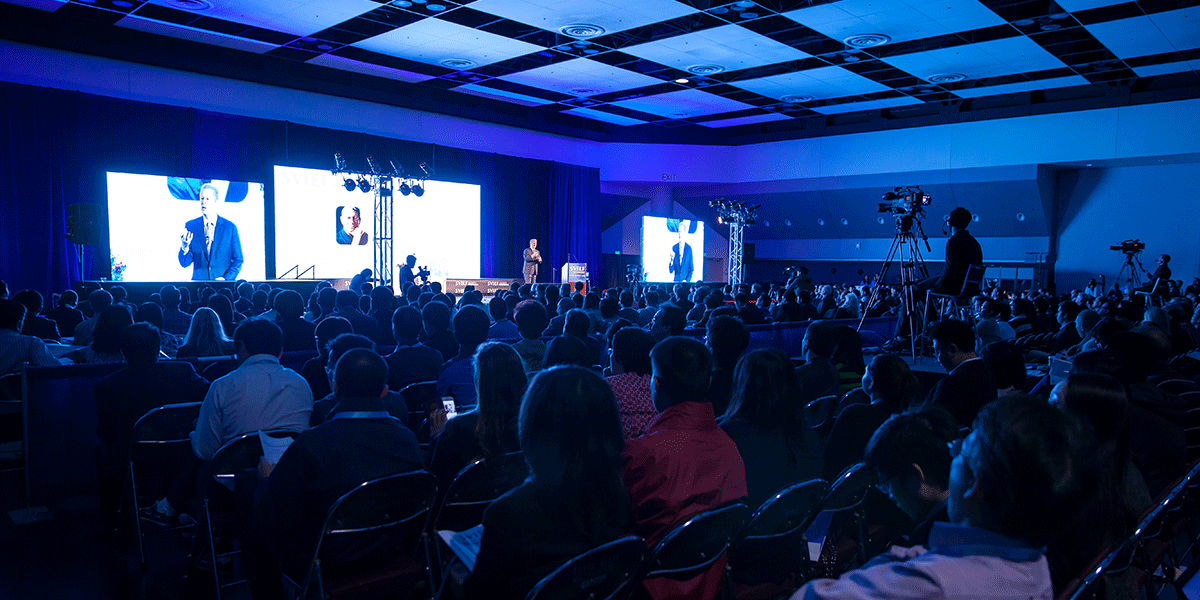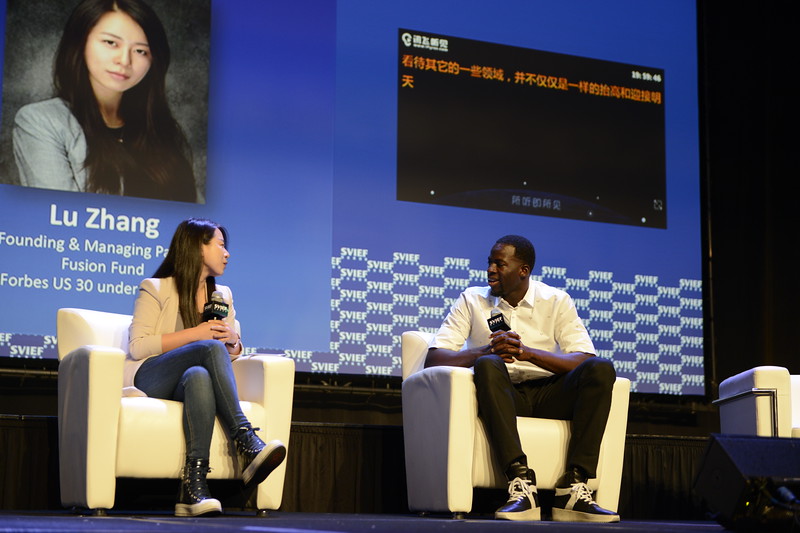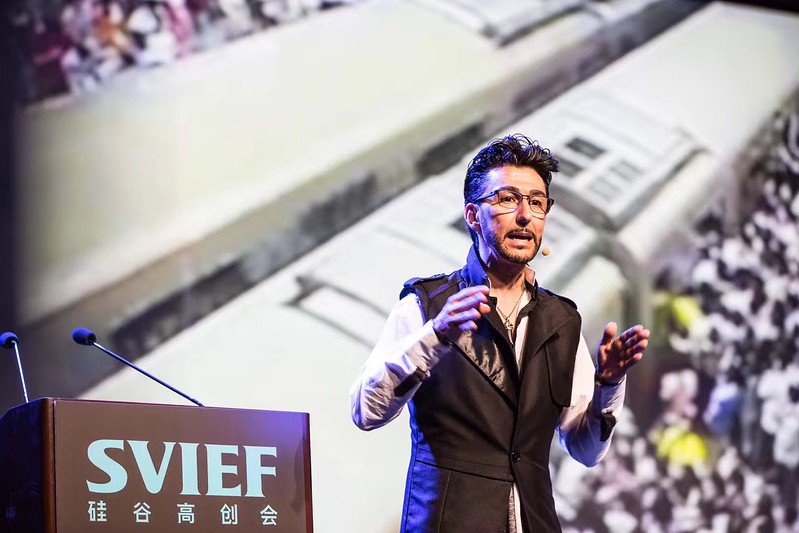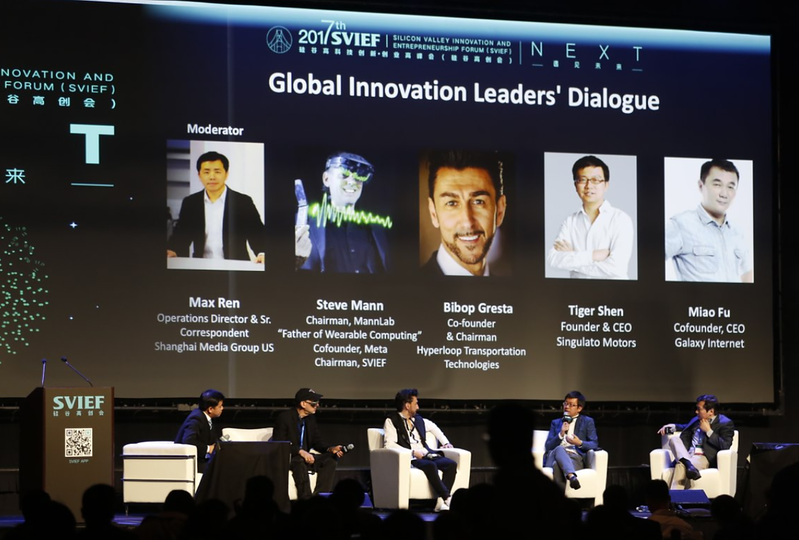 HOST:

SVIEF has been held for consecutive 7 years. It is one of the largest cross-border technology and investment conferences in the Bay Area designed to foster innovation and promote business partnerships between China and the U.S., to bring together elites in the industry of Business, Government, Entrepreneurship, Investment and to provide a platform for the exchange of talent, technology, capital between the two countries. Since 2016, SVIEF has launched in major cities in China including Beijing, Shenzhen, Chengdu and Xi'an. Up to today, SVIEF has been held in 8 cities for 7 years and attracted a total of 180,000 people, which has become one of the most anticipated technology conferences in the world.
ANNUAL STRATEGIC PARTNER: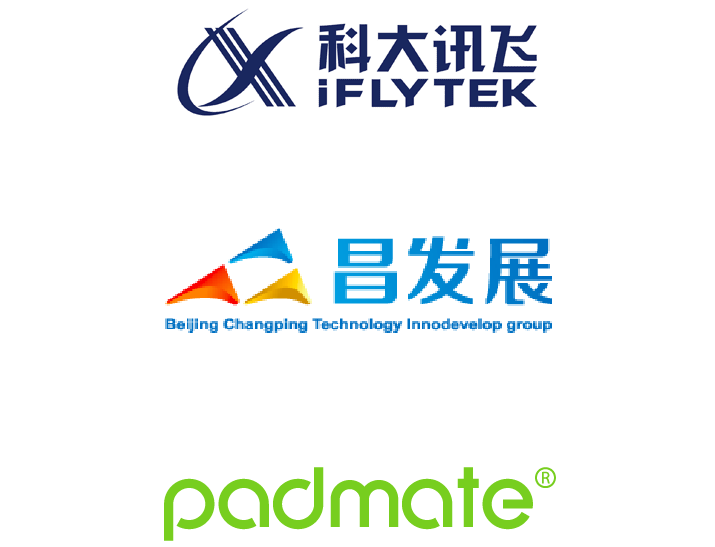 CO-HOST: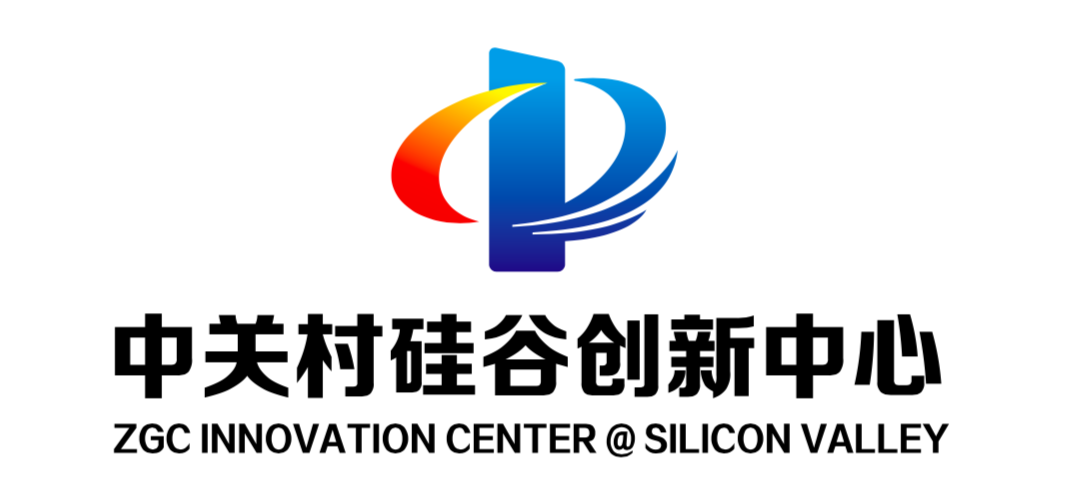 HOST (U. S CHINA YOUTH LEADERSHIP SUMMIT):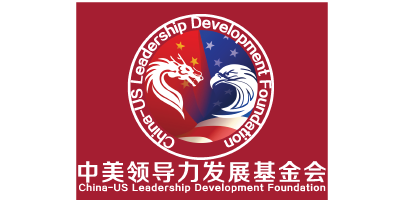 AD SPACE SPONSOR: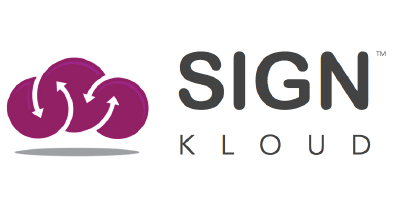 VIP LOUNGE LUNCH SPONSOR: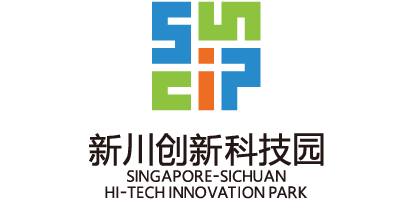 VOICE MEETING NOTE APP SPONSOR: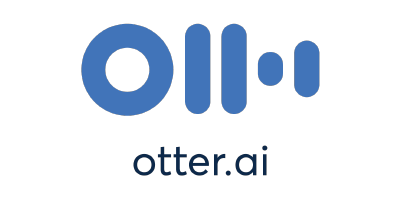 EVENT SPONSORS:

MEDIA PARTNERS:

PARTNERS: