2018 SVIEF (Beijing)

Tuesday, July 3, 2018 from 9:00 AM to 6:00 PM (CST)
Event Details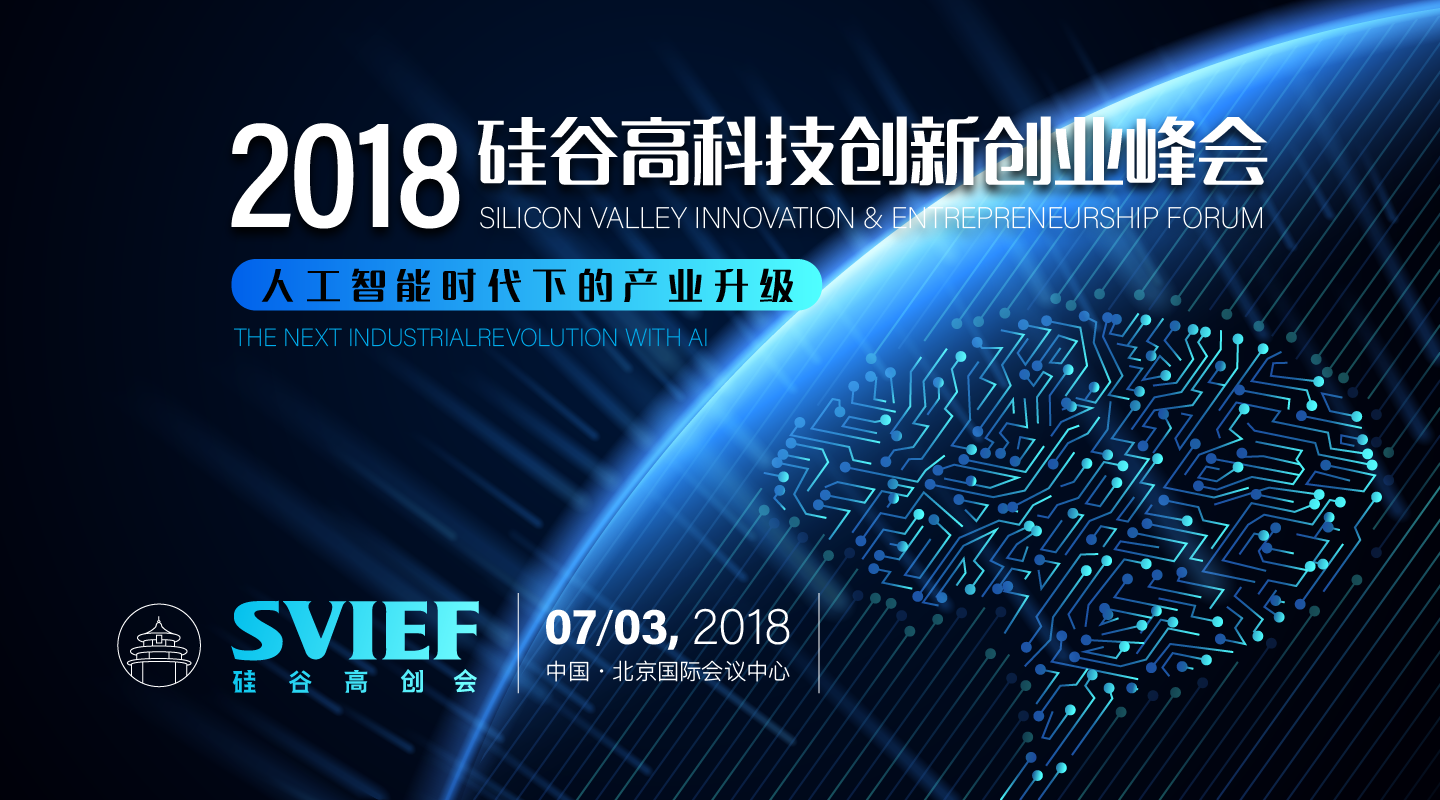 more details: http://www.svief.org/2018/beijing
In 2018, SVIEF will be back in Beijing again, bringing more than 60 top notch innovators, speakers and technology professionals to the capital city of China. Meanwhile, SVIEF will select 50 Silicon Valley high tech ventures to pitch their business plans during the one-day conference. The conference will be centered around the topic of AI and explore the how AI technology has reshaped traditional industries and created new possibilities. The one-day conference is broke down into five individual summits including the followings:
Global Next Car Summit:
Autonomous Vehicle is one of the most anticipated trends in 2018. Many global technology tycoons and automotive giants have both stepped feet on real roads to test out driverless cars and relevant technologies. At the same time, competition is fierce due to hundreds of rising startup companies such as Drive.ai, Nauto, Jingchi.ai, etc. At SVIEF Global Next Car Summit, audience have the opportunity to meet and discuss face-to-face with top AV teams in the world and listen to their perspectives on the future of AV/Connected Car.
Global Healthcare Summit:
The GHS provides a platform for finding common ground between economic and social development, environmental sustainability and human health. The Global Healthcare Summit aims at bringing together the Healthcare Professionals, Healthcare Administrators, Physicians, Healthcare Specialists, Healthcare Workers, Healthcare Technicians, Primary care Providers, Professors and Students in all the areas of Healthcare & Technologies.
New Retail Summit:
Take part in the discussion of key players of the Global New Retail market. Get new information, inspiration and energy for further development of your business. Gain new contacts and strengthen the existing ones.
US China Innovative Education Summit:
Technology breakthroughs and connected devices have changed the education environment. Educators have adopted and applied technologies such as Artificial Intelligence and Virtual Reality for innovative education in different ways. These technologies bring entirely different experience to classrooms and help students to learn more effectively and efficiently. The Education Innovation Summit brings together educators all over the world to discuss the opportunities and challenges in the era of internet.
Silicon Valley Innovation Exhibition & Exchange Fair:
The Exhibition & Exchange Fair provides an unparalleled opportunity for Chinese and US investors and ventures to connect and collaborate with each other. SVIEF brings together a network of renowned investors, mentors from top accelerators and incubators and experienced executives from the Silicon Valley Bay Area and China to exchange knowledge and share their insights with startups and entrepreneurs. The private fair aims to facilitate deal making between two parties.
 
Visit SVIEF official website www.sveif.org for more upcoming events and ticket information.
Apply: http://www.svief.org/form/register.php
 
Your ways of participating in SVIEF conferences including speaking, sponsoring or exhibiting at one or more of our events. If you are a leader in the tech community and want to share your insights, we encourage you to apply to be our speaker and join conversations with world innovative leaders including award winning scientists, top incubator and accelerator founders and tech unicorns.  Our goal is to bring together the brightest minds to give talks that foster inspiration and provoke conversations that matter.
 
If your organization shares the same value with us, we welcome your support by sponsoring one or more of SVIEF's conferences. Contact us to learn about your options and benefits as our sponsor.
 
For companies that have great products/services or exciting technologies, SVIEF Tech Expo is the perfect stage to showcase your achievements. Each year the Expo attracts the most traffic including 5,000+ investors, engineers & developers, entrepreneurs and business professionals from a various of industries. Contact us to learn more information about the booth and secure a better location by apply to be our exhibitor now!
The 2018 SVIEF STAR Startup Competition is now calling for projects. SVIEF STAR Startup Competition has been held for consecutively 7 years and has now become one of the largest and most recognized startup competitions in the Bay Area. Each year we receive over 1,000 applications in the fields of Artificial Intelligence, Big Data, Cloud Computing, Fintech, Robotics, Smart Tech, IoT, Autonomous Vehicles, New Material, etc. So far we have helped over 150+ teams accomplished their financing goals.
 
We will preselect outstanding ventures from the application pool to pitch during the global SVIEF annual conferences and other events, which attracts up to 10,000+ attendees. Winners of SVIEF STAR have the opportunity to be covered by mainstream media of both China and the U.S. Qualified teams also have the opportunity to be invested by SVIEF Capital, a USD-CNY dual currency fund that has a combined AUM of 100 million USD.
 
Apply Now: http://www.svief.org/startup/#project
Silicon Valley Innovation & Entrepreneurship Forum was first established in 2011 in Silicon Valley. For consecutive 7 years, SVIEF has been devoted to fostering innovation and promoting the exchange of Talent, Technology & Capital between China and the U.S. We have grown and developed into a leading professional platform providing services for Business Partnerships and Venture Capital Investments.
 
In 2016, SVIEF was first brought into China in Beijing and Chengdu. In 2017, SVIEF further expanded in Xi'an and Shenzhen and this year, SVIEF will continue to grow its footprint in China to serve as the bridge to connect resources and capitals between China and the U.S' venture capital markets.
 
The 7th SVIEF was held from September 28th- September 29th, attracting a total of over 10,000 attendees from all over the world during the two days. Our past events have boasted many high profile speakers and influencers such as Bill Clinton, 42nd US President; Al Gore, Former U.S. Vice President; Ira Ehrenpreis, Managing Director and early stage investor in Tesla; Tim Draper, Founder of DFJ Capital; Steve Wozniak, Co-founder of Apple Inc; Kaifu Lee, Founder and Executive Officer of Innovation Works; Draymond Green, 2 Time NBA All Star Golden State Warrior and Businessman and other industry elites.
When & Where

Beijing International Convention Center

Chaoyang Qu, Beijing Shi 100101
China

Tuesday, July 3, 2018 from 9:00 AM to 6:00 PM (CST)
Add to my calendar
Organizer
Since 2011, SVIEF has been the largest conference that fosters global innovation and business partnership in Silicon Valley. The SVIEF 2019 has attracted nearly 10,000 attendees and over 150 exhibitors. During the conference, 20 finalists from the previous SVIEF Startup Contests gathered at the 9th SVIEF 2019 Startup Final Contest, showcasing their innovation abilities and business potential.