Description
---
The Sustainable Transportation Summit brings together local, regional and national innovators and stakeholders to showcase multi-modal projects throughout the northwest metro region and beyond. The Summit is a half-day of learning that illuminates success stories and highlights new ways to implement transportation technology, innovative first and final mile solutions, transit-oriented land use development and multi-modal infrastructure by learning about successes of projections in the region, state and nation.
NEW THIS YEAR!

After the Sustainable Transportation Summit concludes, we will be hosting the BrewHop Trolley Mobile Tour of Longmont. A boxed lunch will be provided.
AGENDA:
7:15 AM: Morning Networking
7:45 Welcome & Opening Remarks
Mayor Brian Bagley, City of Longmont; Audrey DeBarros, Commuting Solutions
8:00 AM: Break Out Session One
The Reality of Autonomous Vehicle Planning, Today for the Future
Patrick Picard, Fehr & Peers Transportation Consultant; Lauren Issac, Easy Mile; Kathleen Bracke, City of Boulder
Moderated by: Mizraim Cordero, Denver Metro Chamber of Commerce
Bus Rapid Transit: A Catalyst for Growth
Steve Long, HDR
9:15 AM: Break Out Session Two

Denver's New Multi-Modal Frontier
Crissy Fanganello, City & County of Denver
TNCs & Public Transit: Harmony or Competition?
Pete Mickartz, Chariot; Amy Johnson, UrbanTrans North America and Dave Britton, Uber
Moderated by: Paul DesRocher, RTD
10:30 AM: Breakout Session Three
Future of Mobility: Self-Driving Cars, Rapidly Traveling Pods & More!
Amy Ford, Colorado Department of Transportation and Peter Kozinski, RoadX Program CDOT
Connecting Communities: The Rise of Bike Share
Adrian Albus, Zagster; Kevin Bell, Boulder B-cycle; David "DK" Kemp, City of Boulder; Sam Sadle, LimeBike; Patrick Quintana, Ofo
Session Moderated by: Marni Ratzel
11:50 AM - 1:00 PM: Mobile Tour - Separate Registration Required
Discover Longmont: A Mobile Tour of Longmont's Transit-Oriented Communities
Take a ride on the BrewHop Trolley and explore activity centers in Longmont focused on mixed-use and transit-oriented development adjacent to Longmont's end-of-line station.
Shawn Lewis and Phil Greenwald, City of Longmont

---
LIMITED EXHIBITOR OPPORTUNITIES AVAILABLE
Reserve a space to showcase your business. Email Rachel Setzke for more information.
---


SPONSORS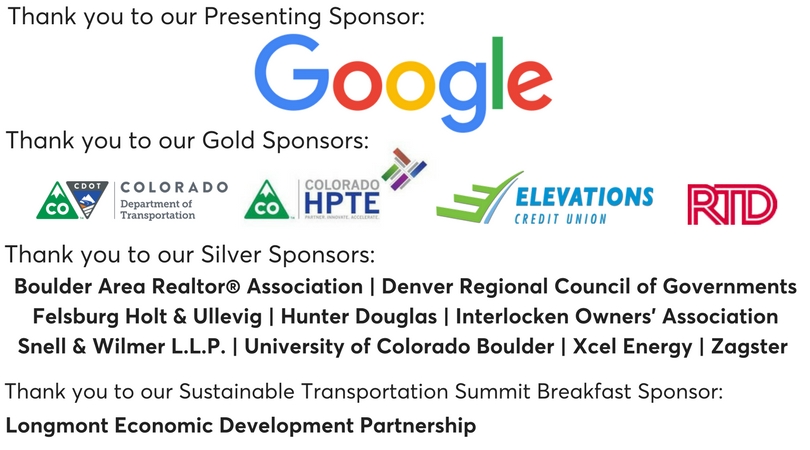 ---


FAQs
How can I contact the organizer?
Contact Commuting Solutions at info@commutingsolutions.org.
Is my ticket transferrable?
Yes. If you are unable to attend, please notify Commuting Solutions at info@commutingsolutions.org with the new ticket holder's information.
Do I have to bring my printed ticket to the event?
No, we will have a list of registered participants at the event.
What is the refund policy?
Cancellations received within 14 days of registration may be eligible to receive a full refund less the service fee.