Event Information
Location
SIBC
2400 Greenland Avenue
Charlotte, NC 28208
Description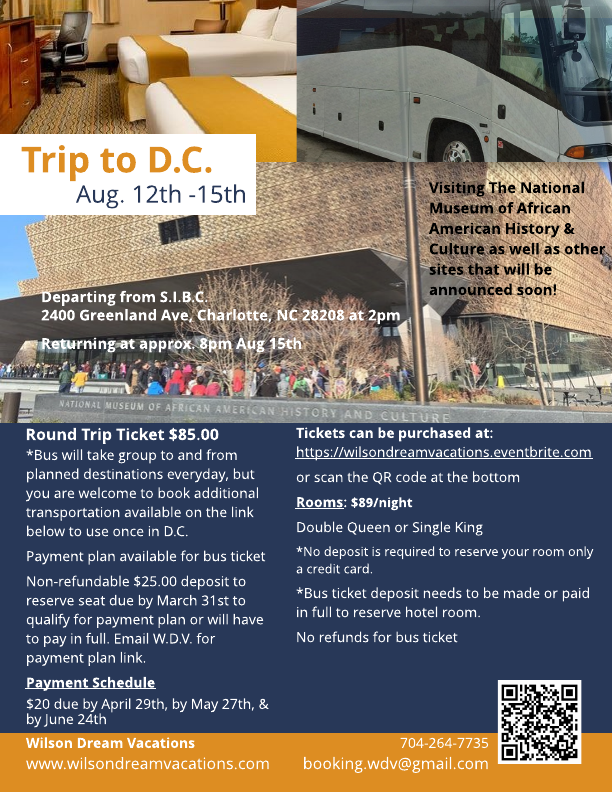 FREE Wi-Fi on the bus, outlets for every seat, & there is a restroom on the bus!!
The bus will take the group to and from planned destinations everyday, but you are welcome to book additional transportation available at www.wilsondreamvacations.com to use once in D.C.
*In order to view car rental prices you will have to simply register at least your first name, last name, and your email.
The bus will be departing from 2400 Greenland Ave, Charlotte, NC 28208 at 2pm and returning at approx. 8pm Aug 15th
This trip will include visiting The National Museum of African American History & Culture that just opend on September 24, 2016 as well as other sites and activities that will be announced. An itineray will be provided prior to the trip.
The National Museum of African American History and Culture is the 19th museum of the Smithsonian Institution and is located at the foot of the Washington Monument on the National Mall in Washington, DC. The museum provides for the collection, study, and establishment of programs and exhibitions related to African American life, history, art, and culture. It is a place where people can learn about the richness and diversity of the African American experience; it is a place of meaning, memory, reflection, laughter, and hope.
Hotel Rooms: $99.68/night (tax included) for Double Queen or Single King rooms
*Rooms are limited and additional rooms will have to be added on by a certain date so it is best to reserve your room as soon as possible.
*No deposit is required to reserve your room only a credit card.
*Bus ticket deposit needs to be made or paid in full to reserve hotel room, information will be sent for you to reserve your room once this has been done.
*Payment plans are not available when you purchase your ticket(s) on Eventbrite.
- Email Wilson Dream Vacations at the email address below to be sent payment plan information.
Contact Wilson Dream Vacations for questions or concerns at
704-264-7735
booking.wdv@gmail.com
Date and Time
Location
SIBC
2400 Greenland Avenue
Charlotte, NC 28208
Refund Policy