Description
Prospera Hosts Annual Success Stories Luncheon in the West Coast of Florida!
**Thank you for your interest in attending the Success Stories Luncheon. Online ticket sales are now CLOSED. For tickets, please call 407-413-8564. Thank you!**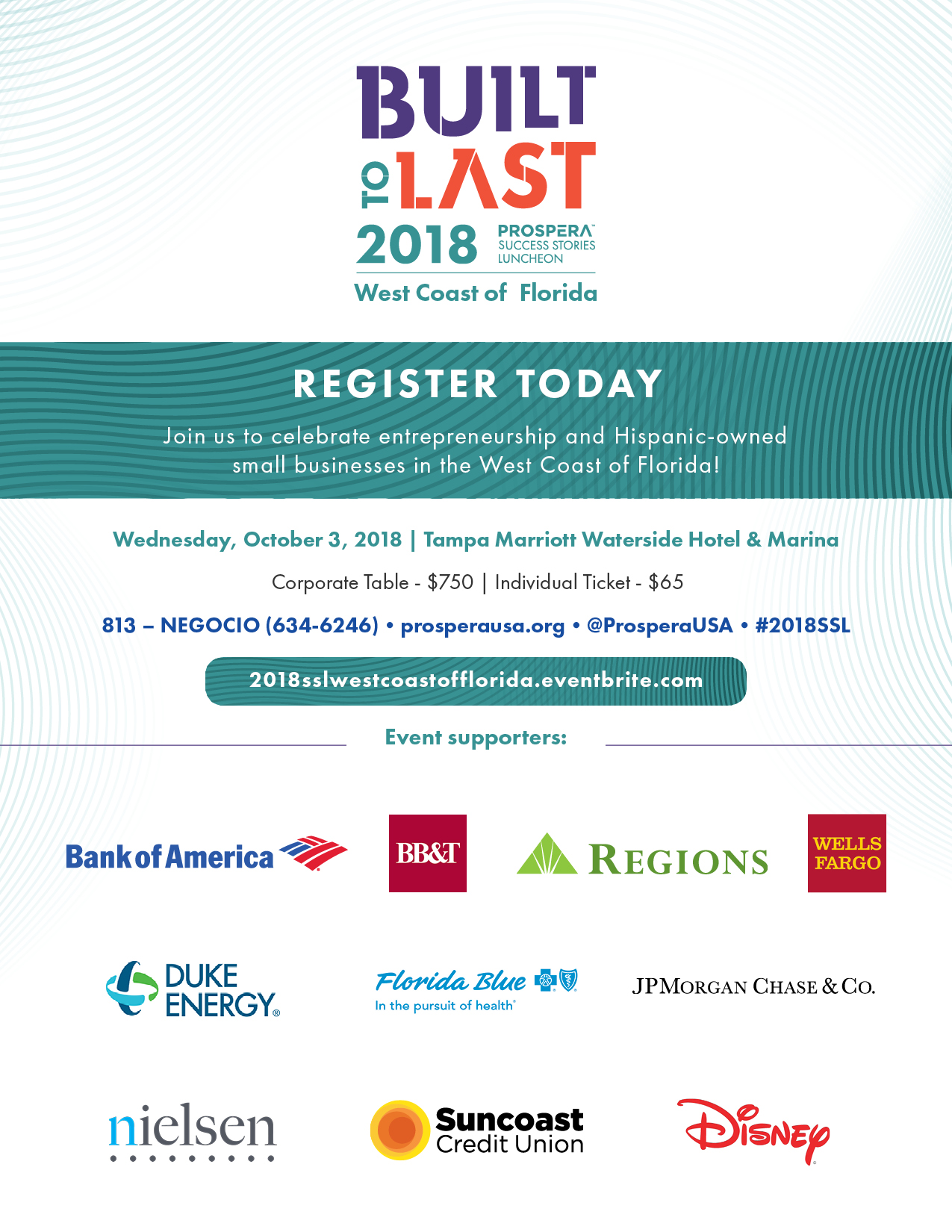 2017 Prospera Success Stories Honorees in the West Coast of Florida:
Prospera's signature annual fundraising event, the Success Stories Luncheon, introduces you to some of our most outstanding clients as they are recognized for their excellence as small business owners in the West Coast of Florida.
With more than 400 attendees, this event welcomes government, civic and business leaders to celebrate the spirit of entrepreneurship in the Hispanic community and learn about the year-round impact of Prospera services in the community.
To inquire regarding sponsorship opportunities and corporate tables, please call (813) 634-6246 or send an email to fyepez@prosperausa.org.
PROSPERA is a community-based 501(c)(3) non-profit organization, Federal Tax ID 59-3341405.
A COPY OF THE OFFICIAL REGISTRATION AND FINANCIAL INFORMATION FOR THE HISPANIC BUSINESS INITIATIVE FUND OF FLORIDA, INC., DBA PROSPERA, A FLORIDA-BASED NONPROFIT CORPORATION (REGISTRATION NO. CH13963), MAY BE OBTAINED FROM THE DIVISION OF CONSUMER SERVICES BY CALLING TOLL-FREE 1-800-HELP-FLA (435-7352) WITHIN THE STATE OR BY VISITING www.800helpfla.com REGISTRATION DOES NOT IMPLY ENDORSEMENT, APPROVAL, OR RECOMMENDATION BY THE STATE.