Description
Success is not about big budgets it's about creating a productive and efficient business.
To do that, you NEED to have a plan to:
1. Maximise the time and resources you have.
2. Generate the maximum value for your business.
At this workshop, you will start work on your plans for 2018 and learn productivity principles that will dramatically change the way you work next year
As the late Winston Churchill once said... "Fail to plan, plan to fail"
OVERVIEW OF THE DAY:
- Learn HOW to create your Business Growth Strategy for 2018
- Learn HOW to break it down into quarterly goals
- Learn HOW to create your tactical marketing plan
- Learn HOW you can maximise your time and resources to create dramatic business growth in 2018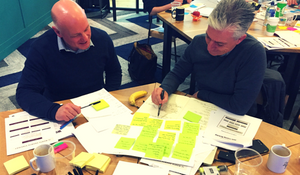 WORKSHOP INCLUDES:
* A copy of Time Management for Entrepreneurs
* Blueprint Workbook & Handouts to support the workshop (hard copy)
* Lunch
* Refreshments (tea/coffee & biscuits/fruit)
* Central London Venue (no need for an overnight stay)
* Post event networking with attendees
* 1 Hour follow up Skype Strategy Session with Abigail to review your 2018 plans (within 30 days of workshop, worth £297)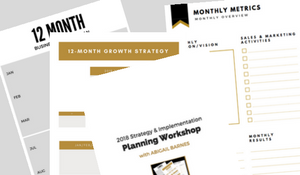 WHO SHOULD ATTEND?
Founders, Freelancers, Solopreneurs, Marketing Professionals, Experts and Small business owners, that want to gain an in-depth understanding of how they can stop missing out on new business opportunities.
"It's not about how much you work, it's about how much value you create for your business in the time you have" - Abigail Barnes
Any questions then drop us an email: hello@abigailbarnes.co.uk
I look forward to meeting you at the workshop!
Abigail
Find me on Twitter & Instagram, say hi! @abarnesauthor
By registering for this event, you accept our terms and conditions (including limitations and exclusions of liability) available on our website.
---
A FEW TESTIMONIALS:
"I arrived at the workshop venue and while waiting in the lobby to go in I was dealing with the usual last minute emails, calls and texts. To say I felt stressed would have been an understatement.
By the end of the workshop, I felt like a weight was lifted from my shoulders. Things really do seem clearer and Abigail really brought clarity to lots of areas and tasks that I was struggling to cope with, and the priority and importance that we can falsely attach to them.
Setting attainable goals really does make you focus in the right way.
Great workshop, I thoroughly recommend." Gary Butler
"Having been in business for 16 years, one of the greatest challenges has always been time management.
Having attended Abigail's workshop, along with one of my managers, I can only emphasise how well her workshop gets across what we CAN do. We do not have to be a slave to time, we can, by using Abigail's teachings, make time work for us.
I had the privilege of meeting Abigail before she had written her book and was still in the corporate world. Abigail is true testament that if you implement what she has learnt, and now teaches, you will move you career, business and life in the direction of where you want to get.
Thanks, Abigail, to all that read this, take the time to attend Abigail's events, it's a no brainier." Paul Wilson
"Having spent a day with Abigail I couldn't help but find myself driven, energised and more focused than I had been in years! Abigail's passion and energy is infectious, I found myself planning and dreaming about the possibilities for my life and business, not something I have done for years. After spending a day with Abigail, for the first time in a long time, I had some clear goals set, and now I can see how I can grow my business. I have a plan for the next 12 months that I can work on delivering! I can't thank Abigail enough for all her help!" Steve Allen
"It's impossible to overestimate the impact that proper planning and goal setting can have on life. In the weeks since the program, my professional and business life has taken off. Abby sets everything out in a clear and comprehensive manner. The content was well delivered and has impacted my decision making and time management on a day to day basis. I can't thank Abby enough for creating a space where ambitious, enthusiastic entrepreneurs can not only dream, but also begin to make those dreams a reality." Dominic Hall
"Thoroughly enjoyed Abigail's Time Management Skills Workshop. Good common sense information to help push small businesses forward. Definitely worth attending if you're looking to get more done!" Ben Pritchard
"The Time Management Skills Workshop I attended with Abigail was great value! The structure of the information she shared with us was great and made it really easy to take away and apply. I enjoyed learning about setting goals for every quarter and how to break them down into individual activities that need to be completed. This has created a much better picture for me. The other thing that I found very useful was the content on delegating and how much we can actually delegate. The training room we were in was a really great space and I loved how the room was set up for the training. Thanks for a fun workshop." Steffie Martin
"I'm very pleased I attended Abigail's Time Management Skills Training Workshop and at last I can look at my business and create a growth plan making the most of my time and resources. Small business owners, I highly recommend this workshop especially if you are struggling with your Time Management and Business Growth Plans!" Daryl Kay
"Really enjoyed the Time Management workshop with Abigail, it really helped me focus on what I need to spending my time on and what is essentially wasting my time, before attending her workshop I was in need of some guidance on how to manage this better and she done exactly this for me. Thanks, Abigail." Blake Montague

"Abigail's Time Management Skills Workshop was the first workshop I've attended since being in business. I found it extremely beneficial for the management of my day to day tasks and have felt very productive since implementing some of her techniques." Emma Boyd
"I really enjoyed Abigail's Time Management Skills Workshop. The exercises were extremely useful and helped me to really focus my time on areas that were a priority. On a daily basis I have many tasks to complete but I learnt that it's important to prioritise and think about which tasks are going to result in my business making money. Also, Abigail's workshop helped me to analyse each of these tasks individually and then consider whether these are things I should be doing or whether I should be delegating/outsourcing them to someone else. It's important to consider what your strengths and then to think about delegating/outsourcing areas of weaknesses." James McCrossen
"Abigail's Time Management workshop was just what I needed to help me manage my workload. The content was engaging and included activities that focused on prioritising tasks and increasing productivity. There was plenty of time for discussion with other participants and Abigail also gave personalised advice on individual challenges. I developed strategies for saving time and also gained a clearer picture of what I want from my business.
The Time Management workshop taught me to focus on tasks that add the most value to my business and outsource anything else. I learned that by identifying my key strengths, I could build more efficiency into my business and give myself more time to concentrate on my overall strategy.
I developed a plan for the rest of year to scale my business, which has helped me to stay focused and make better use of my time on a daily basis.
If you're a small business owner and need more hours in your day, this workshop is for you!" Katie Hill
"Abigail created a time-management action plan for me following an initial consultation which has helped me to prioritise and define my business growth strategy. In turn, this has led to increased sales. Abigail comes highly recommended for business owners and entrepreneurs looking to make more effective use of their time, increase sales and improve productivity." Rick McMunn
"Thank you Abby, for the goal setting for success program helped me to focus even clearer on my next life and business goals, I left the event feeling even happier and more excited, I would recommend this event to any business owner who wants to supercharge their success." Kim Wymer
"The Goal Setting for Success Program was the perfect way for me to prepare for 2016 - it not only gave me the time to plan but also a process to get real clarity on my business and life goals for the coming year, along with an action plan to achieve them. Thanks to Abigail I was able to identify my key priorities, rather than spreading myself too thin in many areas. I've come away with renewed excitement for my business. The program has also armed me with tools to overcome times of procrastination and overwhelm in order to make my goals a reality. I highly recommend Abigail and this program to anyone wanting to take their business to the next level! Really awesome!" Jess Christiansen
"After doing the Goal Setting for Success Program, I feel excited to apply what I learned to my business. I have some great new techniques that I can use to tackle procrastination and beat overwhelm. I have a clear growth vision for my business and life in 2016. Thank you Abigail, I highly recommend this Program to any business owner that wants to make this their best year ever." Coral Hamze
"Thanks for the very informative lunch and learn today, I thought it was very well presented and thought-provoking, and it's always good to hone your own time-management techniques and get a little perspective." Eddie George
"I'm part of Abigail's Members Club and it's giving me access to an international network of supportive and ambitious business owners. The content and value Abigail provides during the Strategy Calls I have with her are amazingly powerful. Her tools and feedback help me to have a razor sharp focus and support me to work a lot smarter than I did before. Now I know how to bring my business to a next level." Nicoline Huizinga