Description
NETWORK. LEARN. SOCIALIZE. STAY CONNECTED.
Join Clark Atlanta University (CAU), the U.S. Office of Personnel Management (OPM) and National Contract Management Association (NCMA) Atlanta Chapter for two action-filled days of learning, networking, engaging leaders in federal contracting, exhibitions, and much more.
Exclusive VIP Registration $149 Includes:
Top Golf Networking Reception
Fireside Chat Priority Seating and Reception

Exclusive VIP (only) Business Matchmaking

Exclusive VIP (only) Luncheon

Conference Executive Swag Bag
General Admission Includes:
Conference Workshops Only
Tuesday, April 24, 2018
TOP GOLF RECEPTION AND REGISTRATION

---
Registration and reception kicks off for the 4th Quarter Readiness Small Business Conference at Topgolf Atlanta Midtown, 1600 Ellsworth Industrial Blvd NW, Atlanta, GA 30318. This is a VIP registrant event only.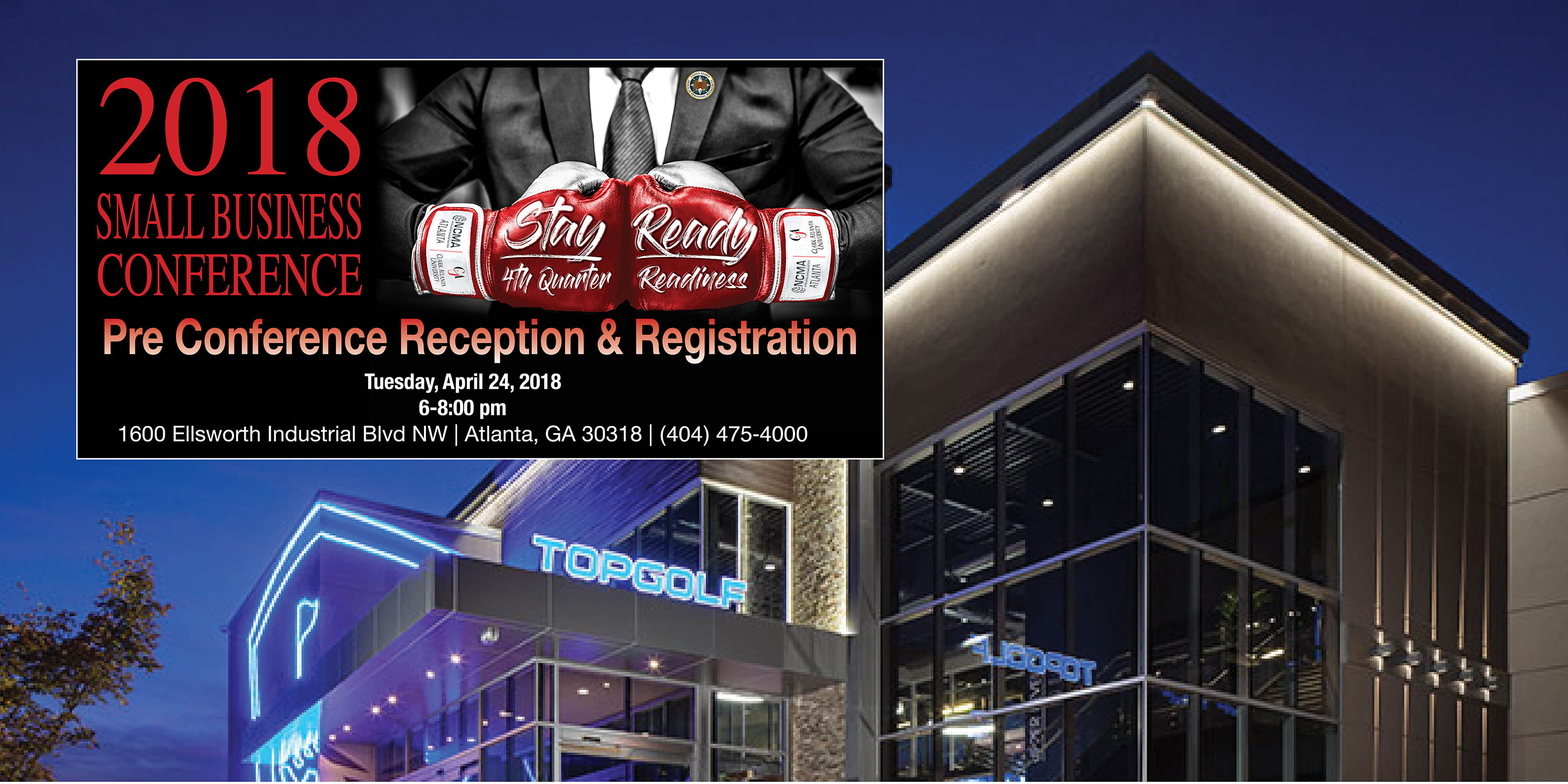 Wednesday, April 25, 2018
FIRESIDE CHAT RECEPTION
---
Facilitator: Desmond Brown (OPM)
Panelist:
Kimberly Patrick | SPE | Environmental Protection Agency
Janet Scott | OSDBU Director| Department of Education
LaTanya Channel | District Director | SBA Tennessee District Office
Larry Scott |Director of the Mayor's Office of Contract Compliance | Atlanta City Government
Darryl Hairston | Associate Administrator (Ret) | Small Business Administration
Don't miss out on this rare opportunity to network, strengthen relationships, and hear best practices from federal small business leaders. Connect with insiders and decision makers for an intimate and candid conversation with Federal OSDBU Directors on how small business can gain a competitive advantage by staying informed and being adaptive to the perpetually changing federal contracting landscape. Learn to strategically position your business to win 4th Quarter contracts.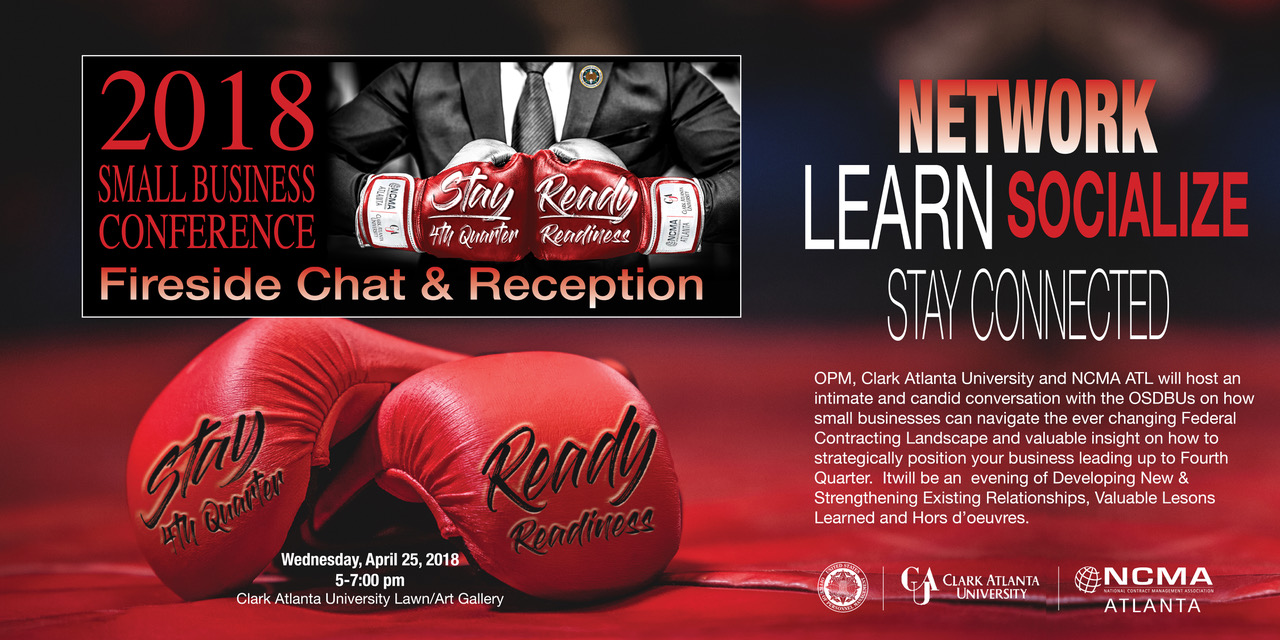 Thursday, April 26, 2018
EXCLUSIVE VIP MATCHINGMAKING
10:30-1:45PM
1:30-4:15PM

---
This event features an exclusive VIP business matchmaking event on April 26, 2018. Matchmaking allows small businesses the opportunity to have face-to-face meetings with prime contractors and federal and local government agencies as well as corporate businesses to learn about specific contracting and subcontracting opportunities.



CONFIRMED AGENCIES:

---
KEYNOTE SPEAKER:
Dennis P. Kimbro, PH.D.
Lecturer and Researcher in the field of Management, Entrepreneurship and Human Potential

CONFIRMED SPEAKERS: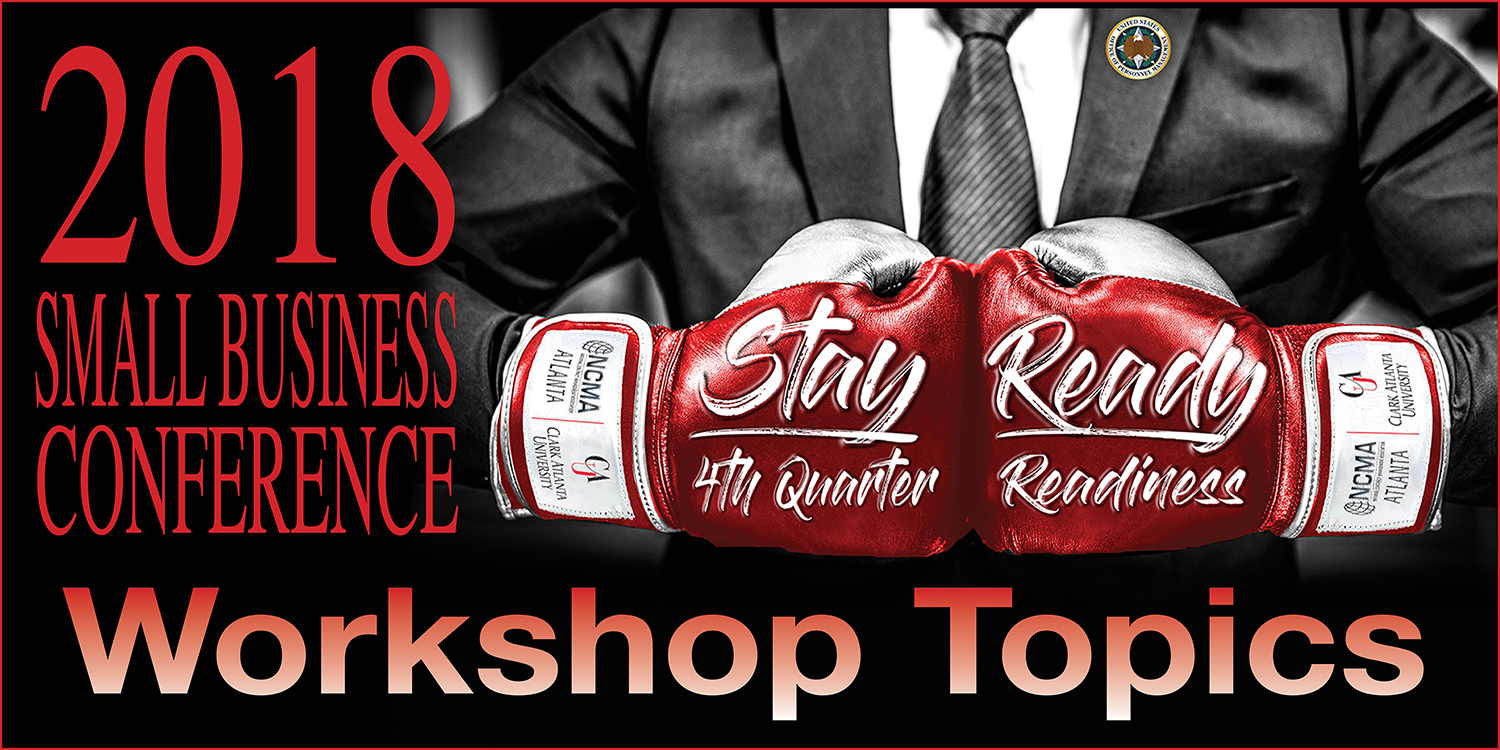 APRIL 25, 2018
ALL REGISTRANTS MAY ATTEND BREAKOUT COURSES
COURSE SCHEDULE: Stay Ready Day 1
---
7:30 am
Registration & Badge Pick-up
---
---
9:10:15 am
Opening Plenary
---
---
10:30-11:45 am
---
OPM Hot Contracting Opportunities
Speaker: Juan Arratia/OPM

---
How to Conduct Business with CDC
Speaker: Gwendolyn Miles
---
How to Conduct Business with the Department of Education
Speaker: Janet Scott
---
---
1:30-2:45 pm
---
Winning Proposals
Speaker: Shene Commodore

---
Understanding the Evaluation Process
Speaker: Lucy Tascone/OPM

---
How to Conduct Business with U.S. EPA
Speaker: Kimberly Patrick
---
---
3:00-4:15 pm
---
Conducting Business with HUD
Speaker(s):
• Craig Karnes
• Sharon Washington
---
Introduction to GSA Ebuy
Speaker: Dhana Moore

---
Keeping it 8(a) Real
Speaker(s):
• Darryl Hairston
• Catherine Downey
• Roger A. House

---
APRIL 26, 2018
COURSE SCHEDULE: Stay Ready Day 2:
---
9-10:15 am
Plenary Session

---
---
10:30-11:45 am
---
Contract Funding
Speaker: Archie Jones

---
I Got My Certification—How Do I Use It!
Speaker: Chaz Dudley
---
What Can SBA Do For Me?: "
What to Expect (and NOT expect) From Your Local SBA Office (BOS)"
Speaker: Latanya Channel
---
1:30-2:45 pm
---
What's Women-Owned Got to Do With It
Speaker: Tammie Bailey-Fults
---
FPDS NG and Bid Match: Your Government Research Source
Speakers:
Art Brown
Paul Gupta

---
I Won a Contract . . .Now What?
Speaker: Danny James

---
How the NASA SEWP Government Wide Acquisition
Vehicle Can Help You Win Federal Business
Speaker: Kenneth Brown/NASA
---
---
3:00-4:15 pm
---
The Other Side of the Coin
Facilitator:
Speaker(s):
• Chaz Dudley (Small);
• Debbie King (Small)
• Craig Karnes (Gov't)
• Teri Routh-Murphy (Gov't)
• Desmond Brown (Gov't)

---
Access To Capital
Speaker(s):
• Cyril Jones
• Derrick Williams
• Cory Stewart

---
Introduction to NITAC CIO SP3
Speaker: Keith Johnson/NIH
---
The organizer reserves the right to make changes to the event program and/or workshops. If necessary, changes may be made to its content, method and organization before or during the event.
---
This is not a co-sponsored activity between Clark Atlanta University, the National Contract Management Association

Atlanta Chapter

and the U.S. Office of Personnel Management (
OPM
).
OPM
's participation in this event is as a strategic partner only and does not constitute an express or implied endorsement of any co
-sponsor's, donor's, grantee's, contractor's or participant's opinion's, products or services.
The Office of Personnel Management:
DOES NOT control or have input for website content, funding or the collection of fees for this event;
DOES NOT control or guarantee the accuracy, legality, relevance, timeliness, or completeness of information contained on a linked website;
DOES NOT endorse event websites, related links, the views they express, or the products/services they offer;
DOES NOT guarantee that outside websites comply with the accessibility requirements of Section 508 of the Rehabilitation Act;
CANNOT authorize the use of copyrighted materials contained in linked websites; and
IS NOT responsible for transmissions users receive from linked websites.
HOTELS:
Omni Atlanta Hotel at CNN Center
Address:
100 CNN Center NW, Atlanta, GA 30303
Embassy Suites by Hilton Atlanta at Centennial Olympic Park
Hilton Garden Inn Atlanta Downtown
Hilton Garden Inn Atlanta Downtown