Description
2018 Spring Leadership Conference

The Spring Leadership Conference is designed to educate, empower, and promote personal growth. This conference is dedicated to providing leaders with the direction, inspiration, and tools to effectively lead themselves, teams, and organizations. The conference will expose current and future leaders to the knowledge, skills, and resources necessary to lead with direction, so participants are inspired to positively impact their organizations and community.
Date: April 5, 2018
Leading with Confidence: Making an Impact
Registration: 7:30 a.m. – 8:00 a.m.
8:00 a.m. – 10:00 a.m.
Future Leaders and Entrepreneurs: #GameChangers
Registration: 12:30 p.m. – 1:00 p.m.
1:00 p.m. – 3:30 p.m.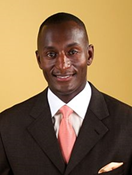 Dr. Randal D. Pinkett
Entrepreneur – Speaker – Author - Community
American business consultant who in 2005 was the winner of

season four

of the reality television show,

The Apprentice

. Dr. Pinkett was the first African American to win the US version of The Apprentice.
D

r. Pinkett holds five academic degrees including the following: Bachelor of Science (B.S.) in Electrical Engineering, Master of Science (M.Sc.) in Computer Science, Master of Science (S.M.) in Electrical Engineering, Master of Business Administration (M.B.A.), and Doctor of Philosophy (Ph.D.)
Contact: Joe Hamilton
(318) 673-5159