Sales Have Ended
Ticket sales have ended
Thank you for your support! Your KCET Cinema Series card will be mailed to you approximately two weeks before the first screening. Be sure to bring your card with you to each screening. See you at the movies!
Sales Have Ended
Ticket sales have ended
Thank you for your support! Your KCET Cinema Series card will be mailed to you approximately two weeks before the first screening. Be sure to bring your card with you to each screening. See you at the movies!
Description
SUBSCRIPTION RESERVATIONS BEGIN 01/16/2018 AT 7:00 P.M.
Don't miss out on eight weeks of amazing films at the KCET Cinema Series. You'll experience an insider's look at the new season of films from the top film festivals and the best from Hollywood filmmakers all screened prior to their theatrical release at the KCET Cinema Series. To further enrich your movie-going experience, each screening is followed by an in-depth Q&A with the film's talent and filmmakers moderated by series' host and nationally recognized film critic Pete Hammond.

Passes to the Spring KCET Cinema Series include one reservation to attend all eight film screenings. The 2018 Spring KCET Cinema Series screening dates are February 20, 27, March 6, 13, 20, 27, April 3, and 10. Screenings begin at 7:00 p.m. followed by the Q&A's.

All seats are reserved and all seat selections are final. To make a seat selection please ensure that you are using a computer (tablets and cellphones are not supported). No refunds available.

The 2018 Spring KCET Cinema Series is generously sponsored by:

---
FAQs
What films are being screened at the 2018 Spring KCET Cinema Series?
February 20: Submission (Paladin Films)
From director Richard Levine,the film is based on the novel Blue Angel that is inspired by the classic 1930's film The Blue Angel staring Marlene Dietrich. The film stars Stanley Tucci and it shares the story of a teacher student relationship in a small East Coast college. A timely topic about abuse of power and sexual harassment.
Q&A immediately following with director Richard Levine

February 27: Augie (PCH Films)
Augie Nieto was known as the Steve Jobs of the fitness industry and popularized the LifeCycle in gyms across the country as the founder of LifeFitness. In 2005 at the age of 47 he was diagnosed with ALS, also known as Lou Gehrig's disease. The documentary is about his journey to deal with this life changing disease with his wife Lynne alongside, as they race to find a cure in the fight to save his own life and the lives of millions. Augie's will to live and his continued drive to help find a cure for ALS have helped raise over $60 million for the scientific research for ALS through his Augie's Quest Foundation.
Q&A immediately following with director James Keach, producer Eric Carlson and Augie Nieto
March 6: The Leisure Seeker (Sony Pictures Classics)
The film is directed by multi-award winning Italian director Paolo Virzì, and stars Academy Award-winner® Helen Mirren and two-time Golden Globe- winner® Donald Sutherland as a runaway couple on an unforgettable journey in the faithful old RV they call the Leisure Seeker. The couple travels from Boston to The Ernest Hemingway Home in Key West, recapturing their passion for life and their love for each other on a road trip that provides revelation and surprise right up to the very end.
Q&A immediately following with executive producer Dov Mamann
March 13: Outside In (The Orchard)
After two decades of incarceration an ex-con (Jay Duplass) struggles to adjust to his new found freedom and life back in his hometown. He soon finds solace with his former high school teacher (Edie Falco) and they form an intense and constructive bond. The film premiered at the Toronto International Film Festival.
Q&A immediately following with co-writer/star Jay Duplass
March 20: First Match (Netflix)
Hardened by years in foster care, a teenage girl from Brooklyn's Brownsville neighborhood decides that joining the all-boys' wrestling team is the only way back to her estranged father. The film stars Elvire Emanuelle, Yahya Abdul-Mateen II, Colman Domingo, Jharrel Jerome and Jared Kemp. From producers Chanelle Elaine, Veronica Nickel and Bryan Unkeless, and it is the first feature film for writer/director Olivia Newman.
Q&A immediately following with director Olivia Newman
March 27: Chappaquiddick (Entertainment Studios)
In the summer of 1969 Senator Ted Kennedy is in a serious auto accident that causes his car to plunge off of a bridge on Massachusetts' Chappaquiddick Island. The accident results in the death of passenger Mary Jo Kopechne, a 28-year-old campaign strategist who worked for the senator. Kennedy managed to escape the sinking car, but it took the Kennedy family 10 hours to report the accident which led to a formal inquest into the mysterious circumstances of the accident.
Q&A immediately following with star Jason Clarke and director John Curran
April 3: Beirut (Bleecker Street)
A 1980's spy thriller set in Beirut, Lebanon during the civil war. Mason Skiles (Jon Hamm), former U.S. diplomat returns to service on a CIA mission to save a colleague from the group responsible for the death of his family. It premiered at the 2018 Sundance Festival.
Q&A immediately following with star Jon Hamm, producers Monica Levinson, Shivani Rawat and Mike Weber
April 10: Kodachrome (Netflix)
A father and son road-trip that follows an acclaimed photojournalist (Ed Harris) who has a terminal illness, his assertive young nurse (Elizabeth Olsen), along with his estranged self-absorbed record executive son (Jason Sudeikis). Together they hit the road from New York to Kansas on a mission to reach the only remaining photo lab in the country that processes the beloved Kodachrome film before it closes its doors permanently.
Q&A immediately following with star Jason Sudeikis producer Shawn Levy
---
Do I need to bring my Eventbrite receipt to the screening?

No. You only need to bring your KCET Cinema Series card, which will be mailed to you approximately two weeks before the first screening.
What if my KCET Cinema Series card does not arrive in the mail before the first screening?
When you arrive at the first screening, check in with a KCET staff member and we will issue you a new card.
What are my transport/parking options getting to the event?
Parking is available in the Sherman Oaks Galleria parking structure. All parking will be validated inside the ArcLight Cinema. Handicap and valet parking is available at a nominal fee.
Can I choose my own seats?
Yes. You must use a computer to select your own seats - the system does not support any tablets or cellphones. You will automatically be assigned seats by the Eventbrite system. To choose different seats you must find available seats on the seating map and click on those seats. On the right hand side of the screen you will see all seats that are currently selected. To deselect a seat you must click the trash can next to the seat information (see below). If you are having trouble selecting seats, please review the following Eventbrite tutorial by clicking here.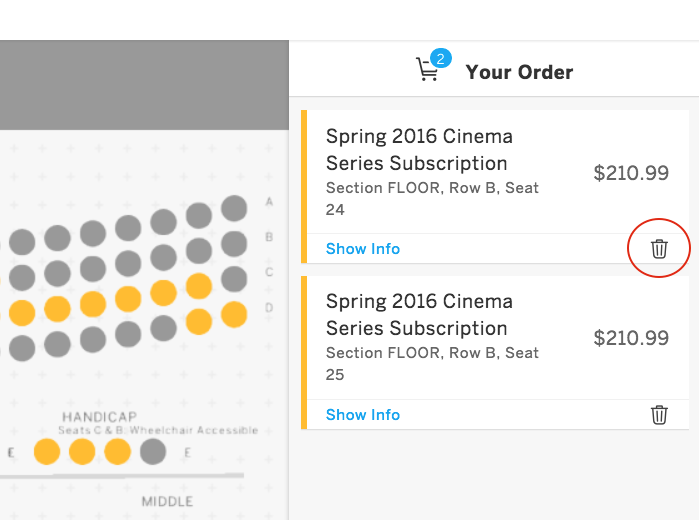 Are all seats reserved?
Yes.
Can I switch my seats from week to week?
No. The seats selected at the time of subscription will remain your seats for the entire series.
Is there handicap accessible seating?
Yes. There are handicap accessible seats, and they are indicated on the seating map as such.
Can I cancel my subscription?
No. All subscriptions are final.
Can I choose my reserved seat(s)?
Seats that are available will be indicated as such on the seat map available above. You can choose any seat that is available on the map.
Can I make my reservation over the phone or in the mail?
No. Reservations will only be taken online through the Eventbrite system.
Why is there a fee charged?
The fee amount is charged and collected by Eventbrite.
What's the KCET MemberCard?
With a KCET Cinema Series subscription, you will automatically receive a complimentary annual KCET MemberCard—giving you more than 125 special discounts or 2-for-1 deals at your favorite Southern California restaurants, museums, and attractions. This is not your Cinema Series card. To learn more about the KCET MemberCard please click here.
I need some further assistance regarding my Cinema Series subscription. How can I contact someone for assistance?

If you have an inquiry regarding the Cinema Series, or need further assistance, please call our office directly at the number (747) 201-5800. If someone from our team is not available, please leave a detailed message and a call-back number, and we will get back to you shortly.
---
Tips and Notes:
There is a 10-minute timer to complete your entire transaction so have your credit card at hand.

There is a limit of 6 passes per transaction; if you need more than 6 passes, please complete a second transaction through Eventbrite once your first transaction is completed.

The Eventbrite system works best with your desktop or laptop computer. You may experience problems if you try to register on your tablet, cell phone, or other mobile device.

If you are subscribing for friends or family, please be aware of the 10-minute time limit and perhaps use your own information instead of entering the names of all your guests during your registration. If you use your name for each subscription, you will receive one pass in your name and the other(s) will be listed as "Guest of" your name.

All seats are reserved and all seat selections are final.

There are NO REFUNDS.

All orders must be placed online at www.CinemaSeriesSpring2018.eventbrite.com. We apologize, but we cannot accept phone orders for this series.

KCET Membership and Cinema Series attendance may be revoked for inappropriate conduct.