Description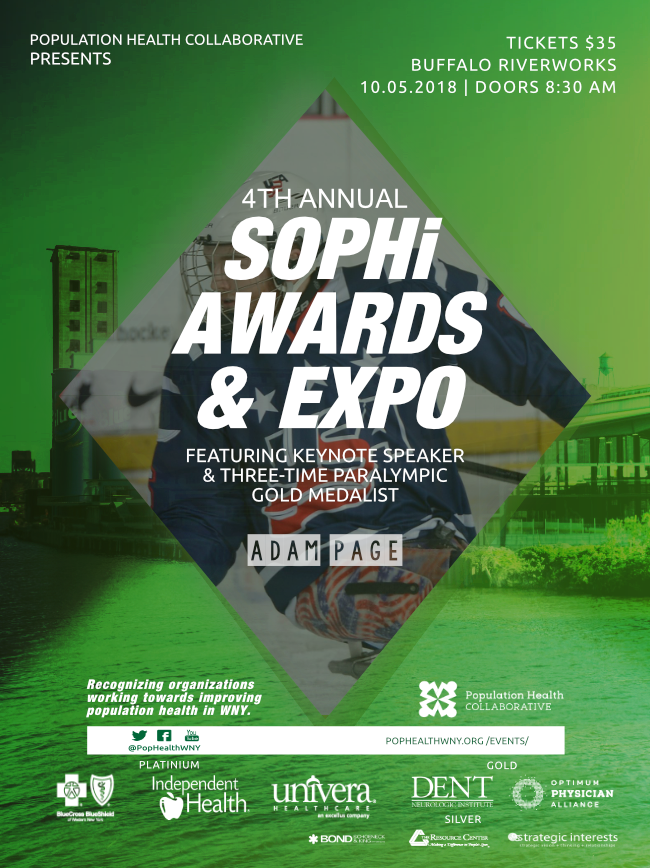 About SOPHi
SOPHi is a celebration of organizations across the eight counties of Western New York that focuses on Population Health. Through this award ceremony, we hope to educate the WNY community on all the great work being done around the region, and create new collaborations!
Nominations are made by community members, with final votes by the Voting Committee comprised of Population Health Collaborative staff and prior Community Achievement awardees, Sharon Mathe (2015). Ann Monroe (2016), and Phil Haberstro (2017). Nominate a project for SOPHi 2018 and give them the recognition they deserve!
Nominations are now closed. Here's your 2018 SOPHi nominees.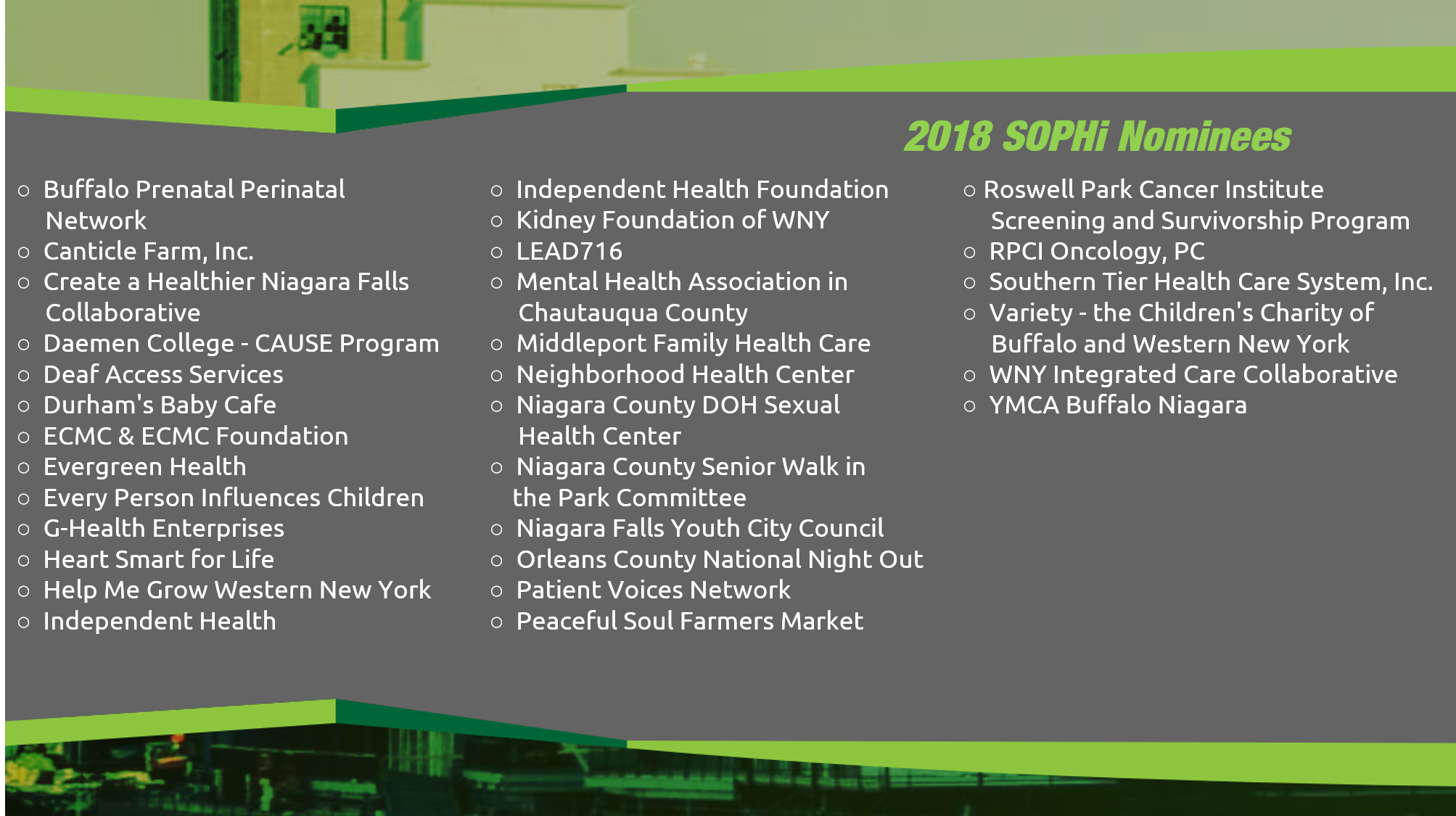 This year, we're bringing in local motivational speaker, three-time gold medalist, and co-founder of the Sled Hockey Foundation, Adam Page!
Adam Page knows the meaning of determination. At the age of 15, he was the youngest member of the 2007-08 U.S. National Sled Hockey team. Now 26 years old, Adam is a three-time gold medalist for the Vancouver 2010, Sochi 2014, and PyeongChang 2018 Paralympic Games.
Reserve your seat today! Tables seat 8, purchase 8 tickets together and we'll reserve your table for you!
Expo Features

The Expo will consist of a variety of local vendors and exhibitors that educate on all aspects of health, wellness, fitness, and lifestyle improvements. Interactive demonstrations and health screenings will be available.
SOPHi nominees will have the opportunity to be part of the vendor exhibit area.
We are excited for our 2018 vendors:

• Andriana Andolina, Massage Therapist (yes there will be massage demos!)
• American Diabetes Association
• Brighton Eggert Pharmacy
• Buffalo Healthy Living
• Buffalo Prenatal-Perinatal Network
• Creating a Healthier Niagara Falls Collaborative
• Crunch Fitness
• Deaf Access Services
• DENT Neurologic Institute
• Durham's Baby Café
• ECMC Farmers' Market
• EPIC
• Evergreen Health
• Heart Smart for Life Program
• Help Me Grow WNY
• Hospice Buffalo
• Jacobs School of Medicine & Biomedical Sciences
• Jewish Family Services
• Kidney Foundation WNY
• Lead716
• MASH
• Mental Health Association of Chautauqua County
• Middleport Family Health Center
• Neighborhood Health Center
• New York Chiropractic College
• Norwex
• Optimum Physician Alliance
• Orleans National Night Out
• Patient Voices Network
• Program Savvy Consulting
• Rural Outreach Center
• Soul Candy Project
• Strategic Interests, LLC
• Unyts
• YMCA Buffalo Niagara
• Young Living Essential Oils

Awards ceremony features
Winners for the SOPHI's will be announced live, but (as the saying goes) "it's an honor just to be nominated." The SOPHi's recognize the collective actions of organizations, institutions, and programs that have made an extraordinary impact in the WNY health and wellness community and whose acts reflect a dedication to excellence in the areas of community impact, data-driven, sustainability, community engagement, and innovation. The SOPHi's will kick off with the Community Achievement Award, recognizing an individual's outstanding track record of excellence and service in the Western New York community. The Community Achievement Award will be followed by the SOPHi's. Each winner will have the opportunity for remarks during which they can thank their agent and "all the people who believed in them," and give some more information about the great work they all do.
SOPHi details
Date: October 5, 2018
Hours: 9:00 AM - 12:30 PM; registration at 8:30 AM
Location: Buffalo RiverWorks, 359 Ganson St, Buffalo NY
Admission: $35/person
Website: www.pophealthwny.org/events
With over 350 in attendance last year, this year's awards are expected to draw an even larger crowd. Attendees include community-based organization workers and supporters, health plan executives and representatives, local hospital representatives, and community members.
Subscribe to the PHC Newsletter to stay updated!
Interested in supporting the SOPHi's or tabling at the Expo? Visit sophisponsorship2018.eventbrite.com or view our sponsorship packet here.
Thanks to our current sponsors: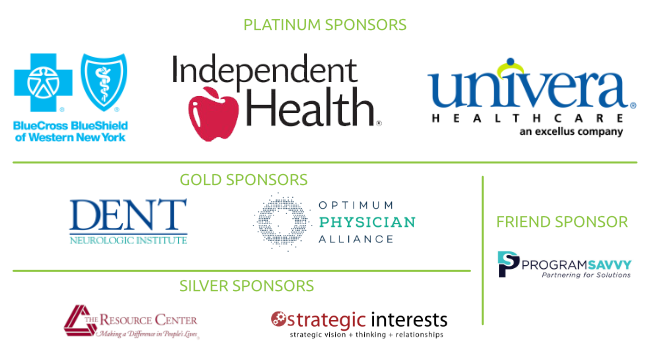 ---
If paying by check, please complete the registration form here and send to us at info@phcwny.org or mail to 355 Harlem Road, West Seneca, NY 14224. Checks must be received by the event or handed in at the time of the SOPHi's.
*Cancellation policy: 7-day notice is required to obtain a refund.* (Deadline is September 28th by 8:30 am)
To support information-sharing and spreading the word about P² Collaborative of WNY, we may videotape portions of the convening and will be taking photographs at various points. Unless we hear otherwise from you, attendance at the convening includes consent to being filmed/photographed and to images being used without compensation or acknowledgment. Before using any attributed remarks or audio, we would seek your permission.