2018 SOHO International Film Festival #SOHO9 SHORTS: "Prince Street Series"

Saturday, June 16, 2018 from 1:45 PM to 4:30 PM (EDT)
Event Details
.AUDITORIUM # 1 
* screening order subject to change * 
"BUTTERFLIES"  (US)   14 mins  l  Drama  l  NEW YORK Premiere
Produced & Directed by:   Cady McClain
Written by:  Carlotta Summers

Stars:   Carlotta Summers,  Kristina Reyes, Melanie Hinkle, Camila Perez, Julian Elfer,  Linda Powell
Synopsis:   Abandoned by her childhood best friend, who is now allied with a bullying clique of mean girls, a mixed-race teenager is inspired to fight back by contemplating the life cycle of a butterfly.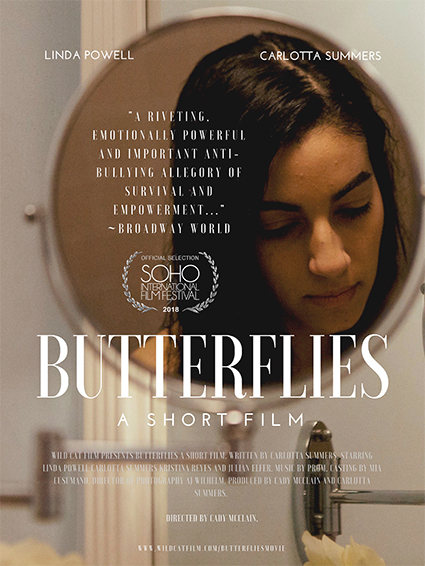 ---
"WELCOME TO GRANDVILLE"  (US)   20 mins  l  Drama  l  WORLD Premiere
Written & Directed by:  Sasha Levinson
Produced by:   Humble and Le Film Shop
Stars:   Melissa Hood, Cleo Isabella Bowling
Synopsis:   After the suicide of her husband, an iconic musician, Pam returns to her small Midwestern hometown with the intent of leaving her 15 year old daughter Sydney, to live with her Grandmother, while Pam attempts to pick up the pieces.  Set on a single, catalytic summer day, WELCOME TO GRANDVILLE is the story of a mother and daughter struggling to gain their footing in the wreckage of tragedy and the imprint they make on a small town. As Grandville's most infamous expat, and now the widow of a celebrity, Pam and Sydney find themselves under a microscope, as the town feels entitled to cross their boundaries of grief because of their fame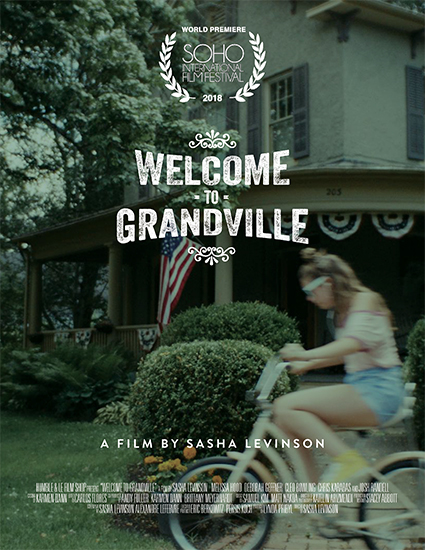 ---
"6ATE7"  (Australia)   16 mins  l  Drama  l  US Premiere
Director: Maggie Kiley
Written by: Amanda Maple-Brown

Produced by: Elizabeth Topen & Amanda Maple-Brown
Stars: Michael Dorman, Amanda Maple-Brown

Synopsis: Underneath the greatest betrayals can sometimes be the truest of loves.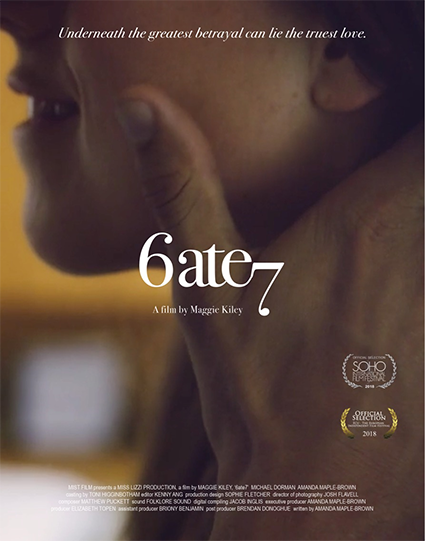 ---
"PAS D'YEUX"  (US)   3 mins  l  Drama, Animated 
Written and Directed by: Thao Dan Nguyen Phan
Produced by: Jimmy Calhoun
Synopsis:  A boy, left faceless from an unfinished painting, seeks for his face in the artist world. This a short film about identity, surpassing existentialism crisis and defining oneself.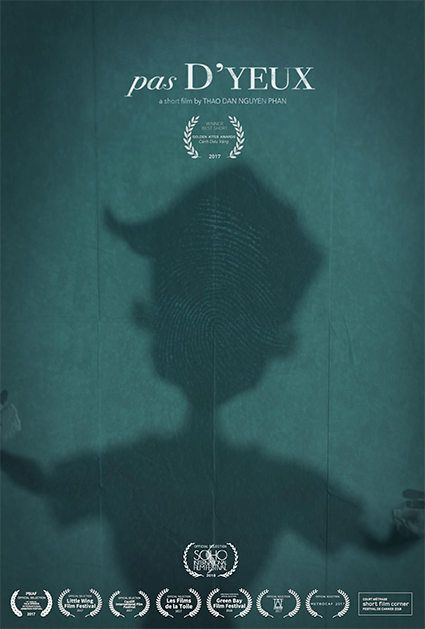 ---
"ARTEMIS & THE ASTRONAUT"  (US)   13 mins  l  Drama  
Written & Directed by:  Alice L. Lee
Produced by:  Delicia Kuang
Stars:   Lynn Cohen, Andrew Platne, Ronald Cohen
Synopsis:   Artemis and Henri have spent a lifetime together. Loved one another deeply and imperfectly. Four weeks ago Henri died and so much was left unsaid as Henri's mind ebbed away. And then Artemis hears Henri crying in the next room. Will Artemis get a chance to be with Henri one last time?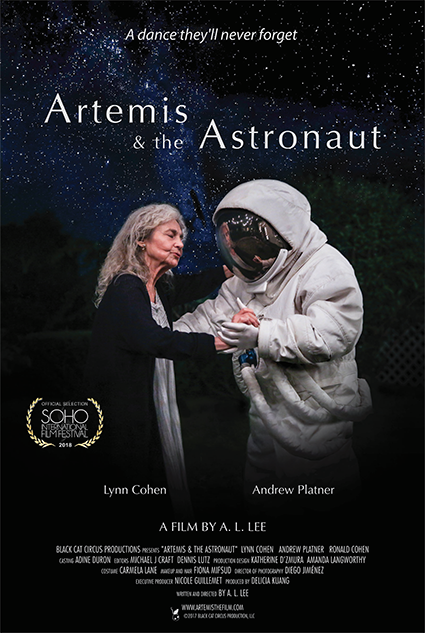 ---
"THE VISIT"  (US)   12 mins  l  Drama  
Produced, Written & Directed by:  Romina Schwedler
Stars:    June Squib, Sean Maher, Sadie Katz, Dominick Coniglio
Synopsis:   Devastated by the loss of his wife and son, Ben responds to his mother's sudden request for a visit. But when she announces the alleged arrival of his departed family, what he strives to sustain as a gentle encounter soon spirals into torment, finally revealing a most unsettling truth.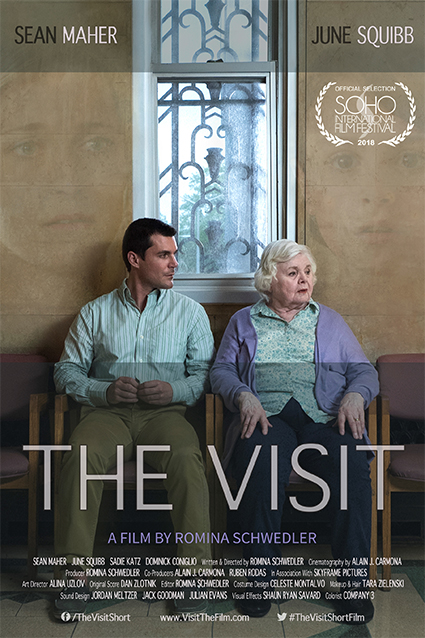 ---
"THE REAL THING"  (US)   7 mins  l  Drama, LGBTQ  
Written and DIrected by: Brandon Kelley
Produced by: Jon Gestal
Stars: Sophie Giannamore, Nia Minott, Michael Torpey

Synopsis: A soldier returns home to surprise his daughter, who has transitioned from male to female while he was away. He has accepted her, in his heart, but is afraid that he might accidentally say or do something to upset her. His daughter is facing the everyday tribulations of being trans in America.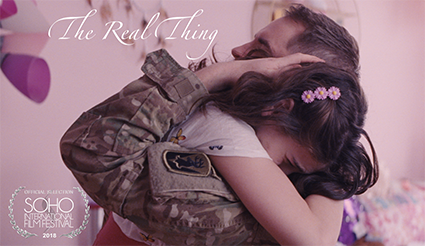 ---
"CALIFORNIA ROLL"  (US)   7 mins  l  Drama  l  NY Premiere
Written and Directed by: Ken LIn
Produced by: Sibyl Santiago, Veronica Reyes-How, Ken Lin (executive producer)
Stars: Jun Suenaga, Sibyl Santiago, Veronica Reyes-How, Sara Kim, Ken Lin
Synopsis: A local sushi bar becomes the stage for a spicy reckoning when two inept robbers take a gamble with defiant patrons, and their own uncertain future.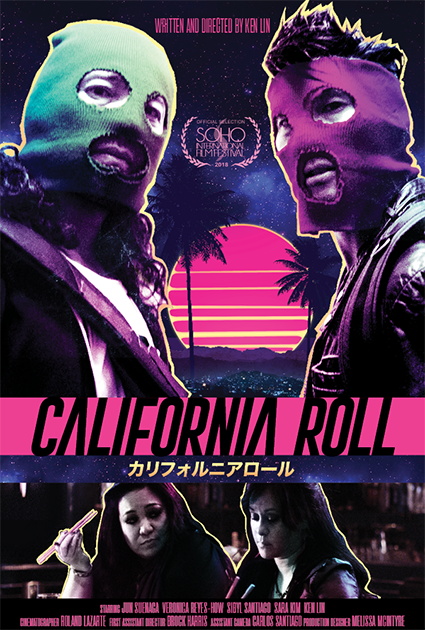 ---
"ALMA MATER" (US)  28 mins  l  Drama, Musical  l  WORLD Premiere
Director: Nathan Brewer
Written by: Emily Kaczmarek
Produced by: New York Film Academy and Sean Robinson
 Synopsis: A musical comedy about feminism, friendship, and finding common grounds.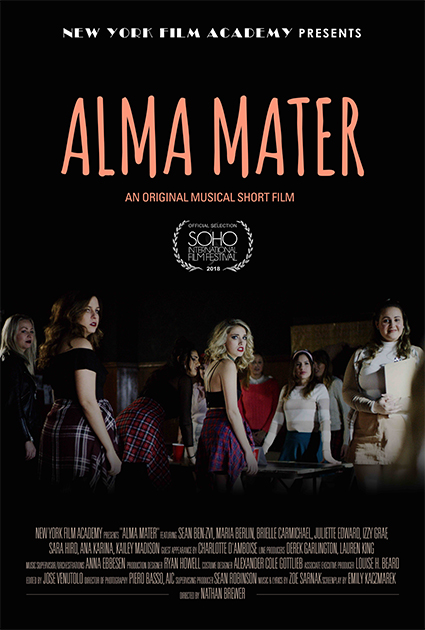 ---
SCREENING FOLLOWED BY Q & A
WITH FILMMAKERS & CAST IN ATTENDANCE
When & Where

Village East Cinema
189 2nd Avenue
AUDITORIUM # 1
New York, NY 10003


Saturday, June 16, 2018 from 1:45 PM to 4:30 PM (EDT)
Add to my calendar
Organizer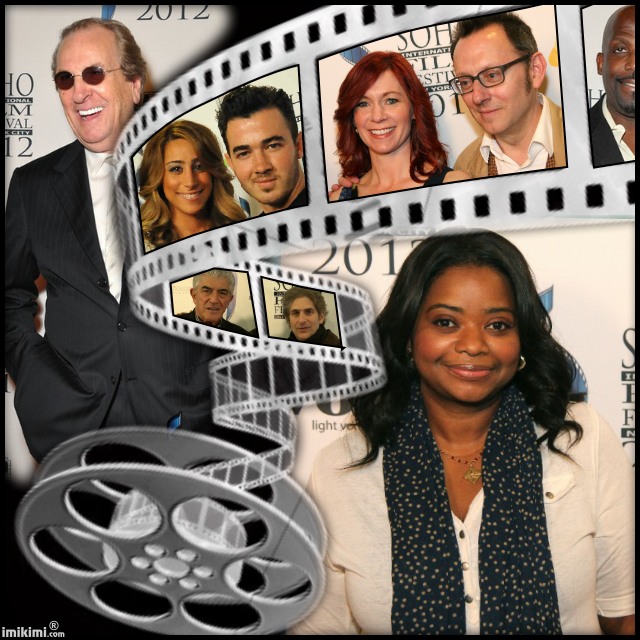 General Information
Accepting full-length features, short films and documentaries from professionals and amateurs alike, SOHO Film Fest will hold screenings, panels and host social events and other networking opportunities for everyone involved. Leading figures from all disciplines of the film industry including distributors and media will be in attendance.