2018 SOHO International Film Festival #SOHO9 SHORTS IN EXHIBITION: "NY Filmmakers Series"

Sunday, June 17, 2018 from 11:00 AM to 2:00 PM (EDT)
Event Details
.AUDITORIUM # 1 
* screening order are subject to change * 
"THE TENTH YEAR"  (US)   17 mins  l  Drama  l  WORLD Premiere
Directed by: Richard Anderson
Produced & Written by: Richard Anderson, Richard B. Anderson
Stars: Austin Peck, Terri Conn
Synopsis: After 10 Years without their son, a broken couple are still trying to get their life back on track, but a parole hearing changes everything.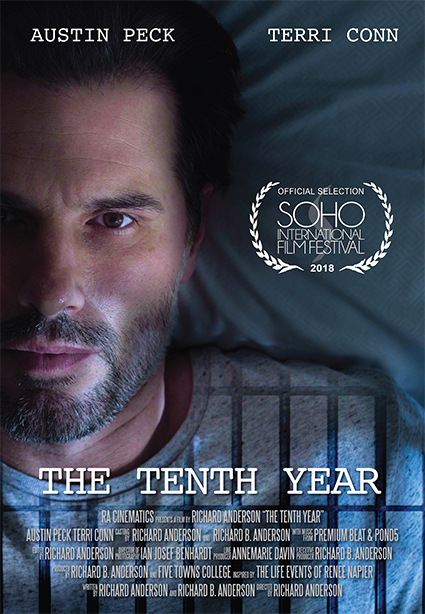 ---
"THE KIDS MENU"  (US)   10 mins  l  Drama, Comedy
Director: Paul Borghese
Written by: Richard Vetere

Produced by: Nyle Lynn
Stars: Vincent Pastore, Nyle Lynn, Mario Macaluso, Maayan Schneider

Synopsis: 'The Kids Menu' is a comedic film about Old School Brooklyn vs. New School Brooklyn, clashing in a local pizzeria. When set-in-his-ways Italian pizzeria owner Pete 'Pugs' Puglisi (Vincent Pastore, The Sopranos), meets headstrong modern mom Kat (Nyle Lynn, Comedy Central) tensions and calorie counts rise. This short film, shot in Brooklyn, takes a comedic look at the serious issue of hyper-gentrification that is closing so many beloved "mom & pop" shops all over New York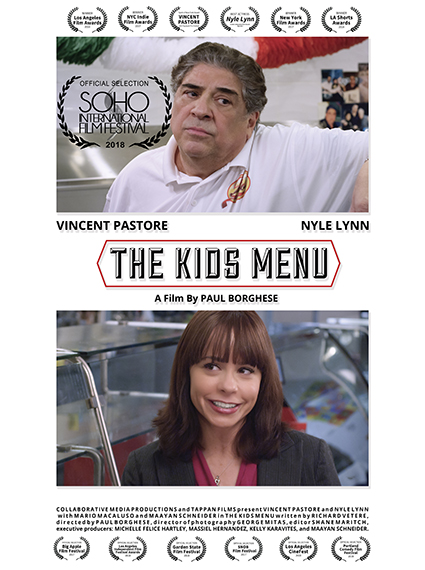 ---
"3 MINUTES"  (US)   13 mins  l  Drama  l  NYC Premiere
Written and Directed by: Michael Medeiros
Produced by: Ilvi Dulack, Mark Woods, Michael Gallis (executive producer)
Stars: Adam Cole, Inge Uyes, Jacob Leinbach, Lee Spencer Osario, and Tiz McWilliams
Synopsis: A returned veteran's wife tries to shield her husband from violence in their hometown.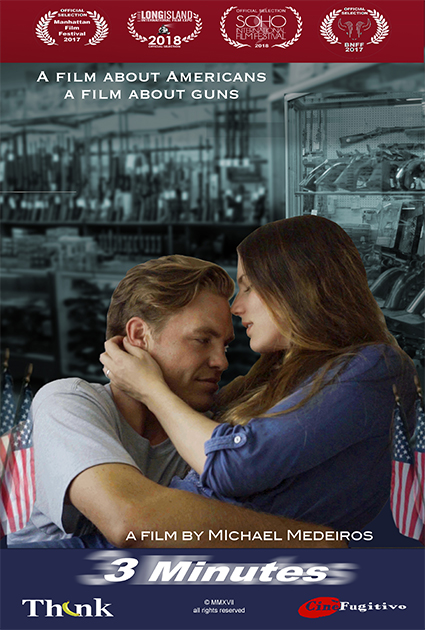 ---
"CARL"  (US)   17 mins  l  Drama  l  NYC Premiere
Written and Directed by: Casey Denaro
Produced by: Casey Denaro, Thomas Rivera Montes, Michael TJ Williams
Stars: Glen Feinstein Lexie Roth,Sara-Taney Humphreys,Emma Gannon-Salomon, Jeffrey Alan Solomon,Carl Denaro 
Synopsis: CARL tells the story of Carl Denaro, who at twenty years old was shot in the head and became a victim to the Son of Sam shootings. As he was one of the first victims and there was no face to the alleged killer, Carl had to face a world of isolation. From that point on, he was forced to reevaluate his life and future since his plan to be a photographer for the Air Force was ruined. Our story follows Carl after the accident and how he and the rest of the world would find out his shooting was a part of a mass hysteria that changed New York in the late 1970's
---
"LAYING LOW"  (US)   17 mins  l  Drama  l  WORLD Premiere
Written and Directed by: Hank H. Kim
Produced by: Sylvia Caminer
Stars: Johnny Wu, Laith Nakli, Clark Middleton
Synopsis: Dave, recently paroled, fights to rebuild his life in New York City. Dave isn't your typical small-time drug dealer; he was a Harvard Phi Beta Kappa on the partner track at one of Wall Street's most prestigious corporate law firms before his life was derailed. Is the mecca of temptation truly the right place for a guy with low impulse control?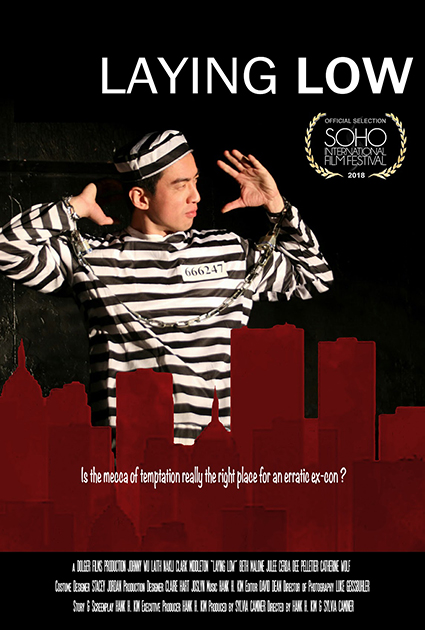 ---
"E.RO.SION, NOUN"  (US)   14 mins  l  Drama  l  WORLD Premiere
Directed by: Catriona Rubenis-Stevens
Written by: Catriona Rubenis-Stevens & Tammy McNeill
Produced by: Jesse R. Tendler, Joanna Bowzer
Stars: Katherine Kahrs, Jesse R. Tendler, Dana Pelevine, Tammy McNeill, Dewey Caddell
Synopsis:  e.ro.sion follows the last days of a woman as she checks into the "Goodbye Clinic" to have her life deleted. We witness a person fade into a parallel reality where she observes the world she once felt connected to, continue on without her, and the physical being of her body and soul disappear before her very eyes.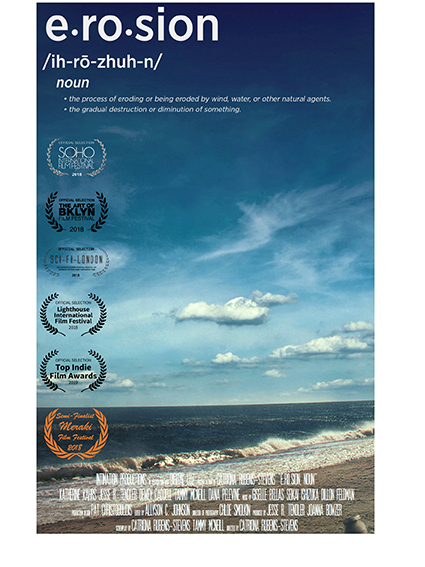 ---
"SECOND ASSAULT"  (US)   19 mins  l  Documentary  l  NEW YORK Premiere
Director:  Jillian Corsie & Amy Rosner
Produced by:  Emily Best
Synopsis:   When Jillian was 18 years old, she was raped in her college dorm room. Twelve years later Second Assault follows her on the journey to confront this incident and in particular, her anger toward the police officer who deemed the assault consensual. This film explores the trauma of reporting sexual violence, and the "second assault" that survivors often experience when they are not believed.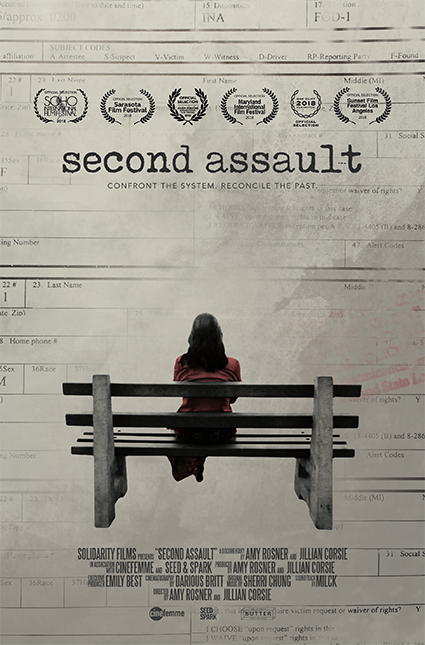 ---
"HIDDEN BLUEPRINTS"  (US)   16 mins  l  Documentary, Drama
Written, Directed and Produced by: Jeremy Lee Mackenzie
Produced by: Jeremy Lee Mackenzie, Julie Pacino & Aron Meinhardt
Stars: Maeli Rutherford, Mikey The Mantis V, Oliver Rutherford, Samuel Burriss 
Synopsis: Hidden Blueprints, is a hybrid short documentary detailing the history and creation of a collection of wood-scrollwork that was designed and hidden in prison. It tells the story of a champion fighting mantis named Mikey that won all of its fights, only to become an enduring myth after being martyred in a corporate prison.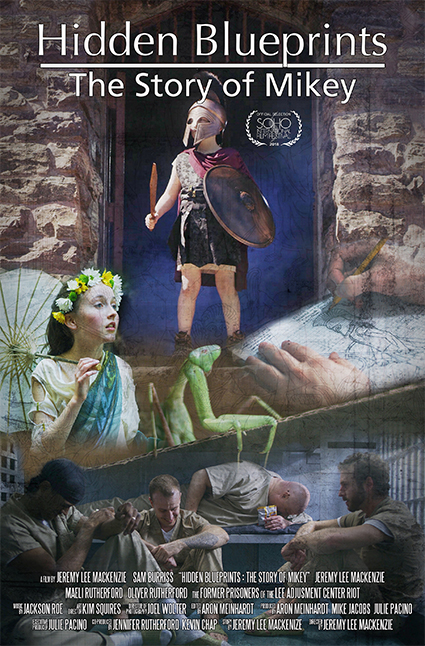 ---
"THE SELFISH ONES"  (US)   10 mins  l  Drama
Director: Dharius Zulkefli
Written by: Eric Grisanti

Produced by: Eric Grisanti, Robert Mosca, Dharius Zulkefli
Stars: William Jousset, Jessica Afton, Shane Allen
Synopsis: Two reminiscent brothers attend a wake while an underlying secret begins to reveal itself.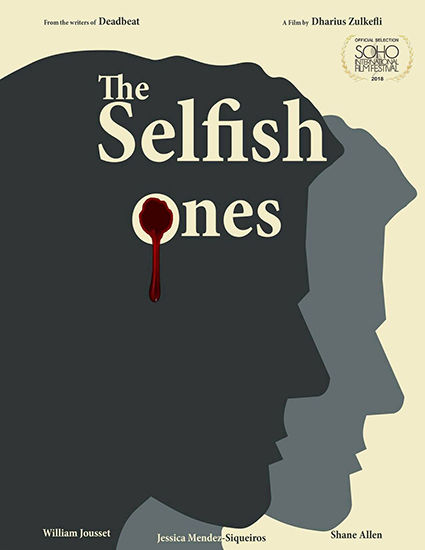 ---
 SCREENING FOLLOWED BY Q & A
WITH FILMMAKERS & CAST IN ATTENDANCE
When & Where

Village East Cinema
189 2nd Avenue
Auditorium # 1
New York, NY 10003


Sunday, June 17, 2018 from 11:00 AM to 2:00 PM (EDT)
Add to my calendar
Organizer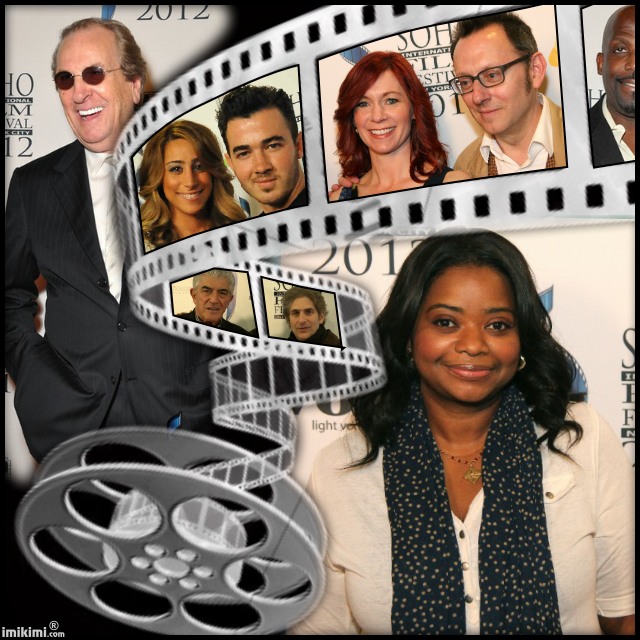 General Information
Accepting full-length features, short films and documentaries from professionals and amateurs alike, SOHO Film Fest will hold screenings, panels and host social events and other networking opportunities for everyone involved. Leading figures from all disciplines of the film industry including distributors and media will be in attendance.