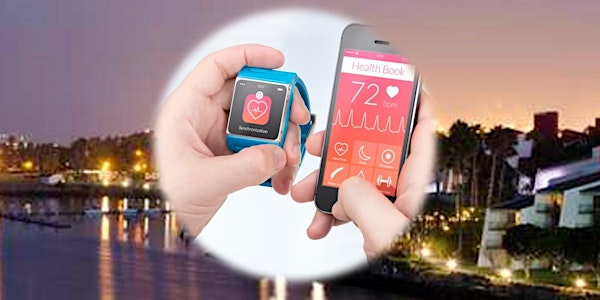 2018 SoCalBio Digital Health Conference (#SoCalBioDH)
When and where
Location
Hotel Maya 700 Queensway Dr Long Beach, CA 90802
Refund Policy
Contact the organizer to request a refund.
Description
Conference Agenda
8:00 Welcoming Remarks
8:05 Opening Presentations by:
Robert Greenberg, MD, PhD

, Executive Chairman, Alfred Mann Foundation & Chairman, SoCalBio

Ahmed Enany

, President & CEO, SoCalBio
8:45 Break
8:55 Panel Discussion:
Trends in the Wearables' Markets and Technologies
Do wearables matter? Wearables have a checkered history. There were a lot of promises that they would be able to detect and mitigate health problems rather than just simply relay health data. That hasn't really happened in a big way. The use cases are sparse. Now, there is some renewed interest in wearables that the Apple Watch has been approved by the FDA. We are seeing more and more startups trying to use sensors as a gateway into health data collection and clinical care. Wearables can be used in clinical trials to collect real work data, and health systems understand that monitoring devices can create efficiency. But, what is required to bring wearables into the mainstream of healthcare. Do we see trends indicating that we are moving in this direction?
Introductory Presentation:
Stuart Karten

,

President & CEO,

Karten Design
Panelists:
Samir Chatterjee

, PhD, Professor of Design, Claremont Graduate University

Ron Goldberg

, President & CEO, IsoWalk

Stacey Schepens Niemiec,

PhD , Assistant Professor, USC Occupational Science and Occupational Therapy

Chris Thierfelder

, Former Executive from Halyard / Digital Health Consultant

Jens Paetau,

Practice Lead at NextFlex, California Manufacturing Technology Consulting (CMTC)
9:55 Break
10:00 Southern California Wearable Device Showcase I:
Moderators:
Steven Goldman

, President & CEO, Geshtalti and Member, Keiretsu Forum

William Dolphin

, PhD, CEO, CueSquare
Presenting Companies:
Adela Health

(Smart Shirt

for Good Posture and Healthy Spine Naturally

)

Eyedaptic

(Simulated Natural Vision Eyewear for Age-Related Macular Degeneration)

Life Beat

(A Music-Based Treatment Platform, Helping People Reach Emotional Balance and Reduce Stress Levels)

Atlazo

(

Health-System-on-Chip for Intelligent Body-Worn Devices and IoMT

)
10:55 Break
11:00Southern California Wearable Device Showcase II:
Moderators:
Richard Koffler

, CEO, Greenwings Biomedical

David Hood

, President, DH3 & Associates
Presenting Companies:
GTX

(miniaturized Global Positioning System Tracking Technology for Monitoring the Elderly and People with Dementia)

Visus Technology

(Motion Analytics and Home Health for Improved Clinical Outcomes)

Wytcote Technologies

(IoT Platform for Elderly Care)

Senseer

(Smart Microsensing Platform Technology for Remote Monitoring to Guide Evidence-based Treatment)

Tagnos

(

Clinical Logistics Automation Platform that Combines Real-Time Patient, Staff and Asset Data with AI to Optimize Operational Workflows

)
12:05 Networking luncheon
12:45 Luncheon Panel Discussion:
Partnering to Build the Future of Wearables in Clinical Research and Healthcare Delivery
As the commercial and scientific potential of wearable devices in medicine becomes clearer, both tech titans and scores of digital health start-ups are vying for some of the action. This presents bioscience companies with new potential opportunities for partnering to integrate wearables into their offerings and make sense out of the data generated. This may help in boosting their value propositions and strengthening their competitiveness. But challenges also abound. This luncheon discussion will explore how partnering can increase the potential of mobile and wearable technologies in transforming drug and device development as well as improving healthcare delivery.
Moderator:
Joseph Boystak

,

Managing Partner,

Health2047

Capital Partners
Panelists:
Steven Bowers

,

Assistant Director, Product Assurance and Security Legal, Intel Corporation

John Donello

, PhD

,

VP, Research Pharmacology, Allergan

Bethany Grant, PhD,

Director R&D, Digital Product Engineering, Johnson & Johnson
1:45 Break
2:00 Southern California Wearable Device Showcase III:
Moderators:
Steven Corr,

Partner, Jones Day

George Colindres

, Sr. Counsel, Perkins Coie
Presenting Companies:

QT Medical

(Compact, Digital, and Wireless ECG That Works with Mobile Devices)

Pressao Medical

(Smart Wearables for Treating Pre-Hypertension)

StimAire

(Wireless Neuro-stimulation Wearable to Treat Sleep Apnea)

Expy Health

(Platform for Orthopedic Surgery Recovery)

Allevion Therapeutics

(Smart Wearables for Treating Essential Tremors)

Flint Rehabilitation Devices

(Wearables for C

linic and at-Home Therapy After Stroke, Spinal Cord Injury, or Traumatic Brain Injury)
3:00 Break
3:05 Panel Discussion:
Regulatory Challenges and Strategies for Wearable Medical Technology
Despite their promise, most wearables have been developed to serve the young, well-to-do, fitness-oriented users, and self-quantification enthusiasts. The transition of wearables from direct-to-consumer novelties to health devices requires passing the rigorous FDA regulatory processes for product approval or clearance. The purpose of these processes is to ensure that the type and quality of data generated are both relevant and applicable in a clinical setting. This panel will discuss current FDA approaches in regulating mHealth and wearables, and how and when your technology might encounter regulatory scrutiny.
Moderator:
Peter Blaisdell, PhD

, Chair, SoCalBio Innovation Catalyst Program
Panelists:
Shep Bentley

, President, Bentley Biomedical Regulatory Consultants

Sugato De, M.S.,

Principal Consultant,

PAREXEL International

Phil Johnson

, Senior Principal,

Quality & Compliance Services, IQVIA

Raju Joshi

, Managing Partner, Clinical Partners Group, LLC
4:05 Break
4:10 Panel Discussion:
Consumer Adoption & Reimbursement
Even if wearables pass strict FDA scrutiny, the ability to drive adoption in the healthcare system depends on who is paying for them. This panel will explore when the patients themselves can pay for wearables. The role of government – through the Centers for Medicare & Medicaid Services (CMS) – will be discussed. CMS has recently released new payment rules that may give mHealth technology a better shot at reimbursement. This is an important step in driving medical wearable implementation in healthcare settings where patients are either reluctant or cannot afford wearable technologies. This panel will also discuss when health insurers cover the cost of health wearables as part of an emerging market of employers looking for healthy workers.
Moderator:
Scott Witt

, President, Witt Venture Development
Panelists:
Patrick Bertagna

, President & CEO, GTX

Soeren Mattke

, PhD,

Director, USC

Center

for Improving

Chronic Illness

Care

Ayman Salem

, MD, President & CEO, iKioo

Katherine Lewinter

, MD, Pediatric Pulmonology, Children's Hospital Los Angeles Division of Occupational Science and Occupational Therapy

Philip van Allen

,

Graduate Media Design, Art Center
5:10 Final Remarks by Panel Moderators:
Where to Go from Here?
Building a Sustainable Digital Health Economy in Greater Los Angeles
5:30 Concluding Reception:
Meet the Speakers
6:30 Conference Adjourns