Description
Get ready to ignite your future at the 2018 Silicon Valley LIT College Tour "The Ultimate Student Leadership Conference" hosted at California State University East Bay on Thursday, March 1st, 2018, 5pm. - 8pm.

Connect with mentors, meet recruiters and network with like-minded student leaders from CSUEB and Silicon Valey Universities and Colleges.

Our half-day leadership boot-camp offers rapid-fire learning, leadership development and transformational experiences via several learning tracks, keynotes, workshops and 20+ industry experts and emerging leaders from diverse industries including Entrepreneurship, STEM, Marketing, Media, Entertainment, Law, Finance and related fields..

Program: (Subject to change)

4:30 p.m. Registration opens

5:00 p.m. Opening remarks
Jaimee Alonso, Career & Professional Development Coordinator, College of Businesses & Economics, CSUEB
Isaiah de la Cruz, President, ALPFA CSUEB

5:10 p.m. Opening keynote
Frank Carbajal, Author, Speaker and Founder of Silicon Valley Latino Leadership Summit

5:30 p.m. Panel 1 – All Things LIT (Leadership. Innovation. Transformation): The Journey from Student to Entrepreneur/Professional
Moderator: Loreto Soto Berry, VP, Corporate Communications, ALPFA SF
Marcelo McManis, Senior Analyst, Gilead Sciences
Alexandrea Alphonso, Partnerships, Black Tech Women; Program Manager, Google for Education
Joshua Encarnación, Tech Learning & Development Program Manager, Uber
Guadalupe Molina, Community & Strategic Partner Program, Harmony Plus
Caroline Aung, Sr. Associate Product Manager Talent, Workday

6:20 p.m. Panel 2 – Communications, Entertainment & Marketing: How to Build a Powerful Personal Brand
Moderator: Gabriel Sotelo, 6x Emmy-award winning Journalist, Telemundo 48/NBC
Maria Gianotti, Director of Demand Generation, Vibes
Brittni Lundie, Senior University Recruiter, Tesla
McEdward Laguerre, University PhD Recruiter, Facebook
Mario Cobian, CEO, Cobian Marketing Group

7:10 p.m. Closing keynote
Zerbin Singleton, Capt. USMC, Aeronautical Engineer, Motivational Speaker, Mentor

7:35 p.m. - Networking and reception
8:15 p.m.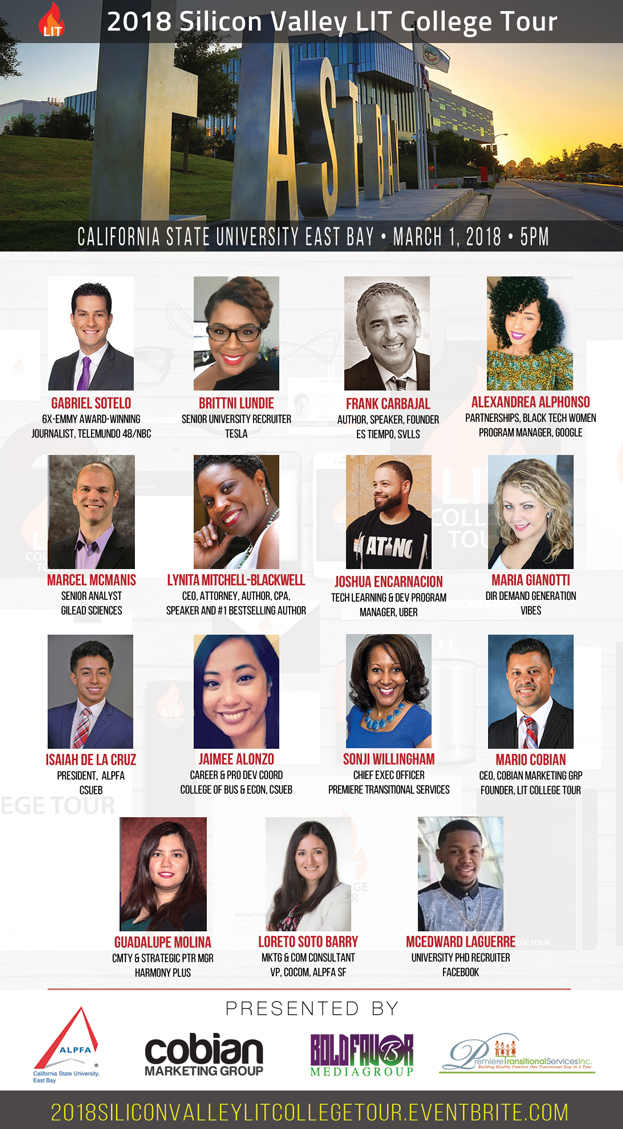 Highlights from past events: