Description


You are cordially invited to attend the 2018 Design & Construction and Exhibition
Conference
to take place at ASU's SkySong Campus, Scottsdale, AZ on April 10 & 11, 2018.
The Conference is organized by the Diversity Business Development Center.
"WHY SHOULD YOU ATTEND?"
Federal regulations require that at least 23% of all federal contracting dollars be awarded to small businesses including: Women-Owned Small Businesses, Small Disadvantaged Businesses, Service-Disabled Veteran-Owned Small Businesses and HUB Zone Businesses.

The 2018 defense budget requested totals $

639.1 billion

and it includes increased facilities sustainment, restoration and modernization across all Services. The budget is projected to significantly increase in 2019 and 2020 providing extraordinary business opportunities for large and small business

Briefings on State wide, Regional and City wide Economic Development initiatives

Briefings by Capital Improvement executives and officers in the Public and Private sectors including the Healthcare industry

Briefings by industry thought leaders and practitioners about the impact of emerging technologies in Design and Construction

Briefings on the workforce challenge – the shortfall of qualified and trained professionals
This event offers an intimate venue for government officials, design & construction industry leaders and technical experts to share ideas, conduct business, develop partnerships and expand their network of Diversity and Minority business relationships. Conversely, participating companies have the opportunity to exhibit their products & services and present their capabilities to contracting officers.
"WHO SHOULD ATTEND?"

"INVITED PARTICIPANTS AND PRESENTATIONS"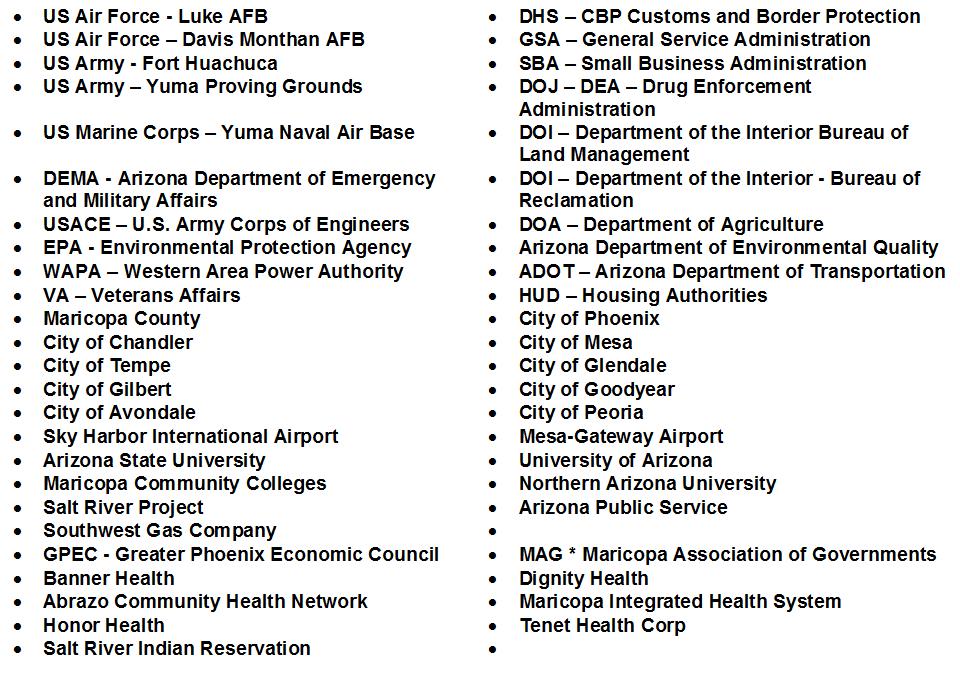 (check for updates)
EVENT SPONSORS
(check for updates)
EVENT PARTNERS
(check for updates)
COLLABORATING ORGANIZATIONS
(check for updates)
EVENT SPONSORSHIP OPPORTUNITIES:
Please contact Sheila Martin - 602-300-2682 or email sheila@azbizopps.org for further information
CANCELLATIONS AND TICKET REFUND POLICY:
Cancellations and ticket refunds requests must be received in writing prior to 14 calendar days from the start date of the Event. Submit refund requests via email at sheila@azbizopps.org.No verbal requests for ticket refunds will be honored.
HOST HOTEL (TBA)