2018 SAPA-DC & HBN Career Development Workshop
Event Information
Location
Johns Hopkins University Homewood Campus
3400 North Charles Street
Hodson Hall Room 210
Baltimore, MD 21218
Description
[Networking] 2018 SAPA-DC & HBN Career Development Workshop
Sponsored by Medicilon
---


Welcome to the 2018 career development workshop hosted by SAPA-DC and HBN (Hopkins Biotech Network)! We have invited numerous professionals working in the different sectors of healthcare industry (R&D, clinical development, CDMO, FDA, intellectual property, regulatory affairs, business development, biomedical entrepreneurs, business investment, consulting), and it is a great opportunity to hear their stories and learn from their experience and advice. This event is supported by The Hopkins Club for Innovation and Entrepreneurship and JHU-CSSA. SAPA-DC also has a special offer of its annual membership (see ticket options for details).
What are the latest trends in the pharma industry?
What are the major functions in a pharmaceutical company?
What career options are suitable for you?
What are the key elements during your job application and interview?
Are advanced degrees (MS, PhD, JD) needed in this field? And why?
Have you ever thought about creating your own start-up?
Come join us to explore more and the workshop is FREE for all attendees. There will be three panel discussion groups with different focuses so you can interact with the speakers and ask your own questions!
Speakers (more will join) and Agenda
Keynote Speaker: Chunlin Chen, PhD, CEO of Shanghai Medicilon Inc

Frank Chen, PhD, CEO, LINKSciences
Ru Chen, PhD, ORISE Fellow, FDA
Vince Deng, PhD, Research Scientist II, GlycoMimetics
James Early, CEO, UpWealth; Partner, Shenzhen Oriental Investment
Sathya Elumalai, MS, MBA, CEO and Co-founder, Multisensor Diagnostics
Zhibiao Fu, PhD, Head of Vaccines Upstream Process Development, GSK
Charles Li, MS, MBA, Chief Business Officer, Hopstem Biotechnology
Jinzhong Liu, PhD, Senior Staff Fellow, FDA
Ping Liu, MD, PhD, Senior Scientist, Jecho Laboratories
Geoffrey Lynn, PhD, CSO and Co-founder, Avidea Technologies
Wayne Su, MS, Director/Senior Principal, IHS Markit
Peng Sun, PhD, JD, Attorney (Intellectual Property), Foley & Lardner LLP
Xin Tao, MS, JD, Attorney (Pharmaceutical Regulatory Law), Hogan Lovells US LLP
Claire Xu, MD, PhD, US Office Head, I-Mab Biopharma
Fred Yang, PhD, Chief Development Officer, KBP BioSciences
Tong Yin, MD, Manager, Oncology Diagnostics, AstraZeneca
Jiayi Zhang, PhD, Scientist/Manager, Paragon Bioservices
Yujian Zhang, PhD, Expert Scientist, GSK


1:00 – 1:30 pm: Check-in and networking (Hodson 210)
1:30 – 1:35 pm: Opening Remarks
Session I: Overview of Different Sectors in the Healthcare Industry
1:35 – 1:50 pm: Keynote speech by Dr. Chunlin Chen, CEO of Shanghai Medicilon Inc.
1:50 – 2:00 pm: Pharmaceutical R&D and Clinical Development
2:00 – 2:10 pm: From R&D to Commercial
2:10 – 2:20 pm: From Research to Law: Introduction of IP and Regulatory Affairs
2:20 – 2:40 pm: Healthcare Consulting and Business Investments
2:40 – 3:10 pm: Start Your Own Company
3:10 – 3:15 pm: Break
Session II: Parallel Panel Discussions (free to rotate)
3:15 – 4:30 pm: Group A (Pharmaceutical R&D): Hodson 210
3:15 – 4:30 pm: Group B (Other Career Options in Healthcare): Hodson 313
3:15 – 4:30 pm: Group C (Business, Consulting and Entrepreneurship): Hodson 311
Light refreshments will be served. We want to see you on 03/03 at Hopkins!
---
Event Location and Parking Information (Important!)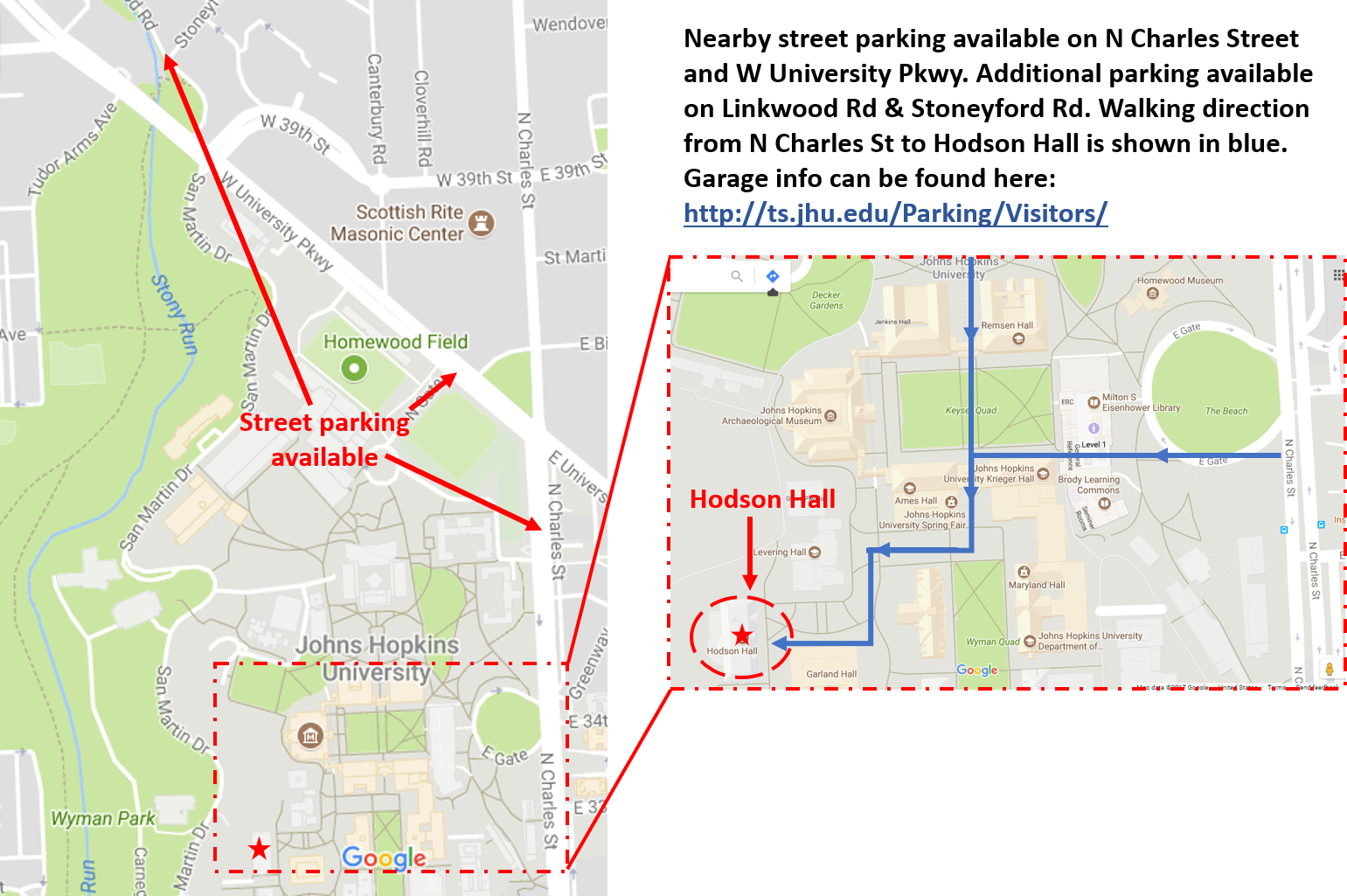 Feel free to contact us at info.sapadc@gmail.com.
Date and Time
Location
Johns Hopkins University Homewood Campus
3400 North Charles Street
Hodson Hall Room 210
Baltimore, MD 21218
Refund Policy