2018 SAPA-DC Annual Conference
Description
2018 SAPA-DC Annual Conference
SAPA-DC is excited to announce our 3rd annual conference on October 14th, 2018 at Foley & Lardner Washington DC office (waterfront venue at the Washington Harbour). This conference will focus on cross-nation pharmaceutical development and beyond, and we are bringing together executives from biotech and pharmaceutical companies in US and China, partners from top law firms, high-level regulatory officers, experienced health-tech investors and business professionals as speakers and panelists.
Cynthia Cai, PhD, MBA, Senior Advisor, Northern Light Venture Capital (北极光创投)
Steven Chameides, JD, Partner (International Trade), Foley & Lardner LLP
Jian Chen, PhD, Founder & CEO, Celetrix Biotechnologies
KC Cheng, PhD, MBA, Senior Director, Analytical and Formulation Development, VPP/VRC/NIAID/NIH
Sonya Cyr, PhD, MBA, Scientific Director, US Medical Affairs, GSK Vaccines
Aruni Arachchige Don, PhD, Project Lead/Senior Consultant, Defined Health
Tom Du, MD, PhD, Partner & Chief Consultant, Humphries Pharmaceutical Consulting (汉佛莱医药)
Kevin Frick, PhD, Vice Dean & Professor, Johns Hopkins Carey Business School
Gary Gordon, MD, PhD, Independent Consultant, Former VP of Oncology Development at AbbVie
Chengjiu Hu, PhD, Branch Chief, Office of Pharmaceutical Quality, FDA
Audrey Jia, PhD, Founder & Principal Consultant, DataRevive
Yajie Li, MS, Director of Clinical Strategy, Anthem
Steven Linberg, PhD, Chief Product Development Officer, HighTide Therapeutics
Ke Liu, MD, PhD, Chief of Oncology Branch, OTAT, CBER, FDA
Liping Liu, PhD, MBA, Founder & CEO, HighTide Therapeutics (海普瑞药业子公司)
Patrick Liu, MD, PhD, Executive Vice President, Simcere Pharmaceutical Group (先声药业)
John Mumm, PhD, Consultant, Jera Consulting
Michael Salgaller, PhD, Unit Supervisor, NCI Technology Transfer Center
Kristel Schorr, PhD, JD, Partner & Chair of

Chemical, Biotechnology and Pharmaceutical Practice

, Foley & Lardner LLP
Gilberto Villacorta, PhD, JD, Partner (Life Science IP), Foley & Lardner LLP
Naiqi Ya, PhD, President, eVenus Pharmaceutical Laboratories (恒瑞医药子公司)
Fred Yang, PhD, Chief Development Officer, KBP Biosciences (亨利医药)
Michael Yao, MD, Partner & Chief Scientific Officer, Haixia Capital Management (海峡投资)
Linda Zhao, MS, Senior Director of Business Development, SDIC Fund Management (国投创新)
The conference will cover the following areas:
End-to-end pharmaceutical development

Multi-regional clinical trials and regulatory affairs

Legal issues in drug development and commercialization

Payer and reimbursement environments in US and China

CEO forum, business development and VC/PE investment
This is an excellent opportunity for individuals to explore the industry, get updates about the latest trends and build personal & corporate connections as the conference will attract ~200 high-caliber pharmaceutical executives and scientists, regulatory experts, legal practitioners, investors, scientific researchers and healthcare business professionals from US and China. For companies, this conference will be a perfect platform for talent recruitment, brand promotion, business development, project collaboration, and investment. To become a SAPA-DC member, please click here. Visit our website at www.sapadc.org.
*Banquet dinner and reception (sold out) will be served from 6-8 pm at Foley office on 10/14 with our distinguished speakers and panelists, sponsors, industry experts, SAPA executives and fellow elites, so what are you waiting for?
And don't miss out the exciting face-to-face panel discussions and interactions with our invited experts from different sectors in the healthcare industry! Lunch is included for all attendees.

For any questions or inquiries, please email us at info.sapadc@gmail.com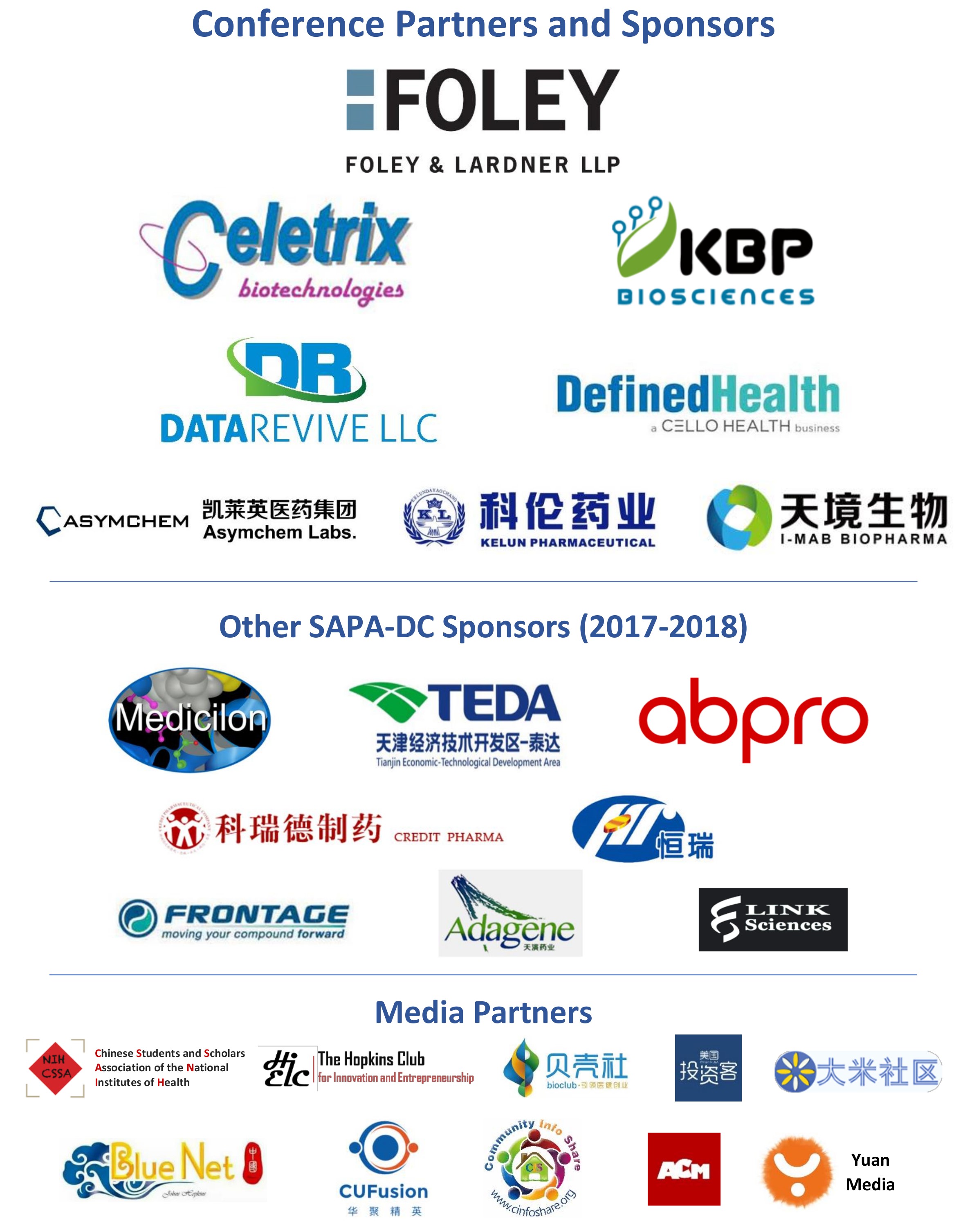 ---
Parking: multiple parking lots nearby; Foley & Lardner (3000 K Street NW, Suite 600) is by Lot 277 of Colonial Parking (red circle below, Click Here to See Larger Picture). You can find more information about parking at Colonial parking website https://www.ecolonial.com/parkers/parking-locator/?pm_s=277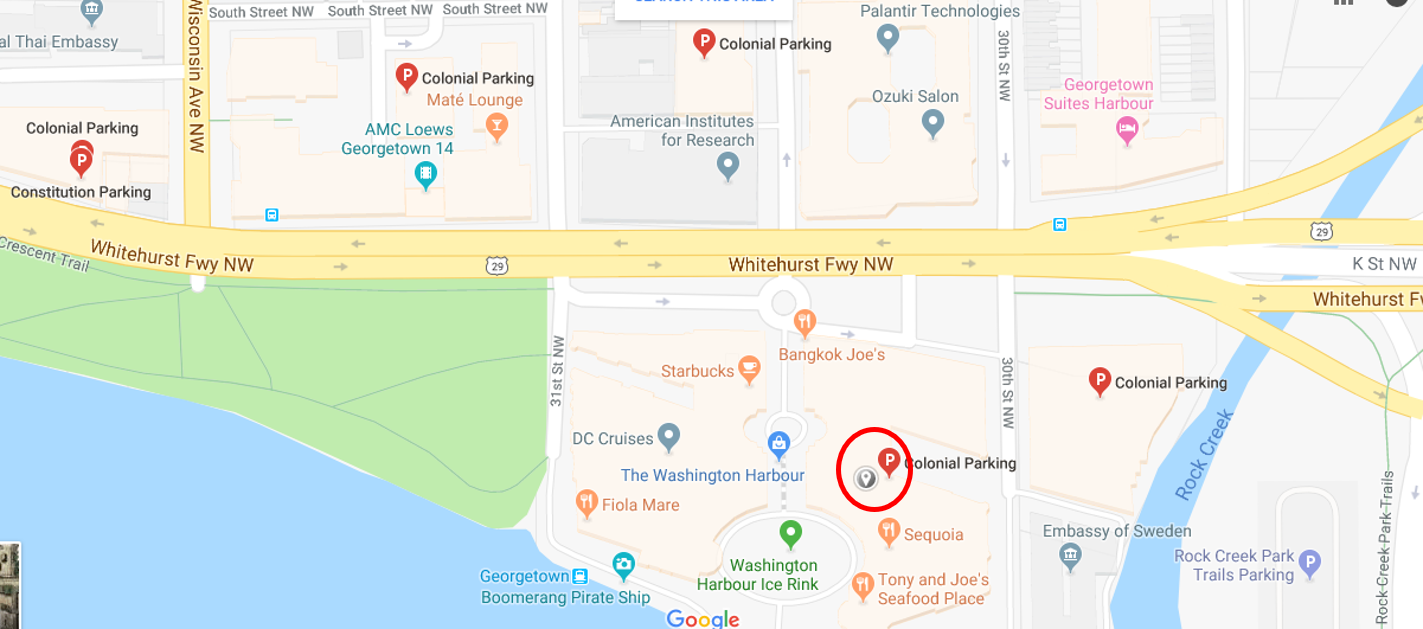 And here is a picture of the great view of Washington Harbour :)