2018 San Joaquin Valley Clean Transportation Summit
Description
Join Us Wednesday & Thursday, March 14 & 15 for the 2018 San Joaquin Valley Clean Transportation Summit
---
Clean Air & A Healthy Economy
Join us for two days of expert-led workshop sessions, Ride N' Drive demos, and the latest in clean transportation technology -- all while learning how to access a share of the $220+ million in funding available for clean air projects! This FREE event is hosted by CALSTART and the Fresno State Transportation Institute, in partnership with the Fresno State Office of Community and Economic Development, San Joaquin Valley Clean Cities Coalition, the San Joaquin Valley Electric Vehicle Partnership, and the San Joaquin Natural Gas Partnership, with support from the California Energy Commission.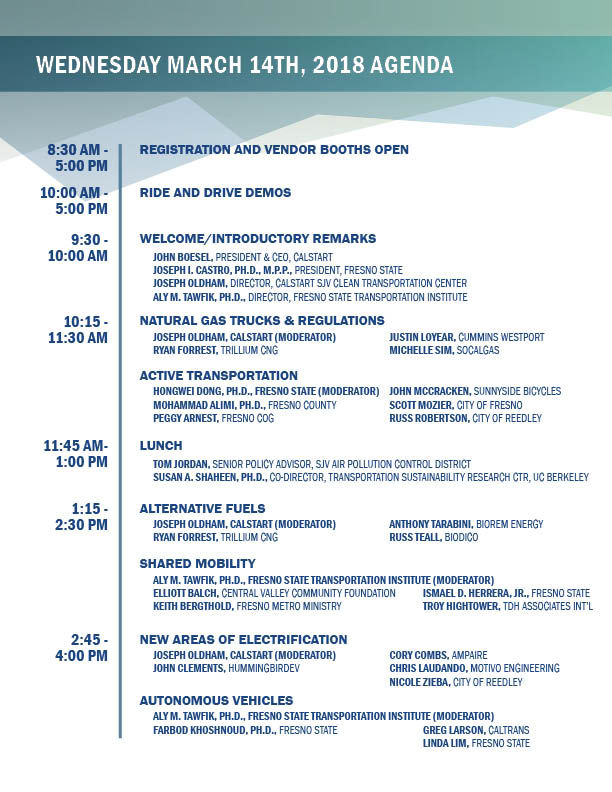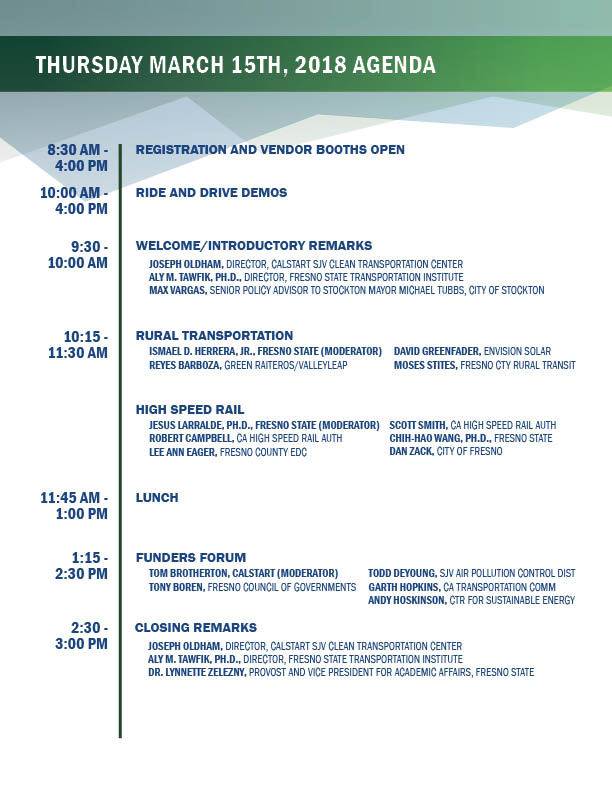 Attendees Will Learn About:
-Electric Vehicles, Chargers and Incentives
-Natural Gas Options
-Autonomous Vehicles
-Trucking Industry Regulations
-Electric Aviation
-Shared Mobility
-High Speed Rail Impact
Your FREE Registration Includes:
-Two full days of informative sessions on clean transportation technologies
-Lunch and refreshments on both days
-The opportunity to learn from industry experts and network with other professionals interested in clean transportation
-The opportunity to view and test drive some of the newest electric and zero-emission vehicles on the market
Logistical Information:
Our program runs each day (Wednesday & Thursday) from 9:30 a.m. to 5 p.m. at the Save Mart Center (Doors and vendor expo open at 8:30 a.m.)
Enter the Save Mart Center at the Northwest entrance.
For updates, visit us online.
For More Information, Contact:
Erik Cherkaski, echerkaski@mail.fresnostate.edu, 559-278-4575
Joseph Oldham, joldham@calstart.org, 559-797-6034
Dr. Aly Tawfik, tawfik@mail.fresnostate.edu, 559-278-8791