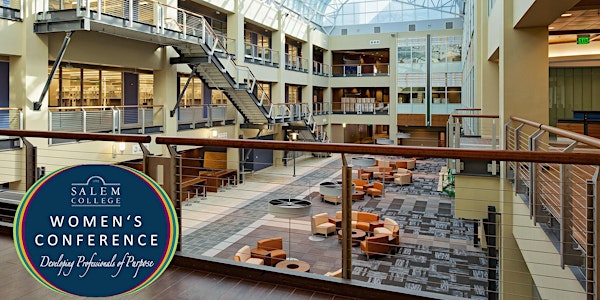 2018 Salem College Women's Conference- Nurturing Your Personal Ecosystem
Event Information
Location
Wake Forest Biotech Place, Atrium (Innovation Quarter)
575 Patterson Avenue
Winston-Salem, NC 27101
Refund policy
Refunds up to 7 days before event
Description
The Salem College Center for Women in Business is proud to offer the 2018 Salem College Women's Conference, a one day professional and personal development event for women that features outstanding and inspirational speakers, stellar panel discussions, and leading seminars that matter most to women. The theme for the 2018 conference is Nurturing Your Personal Ecosystem.
HAPPENING THIS YEAR:
Don't miss out on this exciting opportunity for aspiring women to grow their current skills while also learning new skills that are key to cultivating and maintaining professional relationships, as well as assessing and improving your work-life balance.
Learn from industry leaders on how to find your strengths and also gain valuable tools and tactics needed in order to establish yourself as a leader and build and stregthen your personal ecosystem.
BREAKOUT SESSIONS THIS YEAR:
This years conference features 6 breakout sessions covering a variety topics and issues that are relevant to today's working environment. Attendees will chose 1 morning breakout session and 1 afternoon breakout session to attend during the conference. Attendees will make their selection during their registration for the conference. The choices for breakout sessions are listed below.

MORNING BREAKOUT SESSIONS:
Value Proposition: What do you bring to the table? - The most important element of any organization's attraction is their value proposition - their promise of their worth. You are no different. This interactive session will help you identify and develop a better understanding of what value you bring within your ecosystem and help you document your value proposition.
Speaker Eva Wu, Senior VP BB&T Retail Segment
Understanding the Value of Your Network -

Within your ecosystem, your professional network is to your career success as your friends are to your personal wellbeing. Choose members wisely! In this session, you will develop an understanding of why your network is vital to your success, why it should be diverse, cross-functional, and collaborative, and tips for how to keep it working for you.
Panel Discussion
#MeToo and You-

A 2017 research study conducted by the Pew Research Center found that 59% of women and 27% of men say they have personally received unwanted sexual advances or verbal or physical harassment of a sexual nature, whether in or outside of a work context. Just 28% of respondents say the increased focus on sexual harassment and assault will lead to more opportunities for women in the workplace in the long run, while 20% say it will lead to fewer opportunities and 51% say it won't make much of a difference. Let's see what our panel of women has to say about their experiences, hear their stories, and ask them for tips on how to navigate the workplace in the #MeToo era.
Speaker

Dianne Blixt, Board President, National Sports Media Association
AFTERNOON BREAKOUT SESSIONS:
Developing Your Prominence in Your Ecosystem- People used to think of advancing in the workplace as "climbing the ladder" to success. Today, it is much more like navigating a jungle gym. In order to move up, even as you move side to side and around, it helps to consciously focus on developing your prominence in all aspects of your ecosystem. But how do you do that? This session will solicit wisdom from a panel of successful "jungle gym navigators" while they share their secrets.
Panel Discussion
What To Do When Your Ecosystem Is Not Working- Conflict is a regular part of any social, professional, or organizational setting. When left unresolved, conflict can lead to the creation of barriers to cooperation and collaboration. Developing effective conflict resolution skills are an essential component of building a sustainable and productive ecosystem. In this session, hear the story of how one woman identified weaknesses in her ecosystem, what she did to turn it around, and what she does to ensure that she nurtures it every day.
Speaker Catrina Thompson, Chief of Police, Winston Salem Police Department
Strategies For Developing Your Network within Your Personal Ecosystem -There are a multitude of ways you can build a robust and functional network from working LinkedIn, to attending professional conferences, to reaching out to individuals you think can help. Some have more difficulty reaching out than others. In this session, a panel of experts will share their advice and tips for building confidence in expanding your reach and developing a highly functional network.
Panel Discussion
CONNECT WITH US ONLINE:
#womenscon #salemcollege
FAQs
Can a male/person identifying as any non-female gender attend the event?
Yes, yes, and yes! While our conference and the topics focused on are female centric, we encourage and welcome any person of any gender identification to attend our conference. There is something for everyone at our conference and anyone can benefit from attendance.
Is there an age limit or ID requirements to attend the event?
There is no age limit. All ages are welcome! The only requirement we have is that all Salem College Students and other college students register with their student e-mail online and bring their student ID to confirm their status as a student.
What are my transport/parking options getting to the event?
The event is located in the Innovation Quarter located 575 Patterson Avenue Winston-Salem, NC 27101. There is a large parking lot located conveniently in front of the Innovation Quarter as well as behind it. If there is no parking available, you will be directed to another open parking lot. For students traveling from Salem College's campus, transportation will be provided.
Plan your trip:
From West of Winston-Salem:
Take I-40 East to Winston-Salem; exit onto Business 40. Take exit 5D toward Downtown. Merge onto S Main St. Turn right onto 5th St E. Turn left onto Patterson Ave. The Innovation Quarter will be on the right.
From Greensboro/East of Winston-Salem:
Head northwest on I-40 W. Use the right 2 lanes to take exit 206 for I-40 Business/US 421 N toward Kernersville/Winston-Salem Downtown. Continue onto I-40BUS W/US-421 N. Take exit 7 for 5th St. Continue onto E 5th St. Turn right onto Patterson Ave. The Innovation Quarter will be on the right.
We suggest you bring the following items to the event!
Resume (you never know who you might meet)
Lunch is included in the ticket price. A continental breakfast will be available during registration from 8:00-9:00. Refreshments will be provided throughout the conference. Purchases from the Salem College campus dining hall, Student Center Cafe, and bookstore are not included in general admission.
Where can I contact the organizer with any questions?
Please email us at womensconference@salem.edu
Do I have to bring my printed ticket to the event?
Since we live in such a mobilized environment all tickets will be purchased via Eventbrite. We will gladly accept your mobile entry or paper ticket.
What is the refund policy?
The last day for a full refund will be 7 days before the event takes place. After that, there will be no refund issued back.
The name on the registration/ticket doesn't match the attendee. Is that okay?
Since this event is open to the general public as well as Salem College Students, we have provided you with separate answers for each group:
Salem Students: The name on the registration/ticket must match the attendee's name. In the event the information does not match, please contact womensconference@salem.edu 24 hours prior to the conference in order to be eligible to attend.
General Public: As long as you can provide proof of purchase, you will be admitted.
What is the dress code for this event?
We understand that comfort is key when it comes to these types of events so we want you to feel relaxed, but keep in mind the goal is to impress. We encourage business casual attire. If you have any questions about the preferred attire, contact us via e-mail.
What should I do when I arrive at the conference?
As soon as you arrive please check-in so that we can provide the tools and information you will need for the rest of the day. After you register, please make your way to the breakfast tables where we will have a delicious continental breakfast ready and waiting.
I have a food sensitivity/allergy. Will there be menu options for me?
The menu will include vegetarian and gluten-free options. We ask that you notify us of any special food instructions such as a serious food-related allergy as soon as possible. We want to make sure we accommodate everyone's needs.
Need more information?
Our team can help. Contact us at womensconference@salem.edu
Keynote Speakers:
Regina Lawless - Sr. Director of Talent Managementand Talent Development, Flextronics International, Ltd.
Adrian Harrold Wood - 1993 Salem Academy alumna, Ph.d, author, and blogger of "Tales of An Educated Debutante"
Date and time
Location
Wake Forest Biotech Place, Atrium (Innovation Quarter)
575 Patterson Avenue
Winston-Salem, NC 27101
Refund policy
Refunds up to 7 days before event