Description
Welcome to the Rockwell Automation Technical Network (RTN) Event Registration
Every year employees related to manufacturing, reliability, development and quality are encouraged to attend the RTN event in Milwaukee to network, learn and take information and improvements back to their business. The underlying goal is to understand our materials, challenges and processes, and share that knowledge so our Business Units can learn from each other and avoid making the same mistakes. This year's Keynote Speaker is Blake Moret, Chairman and CEO, Rockwell Automation.
Our labs are outfitted as well (if not better) than the best television crime solving shows. This is advanced science and it all relates to chemistry – how the materials that become our products (or used in making our products) are sourced, applied and supported.
5 Reasons to Attend
Learn what's new in forensic analysis – what we know and are learning about our materials, why they work and why they fail.

Save time and effort. Don't repeat mistakes. Talk to colleagues and find out what they've learned, and apply it locally.

Hear stories from the 'bizarre and strange' file. A little levity you don't want to miss.

Meet your colleagues. They can help you.

Get key messages straight from leaders (CEO Blake Moret will talk about how materials bring The Connected Enterprise to life).
Further information regarding the goals of RTN and examples of past presentations, can be found by following this link: https://rockwellautomation.sharepoint.com/teams/OESES_ATS/C_ME/SitePages/RTN.aspx
Keynote Speaker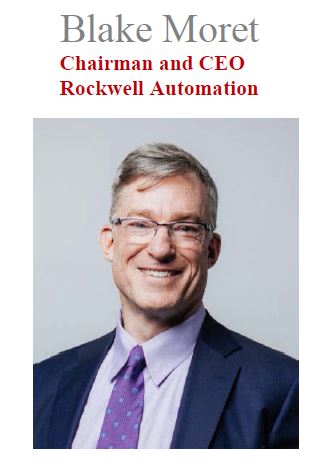 Blake Moret is Chairman and Chief Executive Officer of Rockwell Automation. He assumed the role of CEO on July 1, 2016 and was elected Chairman of the Board effective January 1, 2018.
As CEO, Blake leads the world's largest company focused on industrial automation and information, dedicated to making our customers more productive and the world more sustainable.
---
Agenda

Tuesday, October 9, 2018
7:30 AM - Gather/Light Breakfast/Coffee
8:00 AM - Welcome & Introductions - Tim Roback, Manager, C&ME
8:15 AM - Materials & The Connected Enterprise - Blake Moret, Chairman & CEO
8:45 AM - Guest Introductions - Tim Roback, Manager, C&ME
9:00 AM - GCMS Theory, Instrumentation and Applications - Kelly Flanagan, Project Chemist & Kelly Allen, Chemist
9:55 AM - Vibration Testing at RA – Sine, Random, and Repetitive Shock - Roy Rice, Senior Project Engineer
10:15 AM - Break
10:30 AM - Caution when Using Breakaway Torque to Verify if Production Assembled a Unit Properly - Walter Lehnhoff, Project Engineer
10:50 AM - A Case of Gold Embrittlement: Let's Forget the Lessons of the Past - Parker Jacobson, Intern, Rockwell Collins
11:05 AM - Characterization of Soldered Plated Through Holes (PTHS) and Gold Embrittlement Conditions Dave Hillman, Fellow, Materials & Process Engineer
12:00 PM - Lunch
1:00 PM - Solder Artifacts in Catastrophic Failures - TJ Cross, Materials Engineer
1:40 PM - Failure Analysis of Brake Resistor - Pratheesh George, Senior Materials Engineer
2:00 PM - Break
2:15 PM - Placement and Protection: Corrosion Analysis on Rockwell Products that Underwent Battelle Labs Mixed Flowing Gas Class IV ("GX") Testing - David Daigle, Project Engineer
2:45 PM - Tire & Rubber Testing Update - Christopher Genthe, Principal Engineer & Kelly Flanagan, Project Chemist
4:25 PM - Wrap Up
4:30 - 5:45 PM - Clock Tower Reception
Wednesday, October 10, 2018
7:30 AM - Gather/Light Breakfast/Coffee
8:00 AM - Welcome Back, Review Agenda - Tim Roback, Manager, C&ME
8:15 AM - Grey Market Update/Challenges - John M. Miller, VP & Chief Counsel, IP
8:55 AM - The New J-STD-001 Section 8 - Doug Pauls, Principal Materials & Process Engineer
9:40 AM - Development of a New Process Evaluation Tool - Joe Waggoner Intern, Rockwell Collins
9:55 AM - Break
10:10 AM - Conducting Failure Analysis of Plastic Parts - Steven Hahn, Project Chemist
11:05 AM - Challenges and Best Practices in Mixed Flow Gas Corrosion Testing of Electronics - Garron Morris, Principal Engineer
12:00 PM - Lunch
12:45 PM - Partial Discharge Caused Dielectric Breakdown in Medium Voltage Applications - Catalin Gemanaru, Technical Consultant
1:25 PM - Failure Analysis Case Studies in the Realm of Manufacturing and Design - Daniel Kaminski, Materials Engineer
1:45 PM - Wrap Up & Close - Timothy Roback Manager, C&ME
2:00 PM - Tours of C&ME Labs, HCL, Mixed Flowing Gas Test Lab & Customer Experience Center