2018 R(ev)IVAL Addiction: Art for Overdose Awareness

Saturday, January 27, 2018 from 1:00 PM to 6:00 PM (EST)
Event Details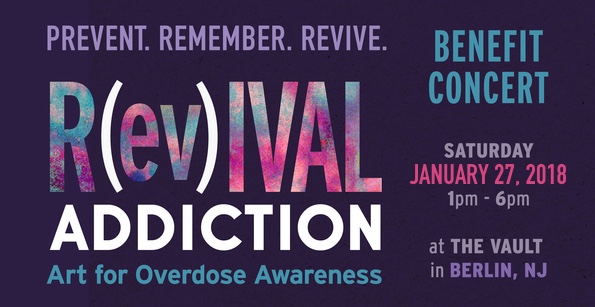 We all want to lead happy and healthy lives, but the escalating number of overdose-related deaths has risen dramatically and ravaged our families. We must come together as a community and as a nation, while rejecting harmful stereotypes associated with addiction. 


Join us for a benefit concert featuring performances by top South Jersey & Philadelphia recording artists and bands! Artwork by WheatonArts, Paprika Letterpress, and Taylor Hughes will be on display and up for auction - and you won't want to miss mouthwatering bites from Mary's Mobile Diner! Addiction treatment centers will also share overdose prevention kits and educational information regarding addiction treatment as key members of our community speak up about their personal experiences with addiction. 


Proceeds from ticket, food, and silent auction sales will go toward substance abuse services at City of Angels NJ and The Overdose Prevention Agency Corporation located in Trenton and Hamilton, New Jersey. 

In loving memory of Ryan Archut. 
Please visit www.revivaladdiction.org for more info.
R(ev)IVAL Addiction provides an outlet for performing artists to share their work and a platform for discussion about what the community can do to help end the overdose epidemic. We must urge our healthcare providers and elected officials to explore positive, impactful policies and take action by:
Monitoring opioid prescribing through measures such as prescription drug monitoring programs (PDMPs), which will give doctors a better idea of how much opioid a patient is receiving, even if the patient visits multiple doctors. 
Developing guidelines for opioid prescribing to alleviate unnecessary prescriptions for opioids and help doctors rely more on alternatives to pain medications, such as physical therapy.
Providing medication assistance by offering counseling and support to opioid users. When patients are more closely monitored and counseled, they may be more likely to control their use.
Making naloxone more readily available to opioid users. Naloxone can block the effects of opioids, which is especially useful in rescuing someone from an overdose.
Reducing the shame and stigma of opioid misuse by increasing recovery and support. Shame perpetuates the problem and stigma prevents people from seeking the help that they need.

R(ev)IVAL Addiction began as part of International Overdose Awareness Day (IOAD), a global event held each year that aims to raise awareness about overdoses and reduce the stigma of drug-related death. IOAD also acknowledges the grief felt by families and friends remembering those who have met with death or permanent injury as a result of drug overdose. 
For sponsorship opportunities and ways to get involved, please contact Daria Tavana at revivaladdiction@gmail.com.
When & Where

The Vault at Victor Records
150 S White Horse Pike
Berlin, NJ 08009


Saturday, January 27, 2018 from 1:00 PM to 6:00 PM (EST)
Add to my calendar
Organizer
Daria Tavana lives in Manhattan and works at The Opportunity Agenda, a social justice communication lab, where she manages donor relations and produces large-scale fundraising events. Daria specializes in nonprofit writing, donor cultivation, and major gift management. She has utilized special events and digital marketing to raise over one million dollars across New York City at numerous charitable organizations, focusing on issues that range from historic preservation to women's rights. Daria is an outspoken advocate for animal rights and volunteers with Mercy for Animals as a vegan coach. She has a BA in playwriting and theatrical production from Fordham University and was previously the co-founder and artistic director of True False Theatre, a nonprofit company committed to developing experimental theatre. Daria is originally from Voorhees, NJ.
George Kemery is a life-long South Jersey resident who received his Masters in Education from Rutgers University. He has taught English and Creative Writing for 18 years at Eastern Regional High School in Voorhees and is also the Head Coach of both the girls' and boys' tennis programs and Debate Team. His goal with The FAF Coalition over the years has been working passionately to showcase the arts and community in Woodbury, and greater Gloucester County, into the forefront of Creative Placemaking in South Jersey. He has established his role as Food, Entertainment and Beverage Lead to actualize these goals for every program that The FAF and The FAF Coalition have produced. George is one of the original founders of The FAF in Woodbury and a founding board member of The FAF Coalition.
Visit www.revivaladdiction.org for more information.