Description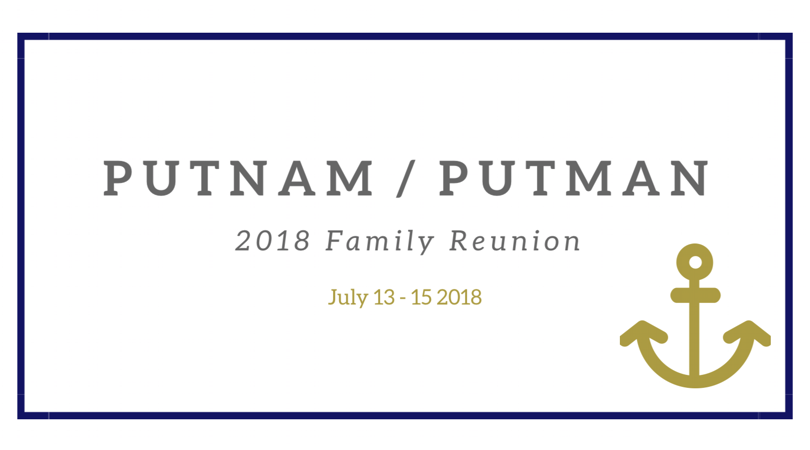 "Under The Sea!"
Duluth, Georgia • July 13th – July 15th, 2018
Embassy Suites by Hilton Atlanta NE Gwinnett
2029 Satellite Blvd • Duluth, GA 30097• 770-622-6391
Dear Family and Friends,
We are happy to announce that plans are underway for the 2018 Putnam/Putman Family Reunion! The committee has worked really hard to make this reunion a fantastic weekend full of fun, excitement and most of all, a time of reuniting and reconnecting with family from all over the country.
Start making your hotel reservations now to guarantee our reduced rate of $134.00 - $144.00 plus tax per night. There is complimentary parking at the hotel. For the best rates book as soon as possible. Rates are based on first come first served. Book your hotel here! Please mention the Putnam/Putman Family Reunion when making your reservation.
The registration fee for the 2018 Reunion will be $105.00 for adults plus service fees if you purchase online, and $50.00 for children 6-­‐12. Children 5 and under along with all Putnam/Putman Seniors 80 and over will be free. Registration includes the welcome reception on Friday, July 13th, the dinner/dance on Saturday, July 14th and the Worship of the Arts Brunch on Sunday, July 15th.
---
Mail form to:
2018 Putnam/Putman Family Reunion,
542 WATERFORD ROAD NW, ATLANTA, GEORGIA 30318
---
Important Dates
As soon as Possible – Book Hotel Reservation
May 1st – Last day to send souvenir information / Send in Deposit
May 15th – Total balance due (Registration plus additional items)
---
If you have any questions regarding registration, please email putnamputman1@gmail.com. A $50 deposit for each adult and a $25 deposit for children 6-­‐12. The balance will be due on or before May 15, 2018. CASH ONLY AT THE DOOR.
---
Agenda
Friday, July 13, 2018:
6:00pm to 8:00pm – Registration
6:00pm to 9:00pm – Meet and Greet ( Kid Scavenger Hunt)
Saturday, July 14, 2018:
7:00am to 8:00am - Breakfast
*8:30am – Family Picture
9:00am – 3:30pm – Lake Lanier Beach
10:00am to 3:00pm – Gainesville, Helen Cleveland tour
6:30pm – 10:00pm - Dinner Dance
Sunday, July 15, 2018:
7:00am to 9:15am – Breakfast
9:30am – 10:45am – Worship of the Arts/Announcements
*Please note, you will have lots of free time to enjoy the beautiful city of Duluth on Saturday, July 14, 2018, even if you purchase the Lake Lanier Beach Access or Tour!
---
Please submit any special information such as births, deaths, weddings, anniversaries, graduations, etc. that has occurred since our 2016 Reunion. If you would like to add to the digital Souvenir Book. This information will need to be emailed to putnamputman1@gmail.com on or before May 1, 2018. Please email pictures and include; name, date, family relation and who is in the picture.
All pictures and announcements for the Souvenir Book must be sent by or before May 1, 2018
---
FAQs
What are my transportation/parking options for getting to and from the event?
During the reunion all activities include transportation. Travel accommodations to the reunion are at participants discretion.
How can I contact the organizer with any questions?
Contact Vennie Marble for more information (770) 374-6984 or send an email to putnamputman1@gmail.com
Will this reunion have special recognition or rewards?
Yes, A Digital Souvenir book will be created this year. (Hard Copy - Per Request)

Souvenir book will include the following:
1. Graduations
2. Marriages
3. Jobs/Special Recognitions
4. New additions (babies, grandbabies)
5. Deaths
Please send uploaded pictures and information to putnamputman1@gmail.com by May 1st, 2018 to be included in the souvenir book.