2018 Purpose X Profit Conference - Conscious Capitalism Los Angeles
Description
WE get it. Purpose is key.
But How? HOW do we build and lead conscious businesses?
Conscious Capitalism Los Angeles invites you to join us at our second annual Purpose X Profit conference where the main focus will be TAKING ACTION.
Who is this for?
Purpose-driven People | Brands | Organizations
Entrepreneurs | Socialpreneurs | Solopreneurs
Business Leaders | Community Leaders | Thought Leaders
What can I expect?
Discover the inspiration and insights you need from businesses that do well…and do good.

Hands-on learning opportunities and practical tools to strengthen your business and its impact.

Explore the immense power of co-creation, building networks of like-minded companies, and building tribes of changemakers.

Insights on how to help shift the paradigm of business into a force for positive change in the world.

Intimate breakouts for learning & connecting with like-minded peers, mentors, and visionaries.

Shop our Conscious Marketplace to discover brands that are leading with higher purpose.

Who is Speaking?
Learn from world-class speakers, including Simon Mainwaring (We First), Miki Agrawal (Thinx) and Afdhel Aziz (Conspiracy of Love) and more, as they share their personal successes, struggles, and solutions to unite business and purpose.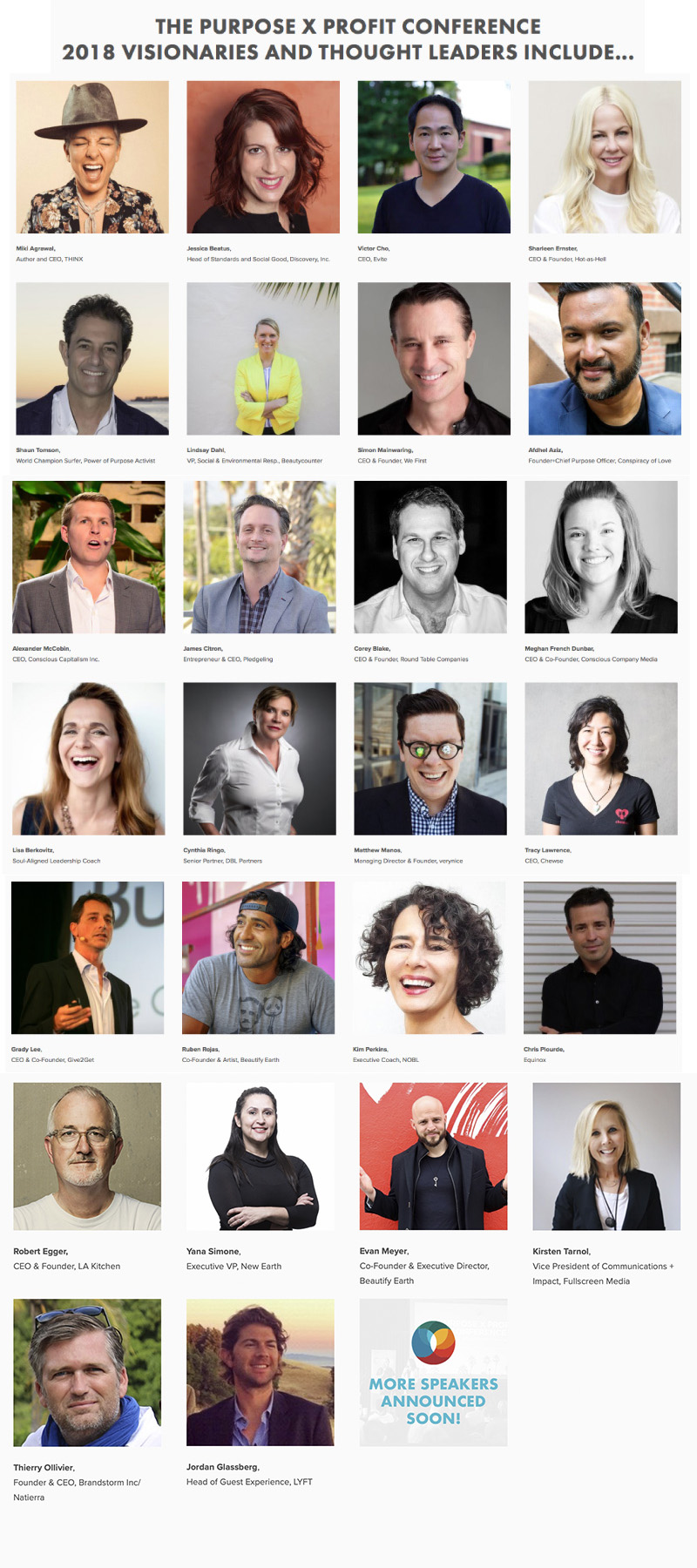 Stay tuned for schedule and as more speakers are added!
Is it all work and no play?
Absolutely not! PXP tends to bring people together to share authentic connections going way beyond business… explore curated fun experiences sprinkled throughout the day and as the day comes to a close, top it off with a rooftop happy hour to relax, make those final connections and take it all in.

For complete website and updated conference info go to http://pxpconference.com

What does the day look like?
REGISTRATION & BREAKFAST
WELCOME
Alexander McCobin, CEO, Conscious Capitalism International
SPEAKERS/PANELS

Miki Agriwal, Social Entrepreneur and Best-Selling Author (Do Cool Shit and upcoming DisruptHer)

How to Love Your Work in the 21st Century with Afdhel Aziz, Global Brand Expert and Best-Selling Author (Good is the New Cool)

Shaun Thomson , World Champion Surfer, Entrepreneur, Environmentalist, and Author

Disruptors Panel
BREAKOUT SESSIONS
Pledgeling Tech for Good Lab

Investors Panel


What's your Pink Spoon?

Creating Fanatical Customers Corey Blake (Round Table Companies)

Setting Boundaries for SuccessChris Plourde (Equinox)
CONSCIOUS CAPITALISM ACTIVATORS
EXPERIENCES
Grounded Action Meditation

Conscious Sparks Lounge

Give2Get Impact Activity


Inspired Action Installation

MEETING OF THE TRIBES
Connect with the many organizations that support conscious business in LA

CONSCIOUS MARKETPLACE
CLOSING KEYNOTE
WHY NOT AFTER PARTY?
See more program details here: https://www.pxpconference.com/2018-program