2018 Public Works Conference - Infrastructure Innovative Solutions
Description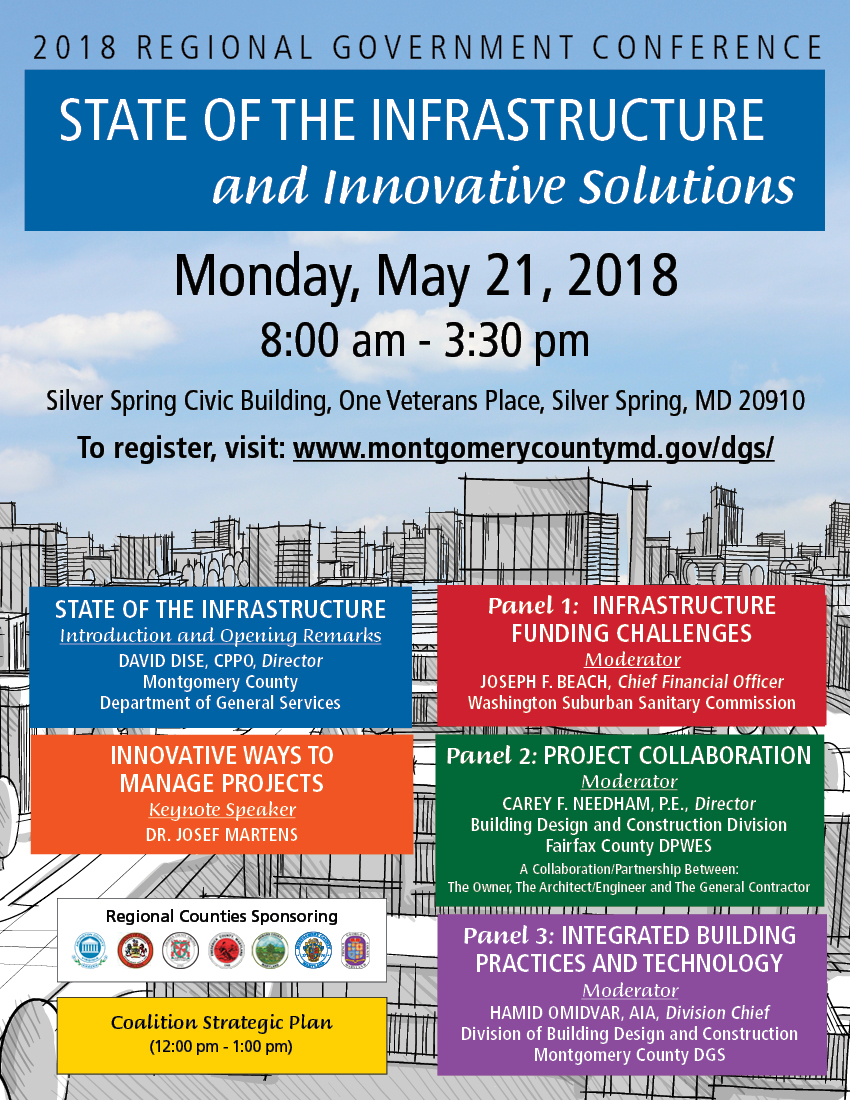 Registration is free and open to the general public.
Montgomery County, Department of General services is hosting a Public Works Conference on infrastructure innovative solutions. The one-day conference/seminar will be held at the Silver Spring Civic Building on May 21, 2018 to coincide with the May 20-26 National Public Works Week.
The event is sponsored by seven Counties in the DMV. Member Counties: Arlington, Fairfax, Frederick, Howard, Loudoun, Montgomery, & Prince Georges. Private consultants/contractors are participating.
Montgomery County initiated the formation of a Building Construction Coalition Forum in 2012. Since then the Coalition has been sharing information on cost and best practices (on project delivery, quality control, risk management, and project management in general). A new initiative, driven by a new strategic plan for the coalition, seeks to expand participation to other public works programs beyond building construction area.
Agenda
8:00 – 9:00 AM: Registration & Breakfast

9:00 AM: State of the Infrastructure/ Opening Remarks - David Dise, CPPO, Director, DGS

9:30 AM: Innovative Ways to Manage Projects - Dr. Josef Martens (Keynote Speaker)

11:00 AM: Panel 1: Infrastructure Funding Challenges - Moderator: Joseph Beach, CFO, WSSC

1:00 PM: Panel 2: Project Collaboration - Moderator: Carey Needham, P.E., Director, BDCD

2:30 PM: Panel 3: Integrated Building Practices & Technology - Moderator: Hamid Omidvar, AIA, Chief, DBDC

3:25 PM: Closing Remarks – David Dise
Notes:
Complimentary breakfast and lunch will be provided

Certificate for attendance will be issued at the end of the program

Sponsors: Interested to setup stand/booth to network with attendees? The
fee is $500