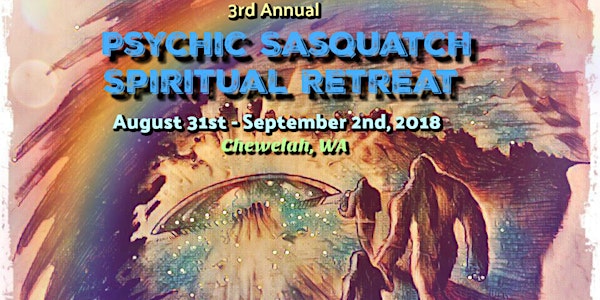 2018 Psychic Sasquatch Spiritual Retreat and Conference
When and where
Date and time
August 31, 2018 · 9am - September 2, 2018 · 9pm PDT
Location
Chewelah Peak Learning Center 3215 Flowery Trail Road Chewelah, WA 99109
Refund Policy
Refunds up to 7 days before event
Description
Kewaunee and Kelly Lapseritis are hosting the third annual Psychic Sasquatch Spiritual Retreat and Conference on Friday, August 31st through Sunday, September 2nd, 2018 at the Chewelah Peak Learning Center in Chewelah, Washington. This weekend gathering includes conference speakers, spiritual and developmental workshops, sharing circles, vendors offering products and services, meals (additional), fun activities, and many opportunities to commune with kindred spirits, nature, and our beloved Sasquatch Elders.
In accordance with the Sasquatch People, Mother Earth, and all of Humanity, we propose a spiritual and ecological approach to healing ourselves, our planet, and our collective consciousness. We are all related, all children of Mother Earth, and it is our responsibility to live and work together to create peace and harmony for all living beings. Our presenters will share their own personal encounters with these sentient beings as well as the messages that have been shared with them to assist in learning Universal truths, healing ourselves and relationships, co-creating together, and understanding our perspective realities.
The tentative schedule of events for the weekend is as follows: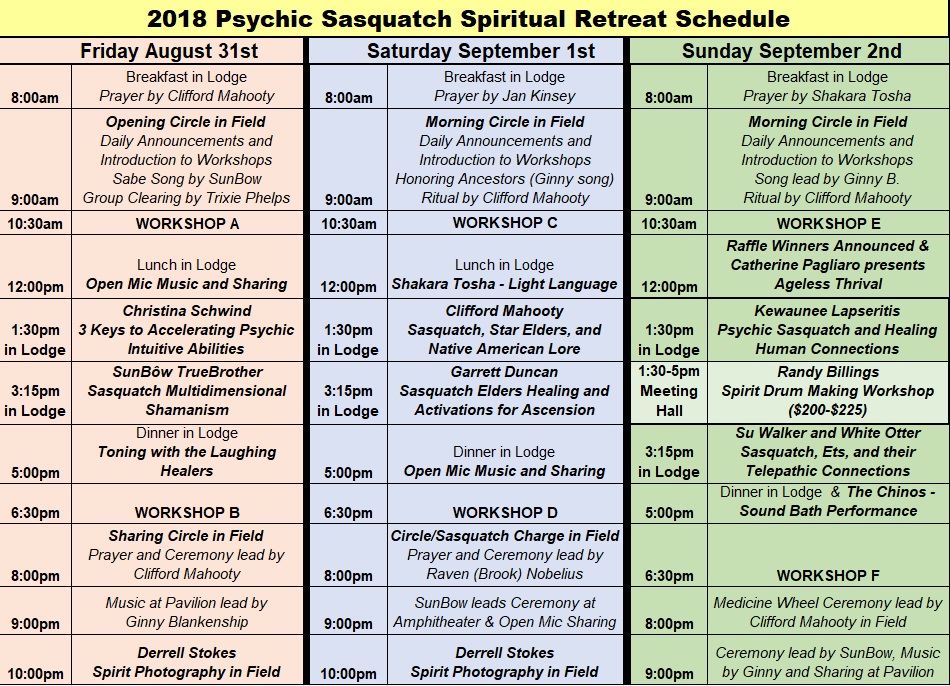 Kewaunee Lapseritis MS, MH

– Master Herbalist, Dowser, and Author of "The Psychic Sasquatch" and "The Sasquatch People"

Kelly Lapseritis

– Sasquatch and Star Elder Communicator, Author, and Clairvoyant

SunBôw

– Shamanic Practitioner & Author of "The Sasquatch Message to Humanity" Book 1 and 2

Clifford Mahooty

- Grandfather Zuni Pueblo Elder and Engineer

Christina Schwind

– Multi-Dimensional Activator and Accelerator and Light Body Healer

Georgeanna DeCarlo

- QHHT Practitioner, Author, and Sasquatch Communicator

Garrett Duncan

- Navajo Shaman and Teacher

Dr. Igor Burtsev - Director for the Center of Hominology in Moscow, Russia


Gayle Fowler

– Master Teacher in Reiki and the Feather Way and Sasquatch Channeler

Su Walker

- Clairvoyant and Medical Intuitive &

White Otter

- Shamanic Practitioner
Jan Kinsey - Weather Shaman

Shakara Tosha - Light Language Facilitator and Activator
Focused Life-Force Energy - Ascension Protocols

And more to be announced

!


FACILITY
The Chewelah Peak Learning Center is a beautiful wilderness campus and the perfect setting for this event that has many accommodations for everyone. Tent and RV camping is available on-site or you can also choose to bunk with others in the dorm rooms. Private rooms for families or small groups are also available, however pillows and bedding is not provided. The premises also has several hiking trails, a pavilion, fire pits, a large outdoor amphitheater, indoor restrooms and showers, clean drinking water, small refrigerators, and it would present wonderful opportunities to connect spiritually with the Sasquatch People, nature spirits, and other sentient beings that are present. The center is located about 45 miles north of Spokane, WA and just a few minutes away from the 49° North Ski and Mountain Resort in Chewelah, Washington, USA.
*** Weekend guests may camp out on Thursday evening (8/30) and stay until Monday afternoon (9/3) at 1:00pm.
VENDORS
Speakers and presenters are offered a vending table for $100 for the entire weekend. Vendor tickets are $100 per day or $300 for the 3-day weekend which includes 2 people (vendor and assistant) and sleeping at the facility (tent, bunk, or RV) as well as access to the conference, workshops, and event activities. If there are additional people travelling in the vendor's group, they are subject to regular ticket prices (with the exception of children under 14). We are able to provide up to 2 large round tables for vendors but if you require special accommodations or equipment, the vendor is responsible to provide them. Vendors must apply by sending the following information to Kelly at sasquatchgoddess@hotmail.com:
Name of business, location, website and other relevant information

Names of people who will be vending and assisting with your booth

Products or Services you will be selling or offering

How much space you may need and if you are bringing your own tables, chairs, awning or other large supplies

Are you vending for one, two, or three days? If less than 3, which days?

Once this information has been provided and approved, a code will be sent to access the Vendor ticket types so that you may purchase them.
So far, we have vendors selling the following:
Books
Shirts and apparel
Jewelry
Spiritual and Shamanic items
Sasquatch carvings and items
Crystals
Candles
Personal Services such as psychic readings, massage, light language, and consultations


WORKSHOPS
Several workshops on various spiritual, metaphysical, shamanic, and self-help subjects will be available by different presenters. Workshops are included in the ticket price unless otherwise stated by the presenter for materials during the class. The tentative workshop schedule is as follows: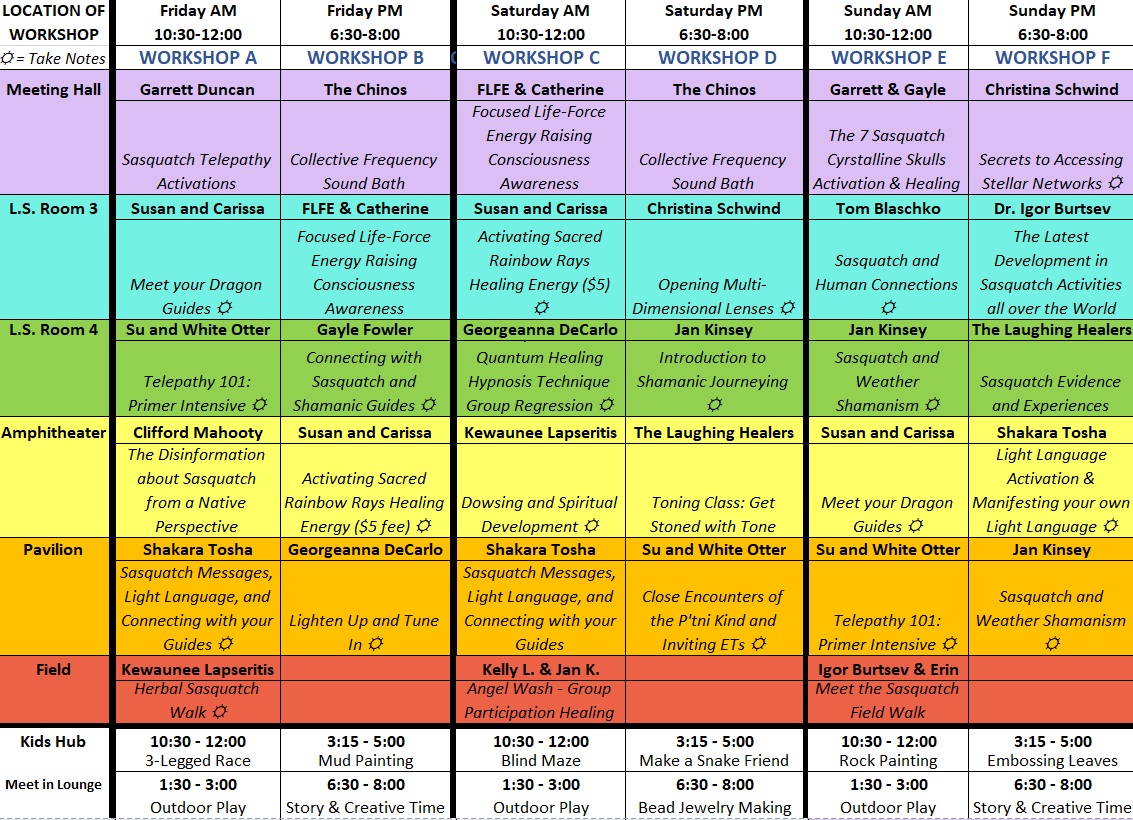 Randy Billings will be offering a Spirit Drum making workshop in the afternoon on Sunday, September 2nd at the 2018 Psychic Sasquatch Spiritual Retreat! He will also be bringing pre-made 14" drums for sale and Melysa Ann Fieffer will also be offering her amazing painting services for the hides.
DETAILS:
Randy will be bringing 14" drum frames as well as a variety of animal hides to use in the drum-making class which will last approximately three hours on Sunday afternoon.
The total cost for this workshop and supplies is:
$200 for a 14" drum made of Elk, Deer, or Horse hide OR
$225 for a 14" drum made of Moose, Buffalo, or Cow hide
Randy requires a $50 deposit at least 2 weeks prior to the event (by Aug 15th) for anyone that wishes to attend the drum making workshop so that he has enough supplies and time to prepare.
If you wish for a personal painting on it by Melysa, that will cost an extra $100-$125 depending on the amount of work.
You may send a check or money order to Randy Billings at:
PMB-618 13300 Bothell Everett Hwy. Mill Creek, WA 98012
OR you may contact him by email at gulliverbill@yahoo.com or call his cell at (425)293-9345 for any questions you may have.
If you wish to have him make a personal spirit drum for you before the retreat so that it can be used at the gathering, you may also contact him to make these arrangements.
If you are unable to send a check or money order for any reason, I am also accepting Paypal payments for the deposit at kellyjlapseritis@outlook.com which I will forward to Randy.
MEALS
Breakfast, lunch, and dinner meals are prepared by the facility and are available for purchase for Friday (8/31), Saturday (9/1), and Sunday (9/2). We ask that you pre-pay for meals as soon as possible to ensure that enough food is made. The menu is tentative but will at least include one of the following each day:
BREAKFAST: coffee, juice, eggs, toast or croissants, fruit, and light snacks
LUNCH: salad bar, taco bar, sandwiches, soup, pizzas
DINNER: salad bar, taco bar, pizzas, spaghetti, cooked vegetables
If you choose not to dine or sleep at the campus, the town of Chewelah also has 3 nice motels and RV camping facilities, and a variety of restaurants about 9 miles from the Chewelah Peak Learning Center (as well as many places between the cities of Spokane and Colville).
You may also bring your own food and there are coolers to keep things in but limited space. An outdoor grill is available or you are welcome to bring your own portable grill. Please do not leave food outdoors or in tents (there is a lot of wildlife in the area).
PRICES
Prices are subject to an additional service fee from Eventbrite. All children 14 and under are free*.
Standard ticket prices are:
Day Pass (no camping) - $40 per person
$40 per person for the full day of events including conference and workshops. Does not include the price of meals.
Weekend Pass (includes camping) - $150 per person
$150 per person for the full weekend of events including camping, conference, and workshops. Does not include the price of meals.
One Night Camping - $20 per person in dorms or $20 per tent/rv/vehicle
$20 per person per night camping in the dorms OR $20 per tent, RV or vehicle for any number of people at the facility. This option is for children under 14 who get in for free or for people that wish to camp less than 4 days.
Vending Day Pass - $100 per table/booth
$100 per vending table (for 1-2 people) per day which includes access to the conference and workshops. Does not include the price of meals.
Vending Weekend Pass - $300 per table/booth
$300 per vending table (for 1-2 people) for the whole weekend (Fri-Sun) which includes access to the conference, workshops, and camping. Does not include the price of meals.
One Meal - $12 per person
$12 per meal for breakfast, lunch, or dinner on Friday, Saturday, or Sunday
All Meals - $100 per person
$100 for 9 meals which includes breakfast, lunch, and dinner on Friday, Saturday, and Sunday.
Suggested items to bring to the retreat: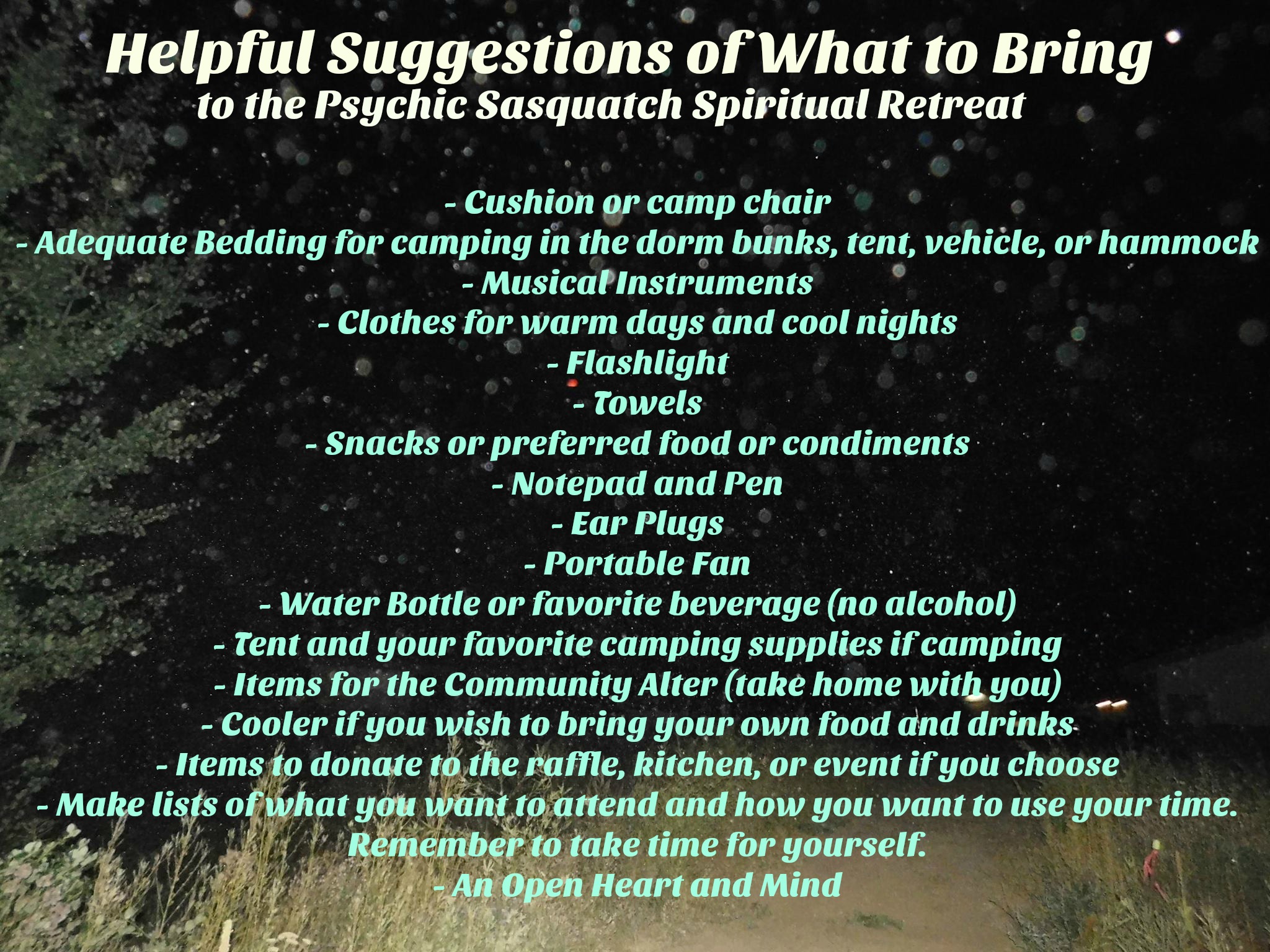 * Children under 14 are free to attend the event but there is a $20 charge per night to sleep in the dorm bunks. There is no additional charge for children staying with adults in a tent or RV.
** Scholarships available for work trade. Email sasquatchgoddess@hotmail.com to inquire.
*** Refunds on tickets are available by request until August 23rd, minus 25% of the total price (refund fee).
TICKETS ARE AVAILABLE FOR PURCHASE HERE: https://2018psychicsasquatchspiritualretreat.eventbrite.com
About the organizer
www.sasquatchpeople.com   
www.psychicsasquatch.com
www.facebook.com/sasquatchpeople
www.facebook.com/PsychicSasquatch