Description
Join us in the Wisconsin Dells for the 2018 PLTW Wisconsin State Conference!
SCHEDULE OF EVENTS:
A list of all breakout sessions can be found below the hotel information section. If you are a school that currently does not offer PLTW and looking to implement PLTW at your school, please see the Leadership Track information below the breakout session list.
Sunday, February 11th

4:00 P.M. - Check-In Opens
6:00 P.M. - Dinner
7:00 P.M. - Keynote Speaker: Dr. John Walz, President, MSOE
Monday, February 12th
7:00 A.M. - Check-In Opens
7:30 A.M. - Breakfast with Keynote Speaker: Dr. Rex Bolinger, Senior Vice President & Chief Partnerships Officer, PLTW
8:30 A.M. - Morning Breakout Sessions
12:30 P.M. - Lunch
1:30 P.M. - Afternoon Breakout Sessions
4:00 P.M. - Conference Concludes
HOTEL INFORMATION:
Registration booked through Eventbrite includes registration only.

Accomodations cannot be booked through the PLTW WI team and must be reserved directly through the hotel.
To reserve your room, please call 800-867-9453 and use code "Leader 672731". Also, state that you are attending the "PLTW 2018 Professional Development Conference at Glacier Canyon Lodge".
In addition to the current state rate of $82.00 for Sunday night, you have the opportunity to enjoy the Wilderness Territory on Friday and Saturday for a reduced rate as well.
Please see the chart below for room rates:

Rooms will be paid for individually and all rates are subject to applicable state and local taxes (currently 12.25%) in effect at the time of check in, unless proper tax-exempt documentation is provided prior to arrival.
BREAKOUT SESSIONS (AS OF 12/21/2017)
Note that additional sessions may be added as we approach the conference date. Updates will be made to this page and communicated to the PLTW network as available.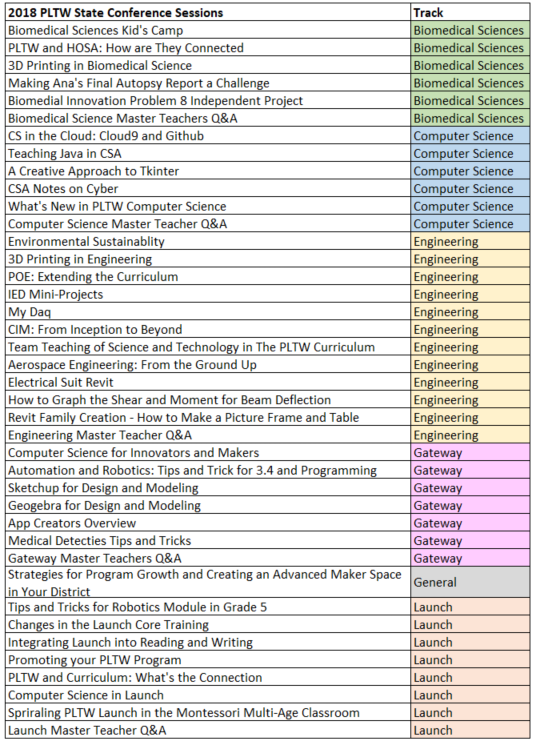 LEADERSHIP TRACK FOR NEW & POTENTIAL PLTW SCHOOLS
This track is designed for schools who currently do not offer PLTW and are looking to implement the program. All attendees in this track will participate in the following courses during the morning breakout sessions, and have a choice of any of the afternoon breakouts offered based on program level interest.
Overview of Project Lead the Way

How to Build a PLTW Program

How to Be an Innovative Administrator

Partnerships & Leadership

College Board/AP - Grant Opportunities - Credits