Description

3RD ANNUAL PHILADELPHIA JUNETEENTH MUSIFEST & PARADE!
Come honor and celebrate the legacy of our Enslaved African Ancestors who endured and fought so that one day we would be free.
This year's 2018 Juneteenth Parade will feature over 3,000 marchers, 18 Festive Floats, Live Bands & Musical Floats, and 60+ parade contingent made of community organizations.
Over 25,000 spectators will converge on Philadelphia from all neighborhood communitites, New York City, Washington D.C., Delaware, Maryland, Virginia, North Carolina and as far away as Texas.
Past attendees have included two Kings from Ghana, a United States Congressman, two Pennsylvania Mayors, State Senators, State Representatives, the Philadelphia Police Chief, Prince Hall Masons and a host of Councilpersons and Dignitaries.
This event registration will entitle you to parade front row standing space on your respective registration block. You will also receive an email of eCoupons that can be used at a wide assortment of local and online quality black owned businesses.
* Immediately following parade will be the Juneteenth Musicfest & Market Place @ Penn's Landing
Need to make travel arrangements? Please visit http://juneteenthphilly.org/travel-tourism/
HISTORY of JUNTEETH
Juneteenth is the oldest known celebration commemorating the ending of slavery in the United States. Dating back to 1865, it was on June 19th that the Union soldiers, led by Major General Gordon Granger, landed at Galveston, Texas with news that the war had ended and that the enslaved were now free. Note that this was two and a half years after President Lincoln's Emancipation Proclamation - which had become official January 1, 1863. The Emancipation Proclamation had little impact on the Texans due to the minimal number of Union troops to enforce the new Executive Order. However, with the surrender of General Lee in April of 1865, and the arrival of General Granger's regiment, the forces were finally strong enough to influence and overcome the resistance. (http://www.juneteenth.com/history.htm)
PLEASE SIGN PETITION to make Juneteenth an Official PA State Holiday SIGN PETITION SIGN PETITION https://campaigns.organizefor.org/petitions/make-juneteenth-an-official-pennsylvania-statewide-holiday
Would you like to VOLUNTEER or be a VENDOR? Visit http://juneteenthphilly.org/ for more information.
NOTE: Please only register for (1) ticket type. If you make more than a single ticket type registration, we reserve the right to cancel 1 or more ticket types to enable others to reserve a block of tickets.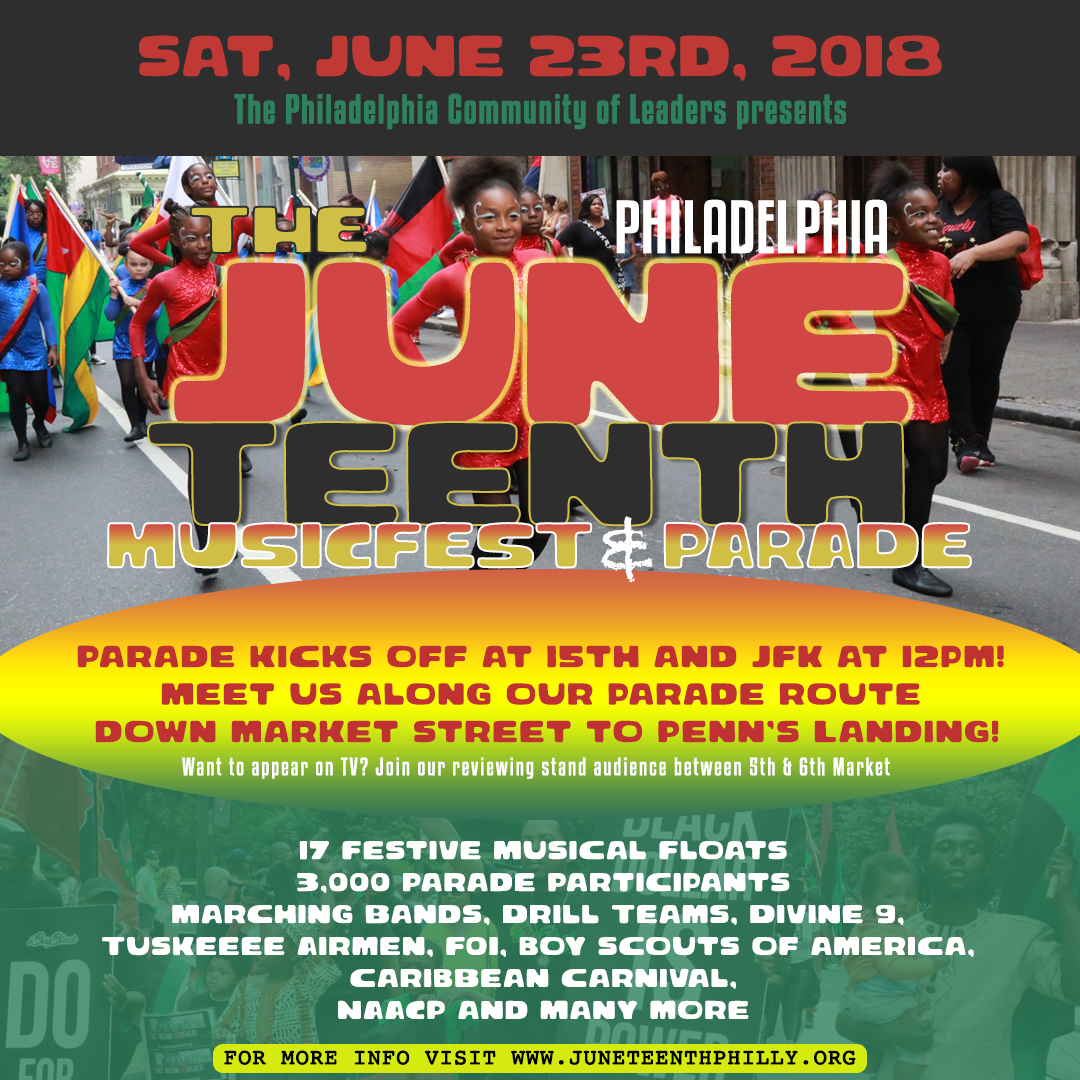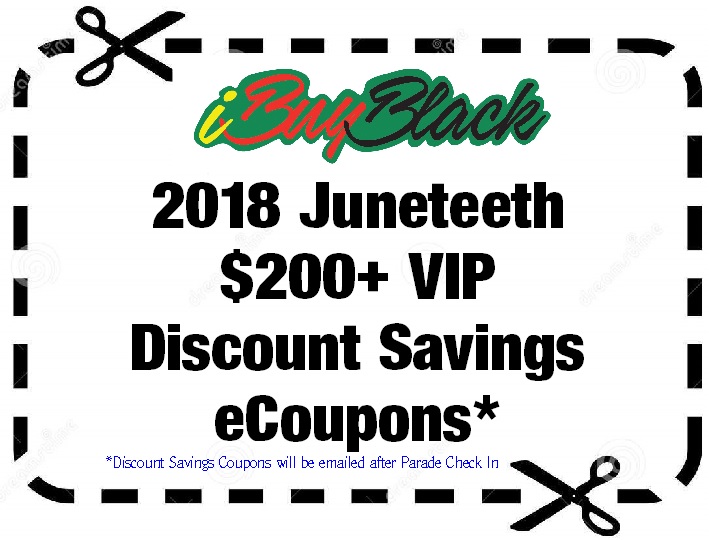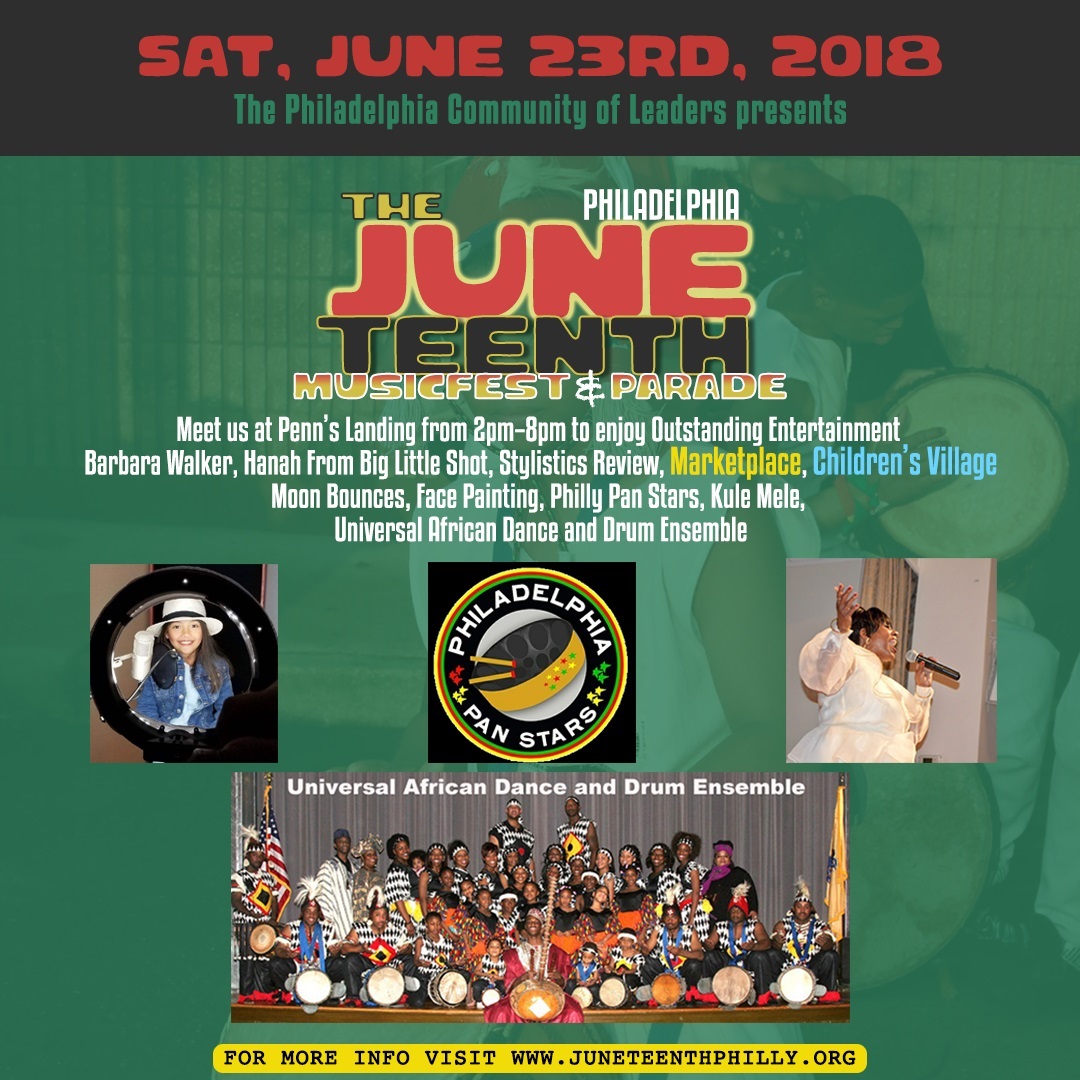 FAQs
What are my transportation/parking options for getting to and from the event?
There are various garages available in Center City Philadelphia that you can park at and conveniently walk to the Parade route.
How can I contact the organizer with any questions?
You can contact the Juneteenth Office at 267-331-6458