2018 OKIMCA Leadership Summit - "The Power of Honor" Restoring Kingdom Culture

Friday, November 16, 2018 from 7:30 PM to 11:00 PM (EST)
Event Details
SAVE THE DATE!

Friday, November 16th, 2018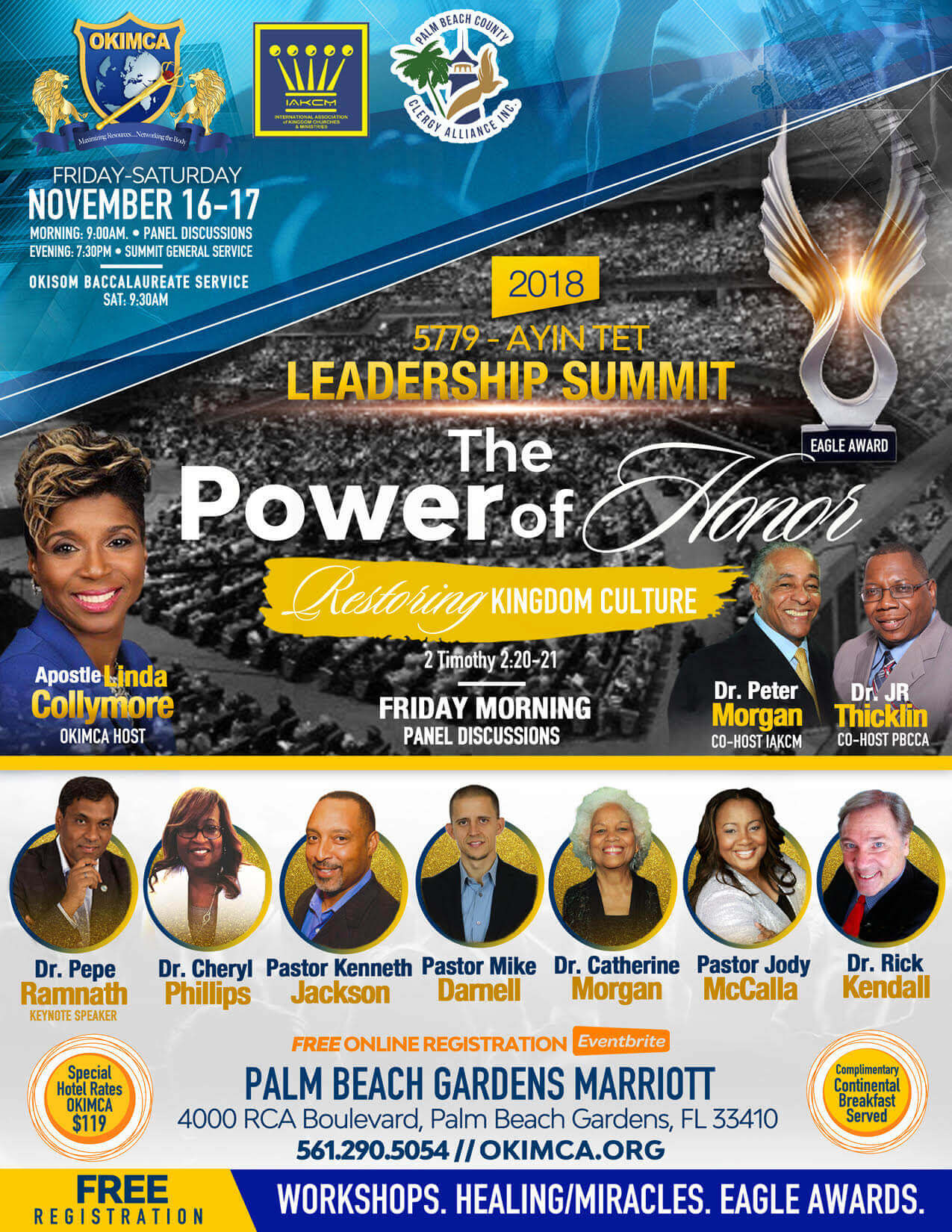 THE POWER OF HONOR.... RESTORING KINGDOM CULTURE
2 Timothy 2:20-21
"5779 - Ayin Tet"
We are pleased to announce our 2018 OKIMCA "Power of Honor" Leadership Summit! This year we are honored to have partnered with two powerful organizations with global impact (The Palm Beach County Clergy Alliance [PBCCA] and International Association of Kingdom Churches and Ministries [IAKCM]).
In recent years, it is apparent that our culture has shifted from one that 'honors' to one that 'dis-honors'. Such 'dis-honor' as attempted to penetrate and permeate the very fiber of our systems and of our daily lives. Instead of fruitful discourse, we resort to attacking the culture, character, and consciousness of others. This display of degenerative behavior tears away at our ability to love genuinely, find solutions and build a society that is FIT for human-kind and that glorifies God. Have we allowed our God-Consciousness to erode away from us subtilty? 
According to the Jewish Calendar in the month of September, we entered into the Year '5779'. The Year "AYIN TET" which signifies a 'Womb" or an "Open Container". Could God be birthing a renewed consciousness within us? Is this not the season for the sons and daughters of God arise? Those things that he has honored us with should we not honor one another with the same? As carriers/container of the life of God and the word of God, the honor has been bestowed upon us to speak life into dead situations; to build up that which have been torn down, to restore that which has been broken.
These and more POWERFUL DISCUSSIONS will be dialogued through two great avenues on one great day!
Friday Morning - Registration begins November 16th, 2018 at 8:00 am and Panels Begin!
9:20 am - 10:00 am               TOPIC: "Honoring Lives" - Relationships between the                      Community and Government Romans 12:18
10:05 am - 10:45 am             TOPIC: "The Honor Label-Women in High Places" Proverbs 31:25
10:55 am - 11:30 am             TOPIC: "Honoring the Message with Excellence" Matthew 24:14
11:35 am - 12:05pm              TOPIC: "Priceless Honor-The Vault of Worship" Revelation 4:10
12:10 pm - 12:50 pm            TOPIC: "Honoring the Mantle Transfer-Fatherhood" John 14:12
12:55pm - 1:35pm                 TOPIC: "Honoring: Receiving the Mantle-Sonship" Matthew 10:24
Friday Evening, November 16 - GENERAL SESSION registration begins at 6:00 pm and Service at 7:30 pm -  The Power of Honor "Restoring Kingdom Culture"
We invite ALL LEADERS to be a part of this very informative and transformational time together. Whether your organization is a church, parachurch, business, or governmental agency, this will be an event that will impact and transform those who are a part of any entity.
REGISTRATION IS FREE! All groups must register individually as registration is limited!
Yours Truly,
OKIMCA Team
Have questions about 2018 OKIMCA Leadership Summit - "The Power of Honor" Restoring Kingdom Culture?
Contact OKIMCA
Save This Event
When & Where

Palm Beach Gardens Marriott
4000 RCA Boulevard
Palm Beach Gardens, FL 33410


Friday, November 16, 2018 from 7:30 PM to 11:00 PM (EST)
Add to my calendar
Organizer
An organization used to mobilize and strengthen the five-fold ministry giftings in the Body of Christ.