Description
PLEASE NOTE: This workshop is specifically geared towards training existing Tri-State volunteers to assist in an oil spill response at our current facilities. Industry & agency partners, please stay tuned for workshops that will meet your specific needs coming soon!
Tri-State's oil spill team offers this unique training to experienced Tri-State volunteers who are interested in assisting with this unique aspect of wildlife rehabilitation. Volunteers trained in oiled wildlife response are able to volunteer and assist our oil team in spill response efforts.
Oiled wildlife response may be callenging, but it is extremely rewarding. The Oiled Wildlife Response In-House Volunteer Training will introduce all aspects of oiled wildlife response knowledge necessary for active Tri-State clinic volunteers including:
Safety protocols

Medical Protocols

Husbandry Needs

Decontamination Techniques.
Details:
Pre-registration - you must sign up through Eventbrite or contact one of the organizers to be

guaranteed

a seat in the course.

This is a two-part workshop. Any ticket (for either Feb 3 or 10) marked as "Both Sessions" will count towards both workshop days.

Volunteers must have over 1 year experience volunteering at Tri-State and be a minimum of 18 years of age.

Please bring a pair of waterproof boots for the February 10 session.

Volunteers may be asked to assist with the next spill response effort utilizing the Wildlife Response Annex.
Lunch will be provided (includes vegetarian). Please plan accordingly if you any have dietary restrictions.
Existing members will receive a 10% discount. Please email esilva@tristatebird.org for code prior to purchase.
Visit https://www.tristatebird.org/membership to view the membership benefits.
This course fills up quickly! Once all the tickets sell out, individuals will be placed on a waiting list.
*This course will include a certificate for 4 HR HAZCOM training. This certificate is only given to participants of both training sessions.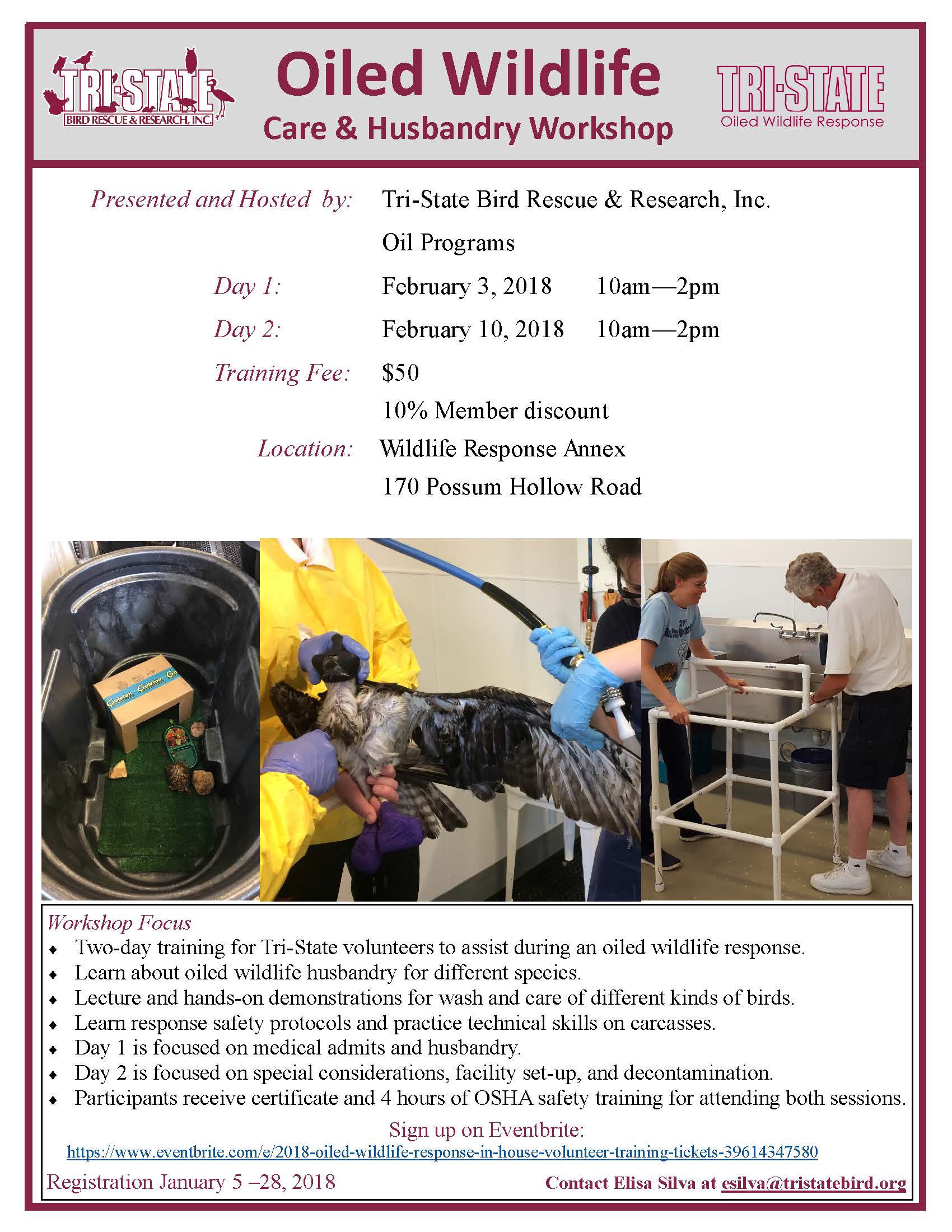 Thank you! We look forward to seeing you in February!
If you would like to make a donation to Tri-State Bird Rescue & Research, Inc., please visit the following link: https://tristatebird.org/wingandprayer/