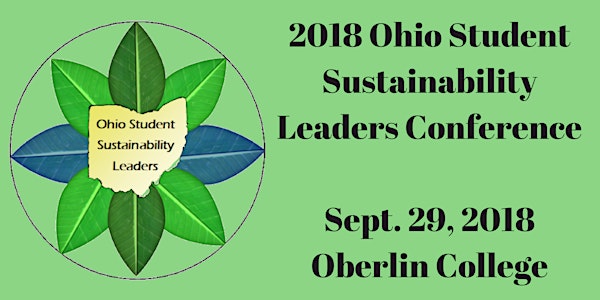 2018 Ohio Student Sustainability Leaders Conference
When and where
Location
Oberlin College - A.J. Lewis Center 122 Elm St Oberlin, OH 44074
Description
Ohio Student Sustainability Leaders Conference is a student-run, student-centric conference celebrating undergraduate contributions to the interdisciplinary field of sustainability. The theme for 2018 is Sustainability in Practice. The full day conference will support student sustainability leaders in both research and career development. For more information please visit https://www.ncseglobal.org/student-sustainability-leaders.
This conference is organized by Oberlin College, the University of Dayton, the University of Toledo, the Ohio State University, Findlay University, and the National Council for Science and the Environmental.
Registration Deadline
Please register by Monday, September 24, 2018 for free breakfast and lunch. After September 24, registration must be done onsite and may not include a meal.
Registration Fee for NCSE Member Institutions
Registration is free for students, faculty, and staff from the schools organizing the event: Oberlin College, University of Toledo, University of Findlay, University of Dayton, and The Ohio State University.
Registration is also free for students, faculty, and staff from NCSE member institutions that have joined for the 2018-2019 academic year. Not sure if your school is a current member? Contact Kate Ceste.
Registration Fees for Non-Member Institutions
Student - $25

Factulty and Staff - $50
Submit a proposal
Ungraduate students interested in submitting a poster for presentation may submit a proposal online.