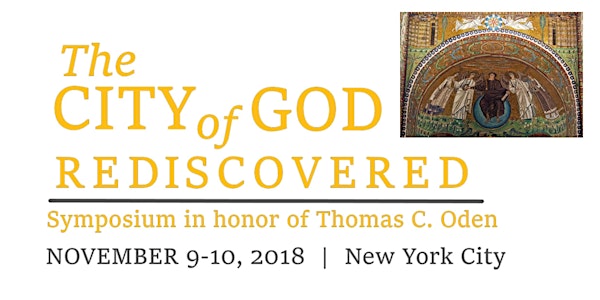 2018 Oden Symposium
When and where
Location
New York, NY 10065
Refund Policy
Refunds up to 30 days before event
Description
Thomas C. Oden was a remarkable scholar and teacher whose long and varied life touched many areas of theology and spirituality. He made lasting contributions to Christian theology and World Christianity. Tom's self-described mission was, in his words, "to begin to prepare the postmodern Christian community for its third millennium by returning again to the careful study and respectful following of the central tradition of classical Christianity."
In his honor, the Center for Early African Christianity and Institute of Classical Christianity Studies will host a symposium commemorating Tom's legacy on Friday and Saturday, November 9-10, 2018. The Rediscovery of the City of God: A Symposium in Honor of Thomas C. Oden. In this two-day symposium scholars, pastors, international church leaders will explore the following themes in relation to Thomas Oden's legacy: Classical Christianity, Ancient Christianity, spiritual renewal, and building bridges within the historic communities of faith. You are cordially invited to attend.
---
Friday - November 9, 2018
Welcome Reception
7:00 p.m. - 9:30 p.m.
The Yale Club of New York City
50 Vanderbilt Avenue, New York, NY 10017 yaleclubnyc.org
Enjoy light food and drinks, and a welcome talk from our keynote speaker. Dress code: Traditional business or Business casual dress required. Strictly enforced: NO DENIM, shorts, tee shirts, casual sandals, athletic wear of any kind (including footwear and caps), and torn, provocative or revealing clothing.
---
Saturday - November 10, 2018
Symposium
9:30 a.m. - 5:30 p.m.
Central Presbyterian Church
593 Park Ave New York, NY 10065 www.centralchurchnyc.org
Hear plenary talks and participate in panel discussions on:
Bridging the Christian Divide: The Common Ground of Classic Christianity
Preparing for the Third Millennium: Rediscovering the City of God
Christian Spirituality for Today: Retrieval for Renewal
African Christianity: Ancient and Contemporary
---
Visit: www.odensymposium.org