Description
Olive Branch Community Church presents it's 2018 Women's Retreat:
Seeking Our Sovereign On The Summit
As of September 17, we are happy to share that we are SOLD OUT!
If you would like to be on a waiting list, please email us at women@olive-branch.org
When: Friday, November 2 - Sunday, November 4, 2018
Where: The lovely Big Bear Chateau where every room has it's own fireplace! The retreat weekend includes a dessert reception on Friday night; full cook-to-order breakfasts for both Saturday & Sunday mornings and a sit-down catered dinner on Saturday evening. We'll have free-time on Saturday afternoon and evening. All retreat materials are included.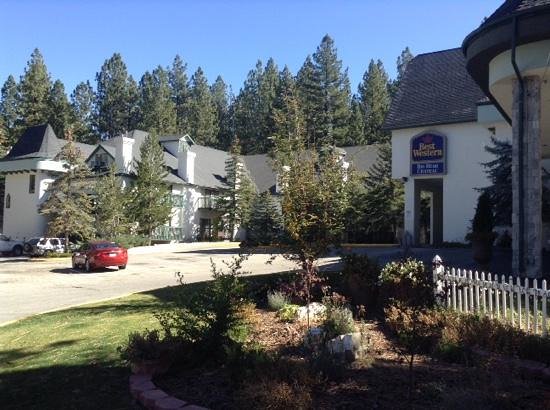 Who's speaking: CJ Rapp is a speaker and author in Southern California who shares about priorities, strength, and faith. Her books include, Stronger (2016), Trash the Lies (2014), Tossed, Tumbled and Still Trusting (2012), and I AM Says, You Are (2008).
CJ's articles have been featured in publications such as The Christian Post, and Solutions Magazine, and she has appeared as a guest on faith based radio programs. CJ's unique ability to help others see themselves in the stories and situations found in the Bible make her a popular women's speaker at retreats and women's events across the country. She has spoken as the co-keynote speaker for The California Women's Retreat with Rene Bondi, and shared the stage with Lisa Whelchel at the Pearl Conference. In 2014 she founded the Trash the Lies women's conference featuring Thelma Wells (Women of Faith) which taught women to overcome the cultural lies that threatened to undermine their faith and identity.
As a gifted communicator, CJ will touch your heart with her authentic, casual style, make you laugh, renew your hope and inspire you with her passion and insight into God's Word. An expert in women's issues, she specializes in ruin prevention and repair. Her heart is to help women revolutionize their life by re-defining their self-image and refining their understanding of God's heart for them.
How to register to attend:
Important note:
Please remember to pay for the non-refundable deposit ticket as well as the balance ticket.
You can register 24/7 on Eventbrite! Women's Ministry team will be in the courtyard on Sept 22 & 23, Sept 29 & 30 and Oct 6 & 7. Early bird balances need to be paid by September 23. All other balances by October 7.
Any payments made Oct 8 - 12 will incur a 25% late fee.
No refunds of $50 deposit. Balance is refundable until October 1. After October 1, your registration is transferable to another person.
Last day to register and pay: October 12.
Important note: If you're paying for your room in full, please remember to include the non-refundable deposit ticket as well as the balance ticket.
Questions? Contact... women@olive-branch.org