Description
LOCATION and DATE
Date: October 20th, 2018

Venue: Hampton Inn

Address: 103 Saint Robert Plaza Dr, St Robert MO 65584
FRIDAY NIGHT SOCIAL
Location:
Address:
Time: 6pm
Every year we do a social to get folks together to catch up and have some fun telling stories and talk about cave diving. The NSS-CDS will provide some appetizers for folks just let us know who's coming so we can make sure we reserve enough room in advance. Hope to see everyone there!!
Speakers
Zach Klukkert
Zachary Klukkert is a PhD student at the City University of New York Graduate Center, in the New York Consortium in Evolutionary Primatology (NYCEP). Klukkert is also a NSS-CDS and PSAI-certified cave diver and Explorers Club grantee for his paleontological research in the underwater caves of the Dominican Republic. Klukkert is a collaborator on the Madagascar paleontology and geoscience research that takes place in the flooded caves of Tsimanampesotse, and is currently the only member of the project who participates in both research and diving operations.

Zach will talk about the benefits and challenges of conducting paleontological research in underwater caves. He will discuss how the new sites in the Caribbean and Madagascar are contributing to what we know about the paleoecology and extinction of primates and other animals in these regions.
Bill Harrison
Bill has been a certified Cave Diver since 2003, and earned the Abe Davis Safe Cave Diving Award in 2006. He has also been studying and practicing Yoga diligently for over 15 years, with nearly a lifetime of dabbling in it. He is an RYT200 Yoga Alliance certified teacher and a teacher/trainer by profession in the fields of Water Treatment and SCUBA Diving. His article, "Cave Diving and Yoga" appeared in the July/Aug/Sept issue of Underwater Speleology.
Kyle Moschell
Born and raised in South Florida, Kyle grew up fishing and diving the Miami area. An outdoors enthusiast and Eagle Scout, Kyle began scuba diving at 12 years old and has enjoyed diving, hiking, camping, and climbing his entire life. Upon moving to Central Florida in 2012, he was drawn to the beautiful caverns and caves in the area and progressed into the world of technical diving, actively cave diving across the state. After the opportunity to help support exploration projects and seeing the focused & team-oriented diving efforts of Karst Underwater Research, he joined the group and brings a passion for exploration and research to the team. Kyle has participated in cave exploration in Florida and the Yucatan, as well as this years Pena Colorada Expedition. Kyle hopes to continue cave exploration around the world!
Chris Jewell

Chris Jewell is an exploratory caver and cave diver who explores new cave passage in the UK and abroad. He dives in a wide range of caves using different techniques. Using everything from small cylinders in zero visibility conditions to diving chest mounted rebreathers at -100m, the nature of cave diving exploration means continually adapting to meet whatever challenges you come across.

Over the last 12 years, Chris Jewell's exploration has had him squeezing through tiny muddy underwater holes in Somerset, digging underwater in the Yorkshire Dales, developing several various sized rebreathers and leading cave diving expeditions to Spain and Mexico. In recent years he has led expeditions to the Huautla cave system in Mexico which established the cave as the deepest in the Western hemisphere.

In June of 2018, he was one of the British cave divers who played a leading role in the 2018 Tham Luang Thailand cave rescue.
Forrest Wilson
Forrest Wilson has been caving, and cave diving since the late '60s. He has been an NSS, and NSS-CDS member since the mid '70s. He served as Training Director for 6 years, and also as an Officer for about 6 more years. He has dived caves in 11 states, and 10 countries. He has dived everything from nice warm, clear springs to cold, low visibility sumps. In 2016 he was proclaimed a "Luminary" of the NSS, and gave a talk at the 2016 NSS convention in Ely Nevada. His talk at the Midwest Workshop will be a somewhat shortened version of that talk

.
PRIZES!
Prizes continue to role in from sponsors such as Dive Rite, Highline Ropes, Big Blue Dive Lights, Cave Excursions, Amigos Dive Center, , OMS, Dive Right In Scuba and more!
SPONSORS: Subgravity, Shearwater Research, Dive Rite, Highline Ropes, Scuba Force, Aquatech Scuba, Odyessy Scuba, Karst Unerwater Research, Big Blue Dive Lights, North Florida Springs Alliance.
FREE SHRITS!!
THANKS TO THE GUYS AT SUBGRAVITY EVERYONE IN ATTENDANCE WILL RECEIVE A FREE SHIRT! THE SHIRTS THIS YEAR ARE SUPER SWEET AND WE'RE EXCITED TO GIVE EVERYONE A SHIRT! (to ensure your size, pre-register before Sept 20th; extra shirts will be available on first come first serve basis)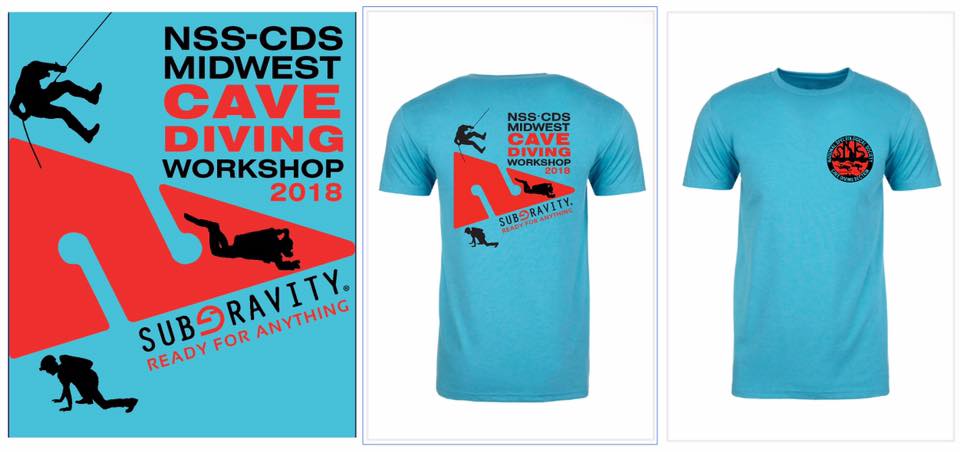 Food!
Food will be proivded for everyone. We will have coffee and some breakfast type items (most likely some donuts!) as well as coffee throughout the workshop and lunch.