2018 Northwestern States Conference: Residents and Preceptors
Description
Please join us for the 2nd Northwestern States Conference. The conference is designed for pharmacy residents and pharmacy preceptors. Residents have the opportunity to showcase their major projects in a podium style presentation (15 minutes, with 5 min of Q&A). The presentations will be organized into subject tracks.
Residents: please follow the presentation guidance document, and turn your slides into your RPD no later than May 4th.
There will be several presentations on preceptor development for both residents (preceptors-in-training) and preceptors.
The event will conclude with a celebration happy hour with drinks and appetizers from 4:00 PM to 6:00 PM.
Price of registration (+ fees) includes food (breakfast, lunch and happy hour reception) and beverage service throughout the day and evening celebration.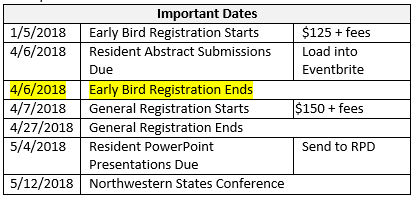 Tenative Schedule-At-A-Glance