2018 Northern California Christian Women's Conference - LOVE (Aug. 17-18, 2...
Description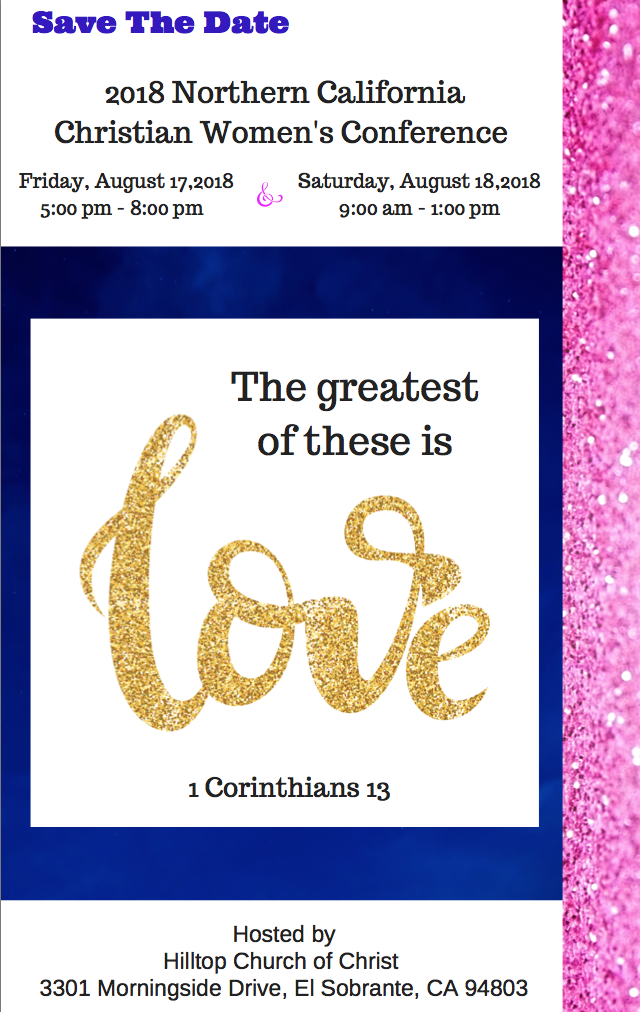 THE GREATEST OF THESE IS LOVE
2018 NORTHERN CALIFORNIA CHRISTIAN WOMEN'S CONFERENCE
No matter who you are or where you are in life, it is impossible to make Heaven your home without constantly leading with and abiding in God's love! The theme for our 2018 Northern California Christian Women's Conference (NCCWC 2018) is "The Greatest of These Is Love," I Corinthians 13. As we journey to eternity with God, it is imperative that we individually, as women, and collectively, as sisters in Christ, understand what is love, why we love one another, and how to use the power of love to secure an eternal inheritance.
NCCWC 2018 will kick-off on Friday, August 17, 2018, with an inspiring opening celebration of God's love, including songs of praise and thanksgiving, and an awards gala for Christian Women of Exellence and Bright Lights. On Saturday, August 18, 2018, the Conference moves into high gear as we roll up our sleeves to embrace the amazing power and required challenges of love. Come experience true love, renew your spirit, and praise God with sisters living blessing filled and satisfied lives!
Do not miss this annual area-wide reunion of sisters. Invite your friends, colleagues, and family to join us for inspriation, encouragement, and restoration. Life is short. Treat yourself!
Register Online - Go to: https://2018nccwc.eventbrite.com
Nominate a Christian Woman of Excellence or Bright Light - Email Award Recommendation (including nominee's name, photo, & 1/2 page bio) to: hilltop.coc.events@gmail.com
Contact Us Anytime - Email: hilltop.coc.events@gmail.com