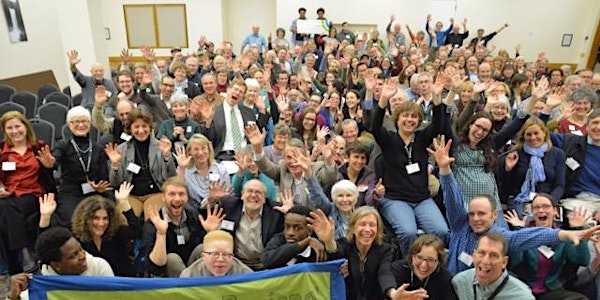 2018 Northeast Regional Conference
When and where
Location
University of Massachusetts Amherst UMass Amherst Campus Center Amherst, MA 01003
Refund Policy
Refunds up to 30 days before event
Description
MARCH 16-18, 2018
AMHERST, MASSACHUSETTS
CITIZENS' CLIMATE LOBBY
2018 NORTHEAST REGIONAL CONFERENCE
EMPOWERMENT + TEAMS + ACTION = CHANGE
The urgency to stop climate change grows by the day.
YOU are the solution – YOU are the cavalry that will save the day
YOU will get Congress to act
Come to Amherst to:

Sharpen your skills and your focus
Get the latest on bipartisanship on climate
Learn to communicate effectively about climate change
Learn how to widen the tent for climate action
Learn what is happening on climate at the state level
Hear the latest thinking on the shift to renewables
Connect with caring, determined citizens from all over the region (CT, ME, MA, NH, NY, RI, VT) and beyond!
Our conferences have been called "life-changing, empowering, re-energizing and inspiring."
Speakers will include:
Jay Butera, Senior Congressional Liaison, Citizens' Climate Lobby
Madeleine Para, VP, Programs Citizens' Climate Lobby
Dr. Sabine Marx, Project Director, Risk Communication, at the National Center for Disaster Preparedness
Michael Green, Executive Director, Climate X-Change
Dr. Barbara J. Love,

Professor Emeritus of Social Justice Education, COE, UMass-Amherst

Marc Breslow, Research and Policy Director, Climate X-Change

and lots more!
---
What:
The 5th Annual Citizens' Climate Lobby Northeast Regional Conference
When:
Friday, March 16, 6-9 p.m. - Welcome gathering for all (optional)
Saturday, March 17, 8 am - Registration
Saturday, March 17, 9 a.m. (sharp) - Sunday, March 18, 12:30 p.m. - Conference
Who:
YOU! - New and experienced CCL volunteers, climate advocates and citizens who want to help get us on a path to a clean energy future.
Where:
UMass Amherst Campus Center
University of Massachusetts
Amherst, MA

If you have questions, send them to Carolyn Sellars, herenowkind@gmail.com
Registration fee*:
Regular registration - through March 11: $85
Regular registration plus scholarship donation: $100
Student admission: $25
Additional donations are sincerely appreciated
*Registration includes conference, box lunch Saturday, coffee breaks, cash bar and sandwiches Friday night, cash bar and dessert buffet Saturday night.
This is a not for profit event. Registration fees cover use of facilities, catering, snacks, printing, supplies, and supplement travel expenses of keynote speakers. Registration does not cover lodging or transportation fees.
Registration will close at end of day, Sunday, March 11.

We will have limited "walk-in registration" online starting March 12 at a cost of $90 and it will not include lunch on Saturday. There will be inexpensive lunch options upstairs at the Blue Wall Food Court.
Post that you are "interested" and "going" on our Facebook page!
---
Conference schedule:
Friday Evening (optional)
6-9 p.m.: Welcome gathering; Sandwiches, cash bar

Saturday Morning
8-8:50 a.m.: Registration
9:00 a.m. (sharp!): Welcome - Campus Center, 1st Floor

9:15-10:20: Keynote - Jay Butera -- "The U.S. House Bipartisan Climate Solutions Caucus -- real progress?" Now at 70 members, what role is the Caucus playing? Get an inside look at the historic Caucus, what has it accomplished, addressing cynicism, Q&A -a rare appearance by Jay Butera, Senior Congressional Liaison, CCL
10:30-12:30 pm Advocacy toolbox:
Climate Advocate Training
Leadership Training
Volunteer skills training
12:30-1:30 p.m.: BOX LUNCH -- time check out terrific Info Tables

Saturday Afternoon/Evening

1:30-5:30 p.m.
The Big Picture of CCL: Who we are and who we strive to be -- Madeleine Para, Vice President, Programs, CCL, will guide an exploration of what we bring to the climate movement.
Breakout sessions - two one hour sets with 6 choices each, including:
Learn more about our solution: Carbon fee and dividend policy - CF&D 101 and 201

The Left: Working with the Environmental Justice community

Widening our tent - diversifying our chapters
State carbon pricing -- update on states and the region, organizing at the state level, key elements of a state bill
The transition to renewable energy in the Northeast
Case study of two volunteers - Leveraging your passion for fun and impact for CCL
5:30-7 p.m.: dinner - reasonably priced option available on site - chance to connect with each other
7-10 p.m.:
Entertainment -- stories envisaging a post carbon fee and dividend world
More connections
Dessert buffet, cash bar

Sunday Morning
8:30-9 a.m.: Mindfulness exercise
9:00-10:30 a.m. Tailoring communications to your audience: Understanding risk perceptions and overcoming common communication barriers. Workshop with Dr. Sabine Marx, a social scientist from Columbia University's Earth Institute. Assessing risk perception in ourselves and others. Understanding underlying psychological barriers to decision making under uncertainty. Key principles for targeted communication with a range of audiences. Hands on practice to critically evaluate our conversations and apply newly-learned principles to our messaging. Building competence to connect with audiences and communicate more effectively. Conference participants will be sent a quick survey to fill out to assess their own perceptions of risk to inform the discussion.
10:30-10:55 a.m. CCL Legislative update (via Zoom) with Dr. Daniel Richter, Vice President of Legislation and Research, CCL
11:00-12:00 p.m. State strategy sessions. Plan with people from your state!
12:00-12:30 Wrap-up and good bye
Available throughout:

Art Exhibit - see great fine art work inspired by climate change
Information tables

- Climate Change and Health, Higher Education Action Team, Conservative Caucus, Climate Change Impacts on the Northeast Region, see a PEBL (pedal electric vehicle) and lots more!
Available after the conference:
Electric Vehicle Exhibit -- CCL volunteers are organizing an exhibit of the Tesla Model S, Tesla Model X, Chevy Bolt, Nissan Leaf right after the conference -- stop by on the way home!
"We use our voices to be heard. This simple act transforms us from spectators to engaged citizens, and it reveals the true nature of democracy to us." (See CCL Core Values)
---
FAQs
What if I am under the age of 18, or registering someone under the age of 18?
A signed permission slip must be completed to attend the conference. Please email Carolyn Sellars at herenowkind@gmail.com for a permission slip. Minors must be accompanied by a parent/guardian or chaperone (who must also be registered for the conference).
Is there lodging information?
To book a room at Hotel UMass, go to www.hotelumass.com or the hotel phone number is 877-822-2110. Continental breakfast is included with Hotel UMass room.
Additional lodging options available here.
Want to know how you can help?
Post that you are "interested" and "going" on the Facebook page.
Connect with other volunteers by signing up for a volunteer shift at the conference! Email Richard Pree at richpree@gmail.com
By registering for this event, you are giving Citizens' Climate Lobby and Citizens' Climate Education permission to send you email including information about CCL/CCE and how you can volunteer and support our work. You can unsubscribe at any time by emailing unsubscribe@citizensclimatelobby.org.

Privacy Policy