Description
Invest in Staff, Advance Your Mission is the theme for the 2018 North County Nonprofit Forum. The event will kick off with a keynote address "Fund the People"! Why should nonprofits invest in their staff? How can they afford it? How and why should funders help, when they largely focus on supporting programs and services? Rusty Stahl founded Fund the People, the national campaign to maximize investment in the nonprofit workforce. He will share ideas, research, and tools to help you integrate "talent-investing" into your fundraising or grantmaking efforts.
---
The forum will also incude the following breakout sessions: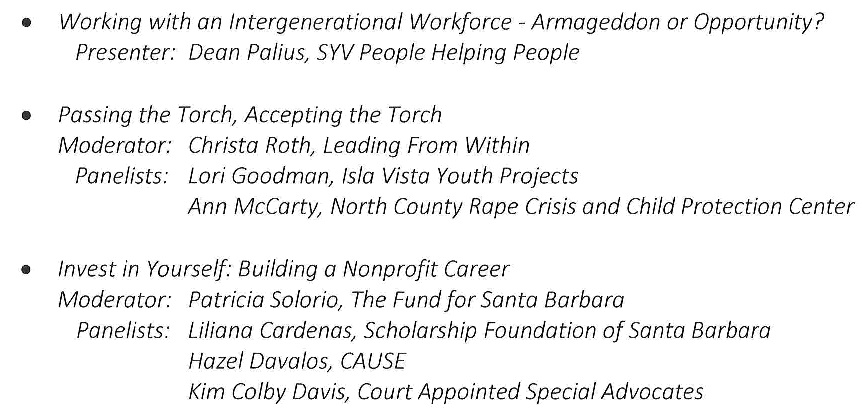 Finally, a panel will focus on strategies for empowerment and retention. Claire Peeps of the Durfee Foundation will serve as panel moderator. Panelists include: Sandra Dickerson, Your People Professionals; Christa Roth, Leading From Within; and Rusty Stahl, Fund The Poeple.
The North County Nonprofit Forum was created in 2016 by a group of foundations and nonprofits interested in building the capacity and strengthening networking among northern Santa Barbara County nonprofits and funders. The first forum was held in Santa Maria in October 2016. While the event was developed to meet the needs of organizations in northern Santa Barbara County, other nonprofits are welcome to participate.
Registration fee includes lunch:
$30 Early Bird Registration Aug. 1 - 31st
$40 General Admission after August 31st
A limited number of scholarships are available. Please email, northcountynonprofitforum@gmail.com if your organization needs a scholarship
Event Sponsors: Hutton Parker Foundation, McCune Foundation, Santa Barbara Foundation, SG Foundation, Santa Ynez Valley Foundation, The Fund for Santa Barbara, The Towbes Foundation, Weingart Foundation
---
Event Schedule
8:30 am - Registration

9:00 am - Keynote

10:30 am - Snack Break/Networking

11:00 am - Breakout Sessions

12:00 - 1:30pm - Lunch/Networking

1:30 pm - Panel Presentation

3:00 pm - Event Concludes

---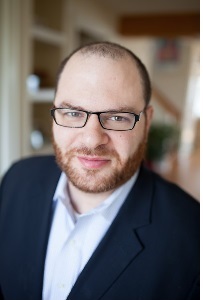 Rusty Stahl is President & CEO of Fund the People, the national campaign to maximize investment in the nonprofit workforce. The organization works to address a chronic problem that many funders and nonprofits barely recognize as an issue -- the system-wide deficit of investment in the nonprofit workforce. Through his leadership, Fund the People has established the "Talent-Investing Framework," an approach to fundraising and grantmaking that acknowledges nonprofit professionals as the essential assets of nonprofit capacity, performance, impact, and sustainability.
Rusty founded Fund the People in 2014. Previously, Stahl spent several years as a Visiting Fellow in Residence at New York University's Robert F. Wagner Graduate School of Public Service, where he studied the challenges facing the nonprofit workforce. Prior to that, Rusty served for 10 years as founding Executive Director of Emerging Practitioners in Philanthropy (EPIP), the association of young and new grantmakers. Stahl began his career as a Program Associate at the Ford Foundation, where he focused on strengthening philanthropy and the nonprofit sector as a crucial part of our democracy.

FAQs
Who should attend?
Nonprofit employees and board members, including those who oversee recruitment, hiring and retention. ie - HR Directors, Executive Directors.
What food will be served?

There will be coffee and tea available during registration, a mid-morning snack, and lunch included in the registration fee. Vegetarian option available.
What is the criteria for scholarships?
Sponsorship support from our foundation partners covers most of the cost for this event, which allows us to keep the registration fee low. However, if the fee is a barrier to your organization's participation, you can seek one of a limited number of scholarships. Please email northcountynonprofitforum@gmail.com if your organization needs a scholarship.
Is parking available on-site?
There is free parking at the hotel.
What's the refund policy?
No Refunds