2018 Networking Night for Conscious Women in Business - featuring raffle, speakers & business expo!

Thursday, May 3, 2018 from 5:30 PM to 9:00 PM (PDT)
Event Details
 You are cordially invited to an unforgettable evening to celebrate Conscious Female Entrepreneurs! 
*** Early bird pricing is on.  Space limited and guests must RSVP to save their spot.   Details below!
in partnership with

 

Hera Hub, 
presents: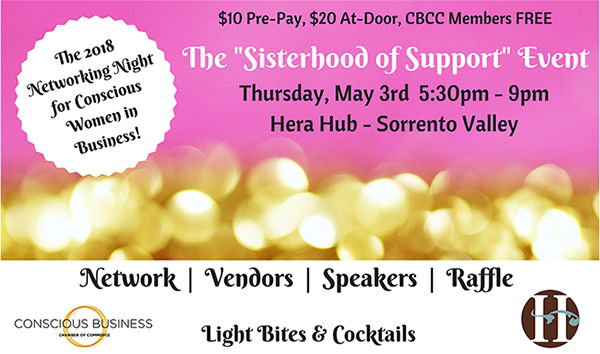 Our magical evening will feature presentations by 7 extraordinary female leaders who will share about how they support other women through their work, plus a Conscious Business Expo from our sponsoring vendors, and much more.
  DETAILS BELOW!
We still have space for vendors.  APPLY HERE.
We hope you are able to attend!  Our intention for the evening is to facilitate connections & the sharing of resources to empower the conscious business community, as well as provide extraordinary guidance inspired by the expertise of our speakers.
 RSVP Required, and space is limited.  Reserve today for special pricing.
 ALL WOMEN AND MEN ARE WELCOME WHO SUPPORT CONSCIOUS BUSINESS!
---
 RSVP for:
* Networking with visionary professionals
* Special offers from our featured speakers and vendors
* Cocktails and light bites 
* Fabulous FREE raffle (Ticket includes 1 free ticket)
* And of course, our expert guest speakers!
AGENDA
5:30pm:  Doors open
5:30pm - 6:30pm:  Check-in / networking & cocktail hour / business expo
6:30 p.m:  Registration closes - introductions begin
6:45pm:  Speaker presentations begins
8:30pm - 9pm:  Final networking & connecting with speakers & vendors
---
Vendor spots still available! If you are looking for more visibility and a chance to promote your services at the event and during marketing, grab these slots! FIRST COME FIRST SERVE!
---
SPONSORSHIP OPTIONS:  
Contribute to our raffle and we'll give you BIG props during marketing and BIG props during the event!  
Seeking great prizes and gift certificates from Hera Hub and the Conscious Business Chamber of Commerce. Please email sadordel@gmail.com with details, including full value, benefit to members, and digital images.

---
We are also seeking the following professional members to support this event.  Your business will be highlighted in the next newsletter and in social media!  
* Photographer * videographer * greeter * set-up / shut-down * vendor assistant * raffle assistant * and ambassadors who get paid for their ticket sales. 
Please email sadordel@gmail.com, if interested. THANK YOU!
---
VENDORS / SPONSORS
Felena Hanson of Hera Hub (https://herahub.com) is the founder of the first international female-focused coworking space & business accelerator.  Her platform supports members through education, mentoring, and collaboration, while the office environment gives them access to professional, productive space where they can grow a prosperous business, built on the foundation of a powerful community.
Lavonne Scott of Sage Bleu Catering (www.sagebleucatering.com) offers themed menus (featuring locally-grown, seasonally fresh ingredients), personalized décor, handcrafted drink mixers for cocktails, and a unique, creative ambience that makes your events an adventure.  She will be providing delicious light bites at the event for your taste buds.
Cindi Litter of Toast Spirits (beaujoiechampagne.com) offers Beau Joie Champagne.  She will be providing fine wine for your tasting pleasure at the event.
Kerry Ray of Crystal and Leaf (www.crystalandleaf.com) offers sacred energy bracelets, fairy items, and energy work.
Jennifer Hudgens of Natural Wellness Tips LLC (www.naturalwellness.tips) specializes in doTERRA essential oils. She loves educating women on the power of essential oils.
More descriptions to come!
SPEAKERS 
Susan Duprat (www.everydaymiracleshappen.com) 
Speech Title - The Power of Vision
Susan Duprat is a successful business owner and advocate for change.  For over 15 years, Susan Duprat has studied and implemented transformational success principles in her own life.  Now, as a sought-after speaker, teacher, and certified coach, Susan's workshops and coaching programs help people breakthrough limitations and achieve greater results than they've known before.
Ann Bennett (RenegadeBranding.com) 
Speech Title - Rebel Branding for Transformational Times: Be Big, Be Bold, Be You
Ann Bennett is the founder of Ann Bennett Marketing, an International Speaker, Best Selling Author, Coach, and Brand Profit Builder.  Ann uses her marketing and branding genius to help women entrepreneurs (and a few good men) build their STAND OUT personal brands and boost their profits.  Ann works with purpose driven entrepreneurs who do transformational work so they can liberate and ignite their unique genius, authentic voice and build a profitable brand platform.  Ann has 25 years experience in visual and graphic design and has brought her talents to many major magazines from Popular Mechanics to Vogue; "Where the Devil Really does wear Prada." Ann's personal slogan and the cornerstone of all her programs is: "It's smart to fit in … but it's brilliant to stand out."
Devon Poer (www.devonpoer.com) 
Speech Title - The Age of the Mystical Entrepreneur 
Devon Poer is a Celebrity Stylist, Magazine Editor and Communications Specialist who transmuted from the Hollywood fashion world and corporate life by following her divine mystic calling to serve mysticpreneurs.  She supports mystically gifted entrepreneurs through a co-creation, visionary process to develop authentic branding, notable publicity and access to high-end clients.  During her most recent journey in entrepreneurship, she began working with mystics, spiritual teachers, mentors and healers.  Through their guidance she upgraded to embrace her own visionary, clairvoyant, channeling, and energy reading abilities to support her clients on a new dimensional level.
Joanne Chen (www.joannetchen.com) 
Speech Title - Stand Up: Self-Leadership for Conscious Women in Business
Transformation and Self-Leadership Coach Joanne Chen supports professional and entrepreneurial women who are ready to let go of perfection, overwhelm, and fears in order to reach more people and  serve the world more powerfully with their gifts.  As an Asian American immigrant, Joanne broke out of the model minority stereotype and her conventional upbringing in order to create her own unique path. Joanne helps her clients slow down, quiet their critical minds, and access their intuitive, creative, playful selves.  Her style is pragmatic, direct, and intuitive – connecting with the mind and heart while combining a multitude of approaches and tools. 
Rebecca Massoud (rebeccamassoud.com) 
Speech Title - Dare to SHINE!: 3 Secrets to Speak, Shine & Sell Your Way to a Lucrative & Soulful Business
Rebecca Massoud is a business success coach and the creator of the Speak, Shine, Sell Workshop.  Women entrepreneurs hire Rebecca to help them attract their ideal clients through speaking, so they can create a big income and and an even bigger impact, without burning out or selling their soul.
Caroline Andrews (howdoihealmyself.org) 
Speech Title - 3 Secrets To Magnetize Your Hot Juicy Relationship
Caroline Andrews is a Reiki Master, HHP, Yoga Instructor, Sexual Healer, Women's Facilitator, and Speaker.
More descriptions to come!
---
Please join us on Meetup  and on our Facebook Group! 
Thank you, and we look forward to seeing you on the evening of May 3!
Save This Event
When & Where

Hera Hub Sorrento Valley
4010 Sorrento Valley Boulevard
#400
San Diego, CA 92121


Thursday, May 3, 2018 from 5:30 PM to 9:00 PM (PDT)
Add to my calendar
Organizer
Sarah Anne Dordel, Chamber Founder, is a conscious business consultant and a tireless ambassador for good people doing good things. For the last three years she has been helping to create visibility for entrepreneurs and holistic professionals in San Diego through her Meetup & Facebook Group, the Conscious Business Network of San Diego, a membership of nearly 2000 members and growing. Earlier this year, Sarah Anne committed to creating massive upgrades for her network, and in response she has launched the San Diego chapter of her new national organization, the Conscious Business Chamber of Commerce.
The Conscious Business Chamber intends to be a centralized hub where all amazing organizations, purposeful businesses and visionary entrepreneurs can easily be found.
"We, members of the Conscious Business Chamber of Commerce, believe in passionate problem-solving, and our goal is to bring forward the greatest talent in San Diego to provide faster and better solutions for ALL conscious business entities in the city. We are dedicated to creating enhanced visibility for the live events, online products, and educational offerings of our members and Partner Organizations, and we are committed to facilitating greater ease of access to all of the educational tools, resources, vendors and other service providers that support our professional community. We are committed to sharing our own successes, and also identifying common struggles so that together we may find innovative ways to fill gaps in service so that all participating can thrive and help to quickly grow the expanding conscious business communities in our represented cities."
The CBCC membership site was launched in October of 2017, and is currently seeking membership from all individuals & businesses who aim to consciously affect human beings and the environment in a beneficial way.
Immediate benefits include:
• Enhanced visibility through the membership directory
• Easy access to other events that support Conscious Business throughout San Diego
• Opportunities to network with like-minded professionals during live monthly networking events as well as during regular online events that take place via a private Facebook group
• Sharing of experiences and best practices, as well as a container to call out pain points that need to be addressed by the community through innovative solutions
• Option to share expert tips and special offers in the collective blog and resources section
• Promotional support for live and online events, with the option to purchase event marketing upgrades
• Mentorship connections and education that is supported by the Chamber's thought leaders and Editorial Team
To learn more, or become a member or sponsor, please visit www.consciousbusinesschamber.com.
2018 Networking Night for Conscious Women in Business - featuring raffle, speakers & business expo!