Description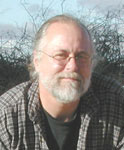 Keynote:
Dr. Sheppard is the Entomology Department Chair at Washington State University and he leads the Apis Molecular Systematics Laboratory and the WSU honey bee breeding program to develop honey bee stocks that exhibit a measure of resistance or tolerance to common honey bee pathogens and parasites. His team has also been enhancing US honey bee diversity through importation of honey bee semen from Old World sources, evaluation of progeny and release of germplasm to the queen production industry.
Agenda:
8-9:00 am: Registration
9-12 pm: Presentations
12 pm: Lunch
1- 2:30 pm: Presentations
3:30 pm: Closing remarks
Your registration will cover lunch and snacks for the day.
Become a member of the Nebraska Beekeepers' Association

This event is co-sponsored by the University of Nebraska Bee Lab.
For additional information, please email nbaboard@nebraskabeekeepers.org.
All proceeds go to funding the Nebraska Beekeepers Scholarship Program.
Organizer of 2018 Nebraska Beekeepers' Association Bee Fun Day