Description
2018 NCAA DIVISION II National Football Championship
*Ticket prices will increase on December 3rd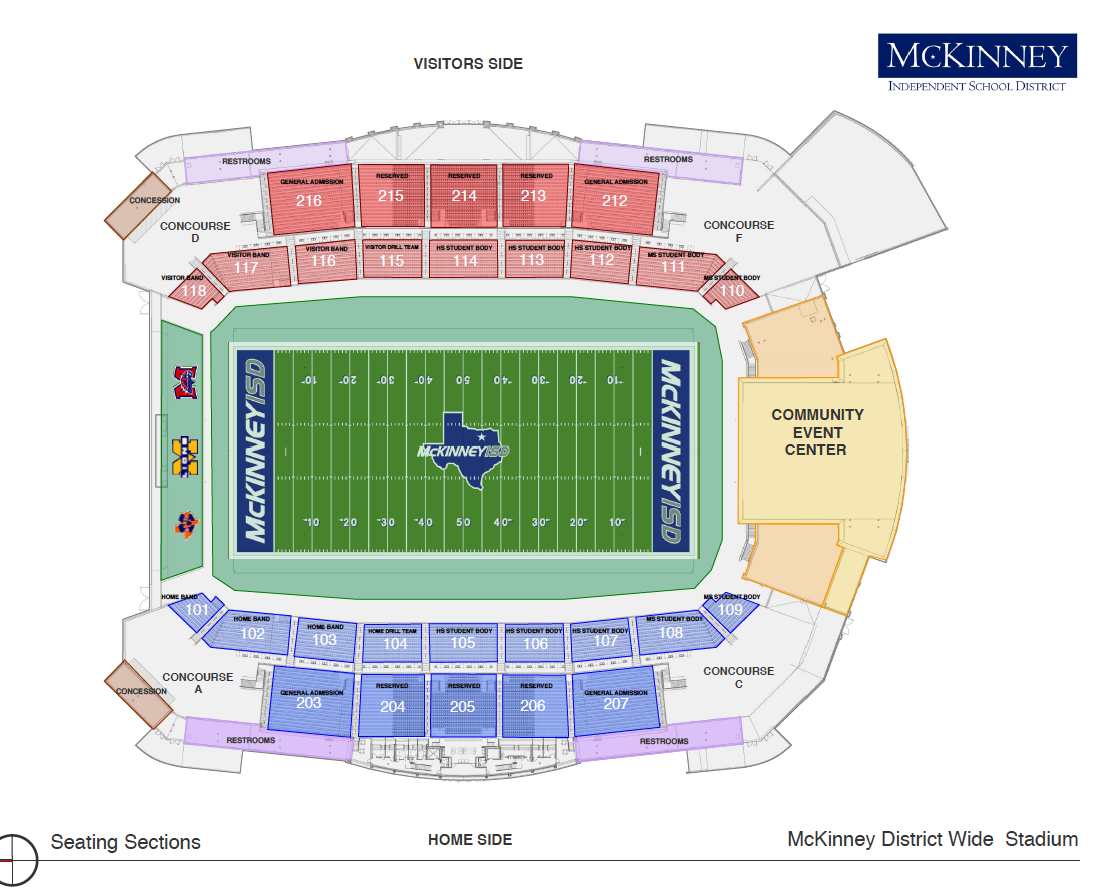 MISD STADIUM REGULATIONS
West side of the stadium is home seating and the east side is visitor seating. Tickets must be purchased for your team's side only.
No re-entry to stadium without the purchase of a new ticket.
No outside food or drink is allowed.
Only vendors with prior approval may distribute information/merchandise at MISD stadium.
No pets and/or live mascots will be allowed.
All MISD policies regarding banned substances such as tobacco, alcohol, and e-cigs will be strictly enforced.
All spectators must be appropriately clothed. Administrators reserve the right to eject anyone wearing offensive items.
MISD stadium has a no-bag policy beginning fall of 2018. See below for detailed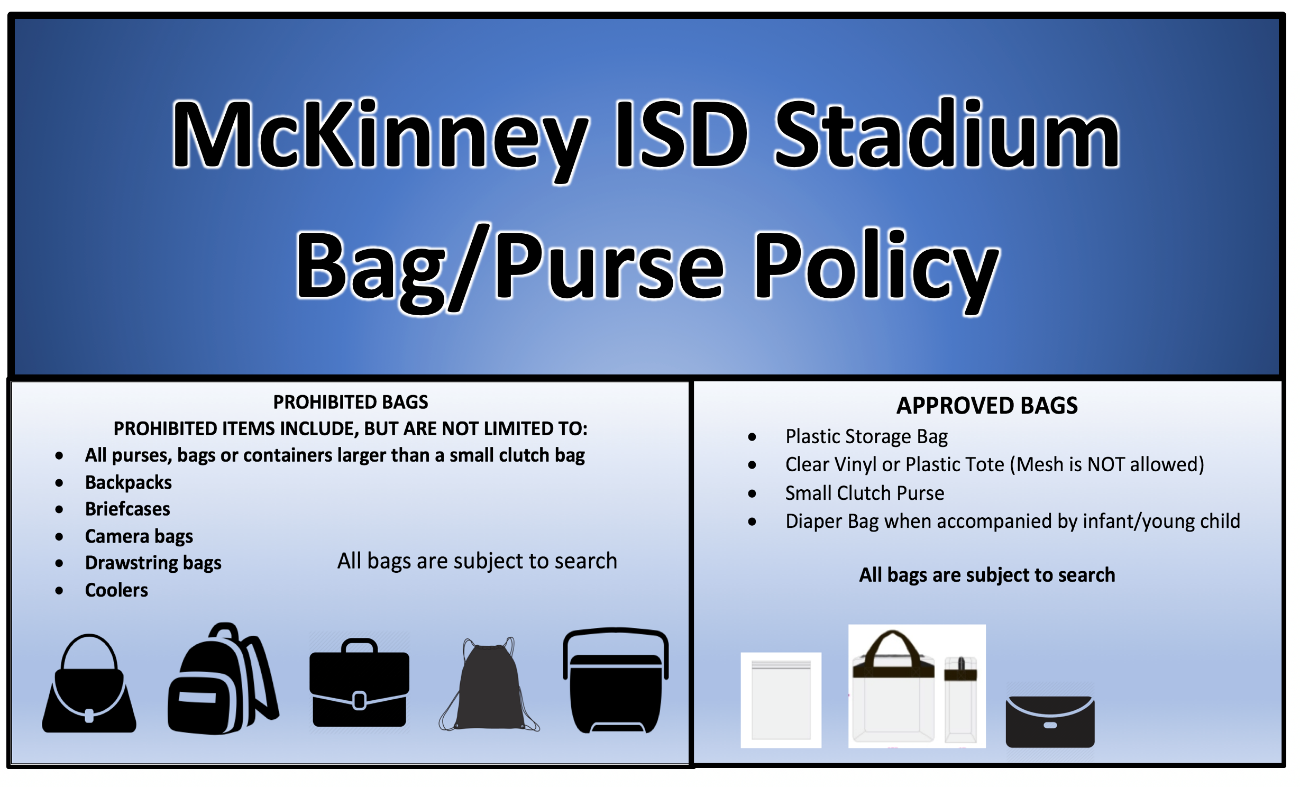 THIS TICKET IS A REVOCABLE LICENSE
USER ACCEPTS RISK OF INJURY
The ticket purchaser/holder, on behalf of the holder and any minor accompanying the purchaser/holder (individually and collectively, the "Holder") voluntarily assumes all risk of property loss and personal injury arising during its use and/or during the event for which the ticket is issued. Management may revoke the license and eject or refuse entry to the Holder for violation of these terms and conditions, facility rules, illegal activity or misconduct. Holder may not go into the competition area or other restricted area, or interfere in any way with the play of the contest. Any Holder interfering with the play of the contest may be subject to ejection from the facility. Holder consents to all searches of person or property as a condition of entry and confiscation of prohibited items. Tickets reported as lost or stolen may not be honored and may not be replaced nor the price refunded. This ticket may not be duplicated. Holder may not solicit contributions or distribute literature on the premises. Every person, two years of age and older, must have a ticket to enter the facility. Entry will be at the facility's discretion, unless proof of age is provided. Those under two must be accompanied by a person with a valid admission ticket. . Unless specifically authorized in advance by the NCAA, this ticket may not be offered in a commercial promotion or as a prize in a sweepstakes or contest. This ticket may not be sold or resold above face value except in approved instances authorized by the NCAA. Persons selling or reselling tickets in violation of any applicable city, county or state regulations, ordinances or laws may be subject to arrest and prosecution. Persons violating NCAA ticket resale policies may face sanctions including but not limited to loss of future ticket privileges. The NCAA reserves the right to limit or restrict the number of tickets that Holder may purchase or possess. Access to the facility (or substitute facility) by any person other than the original purchaser of this ticket may be denied. If access is denied, no refund of the ticket price will be due. No refunds or exchanges will be permitted. No re-admittance. No firearms or weapons are permitted on these premises for NCAA championships and events, excluding authorized law enforcement officers. Pursuant to Sections 30.06 and 30.07 of the Texas Penal Code, a person licensed under Subchapter H, Chapter 411, Government Code (Handgun Licensing Law) may not enter the property with a concealed handgun or a handgun that is carried openly. Failure to abide may subject you to ejection as well as other applicable discipline or action. The foregoing shall not limit the applicable equipment used in and for fencing and rifle competitions in accordance with NCAA rules, at the venues for such competitions. Holder may not bring alcoholic beverages, bottles, cans or containers, laser pointers, irritants (e.g., artificial noisemakers), video recording devices or strobe lights onto the premises. Promotional items (e.g., shakers, cups, flags, etc.) with commercial slogans or identification also are prohibited. Noncommercial signs, flags or banners that, in the opinion of the NCAA, reflect good sportsmanship, can be held by one individual and do not block the view of other ticket patrons, are permitted. No signs, flags or banners of any size may be affixed to the facility. Holder shall not sell, transmit or aid in transmitting any description, account, picture, recorded transmission, video recording or other reproduction of the contest to which this ticket is issued. Holder expressly grants the NCAA and its licensees the right to use Holder's image or likeness in connection with any live or recorded transmission or reproduction of such event, for any purpose, including promotional purposes, without further authorization or consideration. The NCAA may choose to relocate the event to another facility, with or without notice, and without liability, to Holder. The NCAA shall not be responsible for punitive, incidental, consequential, or special damages. The Holder of this ticket agrees not to take any action, or cause others to take any action, which would infringe upon the NCAA's rights. Purchase or use of this ticket constitutes acceptance of these terms and conditions.
DATES AND TIMES ARE SUBJECT TO CHANGE