2018 National Teacher Leadership Conference: Teaching Tomorrow's Leaders,...
Description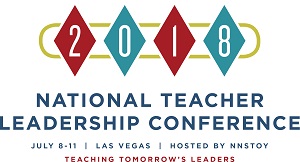 Join our nation's teacher leadership community at the 2018 National Teacher Leadership Conference: Teaching Tomorrow's Leaders, hosted by the National Network of State Teachers of the Year (NNSTOY).
This year's conference will be unlike any other we have hosted or experienced. Educators from across the nation will unite to consider, discuss and make progress on four problems of practice selected for study by our members. They include
TEACHER LEADERSHIP: How can we build our leadership skills and create and support teacher leadership structures that benefit all students?

STUDENT ENGAGEMENT:

How can we create more engaging learning environments so that all students are motivated to grow?

EDUCATIONAL EQUITY: How can we examine our own biases and provide equitable learning environments for all students?

SOCIAL & EMOTIONAL LEARNING: How can we equip all educators to teach fundamental social and emotional competencies as part of their regular instruction?
Reserve your room at the JW Marriott, here.
OUR AGENDA
July 8: Day of Service - Breakfast, followed by an educational service project in the morning and paid focus groups or open time (your choice) in the afternoon

July 9: Day of Movitation and Insight. Provocative and motivating TED-Style talks from on our four problems of practice (above), presented by State Teachers of the Year and Finalists and other nationally recognized speakers
July 10: Teacher Leadership and Student Engagement. Here we will listen, learn and work together in to make progress on these problems of practice.

July 11: Social Emotional Learning and Educational Equity. We take on the two remaining problems of practice.

Pricing:
Register now to secure Early Bird pricing!
Early Bird Member: $200
Early Bird Non-Member: $225
Early Bird Retired Member: $175
Early Bird Retired Non-Member $200
Local Day Rate: $75; $135 for 2 days
Organizer of 2018 National Teacher Leadership Conference: Teaching Tomorrow's Leaders, Hosted by NNSTOY