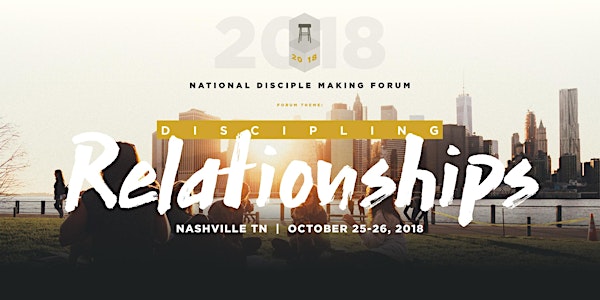 2018 National Disciple Making Forum in Nashville
When and where
Location
Church of the City 828 Murfreesboro Road Franklin, TN 37064
Refund Policy
Refunds up to 30 days before event
Description
To return to Discipleship.org click here
Go to m.discipleship.org for complete details on speakers and sessions!


---
2018 theme: Discipling Relationships
The National Disciple Making Forum is the convening of the Discipleship-first community. The tone of the three Main Sessions of the Forum is a celebration of this community coming together to see greater momentum for disciple making. The Forum is also a time of connection and equipping by and through our partners to pastors and everyday disciples. For 2018, we will highlight the critical nature of discipling relationships as a key element of Jesus' methods. A unique emphasis this year will also be Shodankeh Johnson and his inspirational story of a disciple making movement in West Africa fueled by prayer and fasting.
FORUM SCHEDULE
October 25-26: Thursday at 12:00 pm to Friday at 4:00 pm
THURSDAY, October 25, 2018
11:00am - Doors Open/Registration Begins
12:30pm – 2:15pm - Main Session 1
2:00pm – 2:30pm Break
2:30pm – 3:45pm - Track Session 1
3:45pm – 4:00pm Break
4:00pm – 5:15pm - Track Session 2
5:15pm – 6:45pm - Dinner Break (Food Trucks Available)
6:45pm – 8:15pm - Main Session 2

FRIDAY, October 26, 2018
7:15am - Doors Open
8:15am – 9:30am - Track Session 3
9:30am – 9:45am Break
9:45am – 11:00am - Track Session 4
11:00am – 12:30pm - Lunch Break (Food Trucks Available)
12:30pm – 1:45pm - Track Session 5
1:45pm – 2:00pm Break
2:00pm – 4:00pm - Main Session 3 (Finale)
MAIN SESSION SPEAKERS
Shodankeh Johnson with Dave Clayton and Mandisa (Main session 1 facilitated by Bobby Harrington)
Main Session 1 theme: "Surrendering to God in Discipling Relationships"
Jim Putman with Ariyana Rimson (Main session 2 facilitated by Bill Hull)
Main Session 2 theme: "Submitting to others in Discipling Relationships"
Robby Gallaty and D.A. Horton (Main session 3 finale facilitated by Bobby Harrington)
Main Session 3 theme: "Strategy in the Church for Discipling Relationships"
Special guest: Dr. Robert Coleman
TRACKS
Bill Hull - The Bonhoeffer Project - "Going Upstream In Disciple Making"
Luke Yetter - The Relational Discipleship Network - "Relational Discipleshift: How to Shift Your Church and Culture"
Robby Gallaty - Replicate - "Creating and Sustaining a Disciple Making Movement"
Craig Etheredge - discipleFIRST - "Developing a Disciple Making Culture"
Greg Ogden - Global Discipleship Initiative - "Turning Your Church into a Disciple Making Mission"
Justin Gravitt - Navigators Church Ministries - "Disciple Making Relationships Get Real and Go Deep"
Dave Buehring - Lionshare - "Making Disciples in the Generations and Vocations"
Todd Wilson - Exponential - "Mobilize Disciples to Multiply Disciples"
Regi Campbell - Radical Mentoring - "Activate Your Men, Transform Your Church"
Joanne Kraft - Grace & Truth Living - "Women and Disciple Making"
Dr. Marcus De Carvalho, MD - Untangle Addiction - "Untangling Addiction - Stronger through Jesus Style Discipleship"
Steve McCoy - SmallCircle - "Disciple-making Tools That Move You Upstream in a Downstream Culture"
James Forlines - Final Command - "Disciple Making Movements: New Wineskins for North America"
Ken Adams - Impact Discipleship Ministries - "The Making of a Disciple Making Church"
Ron Hunter - D6 Family - "Discipleship in the Home"
Alex Absalom - Dandelion Resourcing - "How To Start Missional Communities That Transform Your Disciple Making"
Faith International University - The Robert E Coleman School of Discipleship - "Discipling Biblically: The Master Plan Way"
Renew Network - "Renewing the Teaching of Jesus for Disciple Making"
FAQs
What's the refund policy?
Refunds will be available at 50% of purchase price. No refunds within 30 days of the start of the event. We hope someone else can use your ticket if you are unable to attend.
What are my transportation/parking options for getting to and from the event?
If you are flying into Nashville International (BNA) there are transportation options to Franklin either by rental car, taxi, Uber or Lyft. Church of the City is 23 miles (25 minutes) from BNA. There is ample parking at the church.
What can I bring into the venue?
Please limit large bags. Please don't bring t-shirts or other items for distribution. Supervised children are welcome to come with their parents but we do not offer childcare services.
Is there an official hotel?
There is not an official hotel designated for the event, but we suggest the following options which are convenient and more reasonably priced:
Hampton Inn & Suites Franklin Berry Farms
1701 Berry Farms Crossing, Franklin, TN 37067
(615)599-3700
Drury Plaza Hotel Nashville Franklin
1874 W. McEwen Dr., Franklin, TN 37067
(615)771-6778
Homewood Suites by Hilton Nashville
2225 E. McEwen Dr., Franklin TN 37067
(615)465-0400
Embassy Suites by Hilton Nashville South Cool Springs
820 Crescent Centre Dr., Franklin, TN 37067
(615)515-5151
Baymont Inn and Suites
4206 Franklin Commons Ct., Franklin, TN 37067
(615)791-6675
La Quinta Inn & Suites Nashville Franklin
4207 Franklin Commons Ct., Franklin 37067
(615)791-7700
Comfort Inn
4202 Franklin Commons Ct., Franklin 37067
(615)591-6660
How can I contact the organizer with any questions?
Email leslie@discipleship.org for help.
Is childcare provided?
Childcare is not available at the event.
Alex Absalom

Dandelion Resourcing




Ken Adams

Impact Discipleship Ministries




Dave Buehring

Lionshare




Regi Campbell

Radical Mentoring




Dave Clayton

Ethos Church




Craig Etheredge

discipleFIRST




Roy Fitzwater

Navigator Church Ministries




James Forlines

Final Command




Robby Gallaty

Replicate Ministries




DA Horton

Reach Fellowship and UYWI




Bill Hull

The Bonhoeffer Project




Joanne Kraft

Grace and Truth Living




Mandisa







Steve McCoy

Small Circle




Dr. Marcus DeCarvalho, MD

Untangle Addictions




Greg Ogden

Global Discipleship Initiative




Jim Putman

Real Life Ministries and Relational Discipleship Network




Todd Wilson

Exponential