Description
naisA Global presents
2018 NextGen Awards Gala
Our 3rd annual NextGen Awards Gala is coming this November 29th, where we'll be gathering to celebrate leadership excellence in our community. Our Gala will bring together over 250 influential leaders and rising Asian Stars representing various industries to recognize great Asian American leaders as well as showccase and empower the next generation of global leaders.
When: Thursday, November 29th, 2018
6:00pm | VIP Reception

6:30pm | Generral Reception

7:00pm | Three Course Dinner + Performance + Live Auction + Program
Where: Army Navy Country Club | 1700 Army Navy Dr, Arlington, VA 22202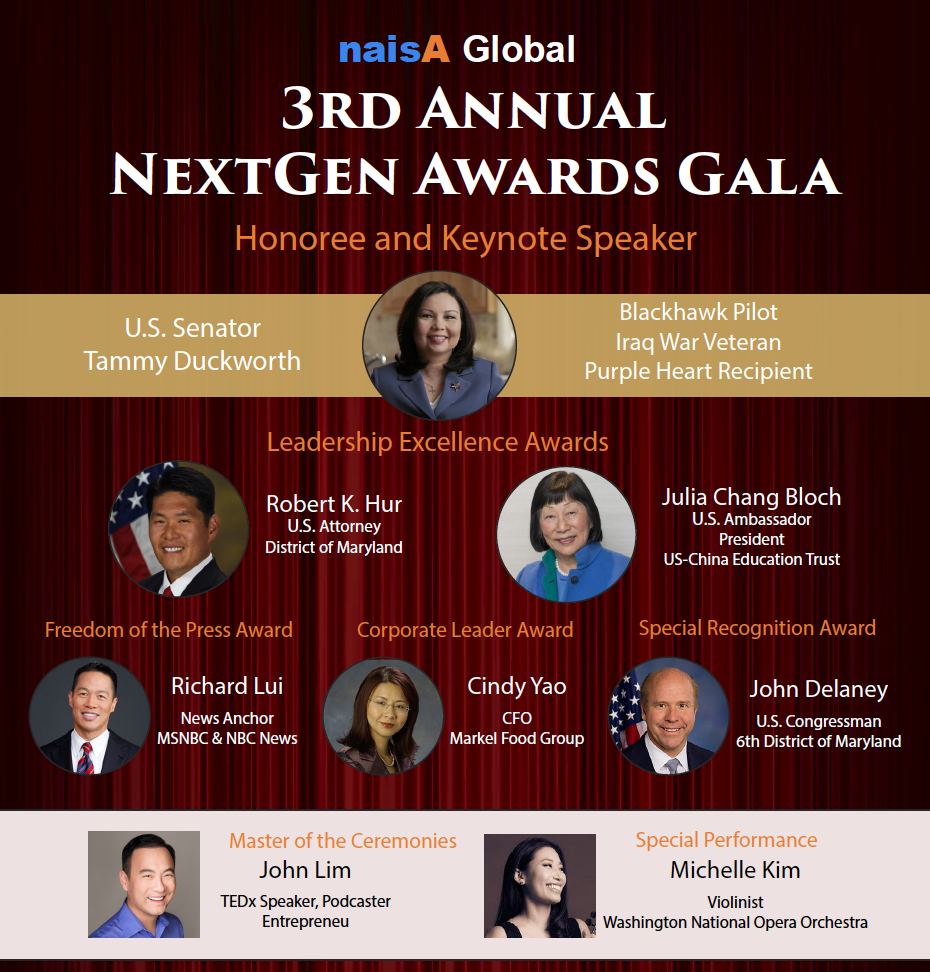 Our keynote speaker this year is Senator Tammy Duckworth, an Iraq War Veteran, Purple Heart recipient, and Blackhawk Pilot.

naisA Global proudly presents the following 2018 Award recipients at the Gala:
Leadership Excellence Awards:
Robert K. Hur, US Attorney of the District of Maryland
Ambassador Julia Chang Bloch, President of US-China Education Trust
Richard Lui, MSNBC & NBC News Anchor
Congressman John Delaney
Cindy Yao, CFO, Markel Food Group
NextGen Leader Awards:
Dai Chihara MD. PhD, Fellow, National Institutes of Health
AJinkya Jadhav, Harvard University, CEO of WeAllTeen
Maxwell Yan, Poolesville High School
Speical Performance
Special Performance: Michelle Kim | Violinist, Washington Opera Orchestra
Mater of Ceremonies: John Lim | Entrepreneur, Tedx Speaker, Podcaster
2018 Gala Host Committee
Co-Chairs: Joy Park and John LIn
Danai Brooks | Matt Garcell
Tim Hwang | Nina Wang | Stephen Park
Cynthia McGee | Cal Simmons | Laura Beldin
Mark Teitelbaum | Kim Nguyen | Quyen Brookks
John Yu | Jeffrey Houle
Our Sponsors
CBRE | S&R Foundation | Wells Fargo | Kirkland & Ellis
UBS | Cushman & Wakefield | DLA Piper | Greencourt
CapStar Commercial Realty
Our Media Partners
Huan Media | ACM
Program Book Advertising or Sponsorship inquiries: Contact Angela Kim at Angela@naisAGlobal.org